$24.99
AUD
Category: Picture Books
With a strong message of hope, interconnectedness, and empowerment, This Small Blue Dot features a little girl explaining the world to her baby sister. She hits on small wonders, big lessons, and everything in between, from sharing the joy of silly dances to contemplating the nature of this "small blue dot" we all live on. Author and illustrator Zeno Sworder, who hails from a multicultural background, wrote this story when his daughter was unable to find picture books with characters who looked like her. His precocious young narrator has opinions on plenty of things: nature and the environment, embracing difference, the power of imagination--and the trouble with broccoli. Rich pencil and crayon illustrations conjure up memories of childhood in this celebration of who we are, where we come from, and where our dreams may take us. In This Small Blue Dot, Sworder captures not only life lessons but also the fun, often strange experience of being a member of the human family on planet Earth.   ...Show more
$24.99
AUD
Category: Picture Books
A post-pandemic bedtime tale that has captured the hearts of millions. First performed in response to the Coronavirus pandemic, Tomos Roberts' inspiring poem, with its message of hope and resilience, has been viewed more than 60 million times and translated into over 20 languages worldwide. From simple acts of kindness, to the creativity within us all, The Great Realisation is a celebration of the many things that have brought us together at a time of crisis. It captures, with magical resonance, the thoughts and feelings of millions worldwide as we adapt to a new way of life, cast aside old habits and reflect on what truly matters to us. It is a story for all readers, young or old, who dare to dream of a fairer, kinder, more loving world. ...Show more
$22.99
AUD
Category: Picture Books
Meet LONG JOHN McRON, SHIP'S COOK . . . and the most unusual babysitter you've ever seen. Long John has a whole crew of wild pirates in tow, and--for one boy and his sister--he's about to transform a perfectly ordinary evening into a riotous adventure beneath a pirate moon. It's time to make some PIRATE STEW. Marvelously silly and gloriously entertaining, this tale of pirates, flying ships, doughnut feasts and some rather magical stew is perfect for all pirates, both young and old. With a deliciously rhyming text from master storyteller Neil Gaiman and spellbinding illustrations by the supremely talented Chris Riddell, this is the picture book of the year!  Pirate Stew! Pirate Stew! Pirate Stew for me and you! Pirate Stew, Pirate Stew Eat it and you won't be blue You can be a pirate too!   ...Show more
$24.99
AUD
Category: Picture Books
Splash into summer with this glorious love letter to the seasons. Combining Jane Godwin's sparkling text and Alison Lester's whimsical watercolours, Sing Me the Summer celebrates those precious everyday moments that stay with us forever.
$24.99
AUD
Category: Picture Books
In lively rhyming prose, Moira Court captures all the fun and diversity of the dog park - 'This dog is loud, this one is quiet. This dog is tiny, this one's a giant.' Each illustration is created using layered woodblock prints, screen-printing and collage. Children will love identifying their favourite dog breeds and what dogs they have seen at the park while learning about opposites. ...Show more
Found (HB)
by Bruce Pascoe; Charmaine Ledden-Lewis (Illustrator)
$24.99
AUD
Category: Picture Books
This gentle story set in the rugged Australian bush is about a small calf who becomes separated from his family. The little calf is alone and simply wants his mother, sisters and brothers. He can see other animals, and after running to the river, manages to ask some horses if they are his family. The ca lf's family have been taken away in the back of a noisy truck. So begins the little calf's journey to find his family. In Found we share the calf's point of view in an evocative story, accompanied by stunning illustrations. ...Show more
$16.99
AUD
Category: Picture Books | Series: The\Last Viking Ser.
Josh is as brave as a Viking warrior. And not much can scare a Viking. But when the two littlest Vikings go berserk, Josh, Grandpa and Viking World are all in for a rocky ride.
$16.99
AUD
Category: Picture Books
Let the pillaging begin! CBC Picture Book of the Year winner, Norman Jorgensen, teams up with illustrator James Foley on this fun picture book about a boy who outwits local bullies by channelling his inner Viking. Young Josh is very brave. He's not afraid of anything - except maybe the dark. Pirates wo rry him a bit, of course, and so do boy-eating dinosaurs, and monsters under the bed. He's also just a little afraid of dragons and vampires. But other than those few things, Josh is as brave as a lion. Sort of.   When Josh comes face to face with real life trouble, he begins to find out how brave he really is . . . ...Show more
Family
by Aunty Fay Muir; Jasmine Seymour (Illustrator); Sue Lawson
$24.99
AUD
Category: Picture Books | Series: Our Place Ser.
Age range 3 to 9 Family is a thoughtful contemplation for all to learn the different ways that family makes us whole. This beautifully illustrated children's picture book shows everyone that 'family' can be about heart and home; an endless sky; stories and songs. It  'learns' us how to be with each othe r and with Country. Families come in all shapes and sizes, and this remarkably simple story teaches us all, that family can be many things. ...Show more
$24.99
AUD
Category: Picture Books
The first new Guess How Much I Love You picture-book story for 24 years! One day Big Nutbrown Hare is busy, but Little Nutbrown Hare wants to play so he goes off exploring on his own. He discovers another hare in a puddle – then realizes it's his reflection. He spots his shadow and wants to race it – o nly to find it's just as fast as him. Then up on Cloudy Mountain he finally finds someone to play with: a little snow white hare called Tipps. And she's real! This lovely new story is a wonderful companion to the classic picture-book Guess How Much I Love You; a charming tale about friendship with a delightful and original twist. ...Show more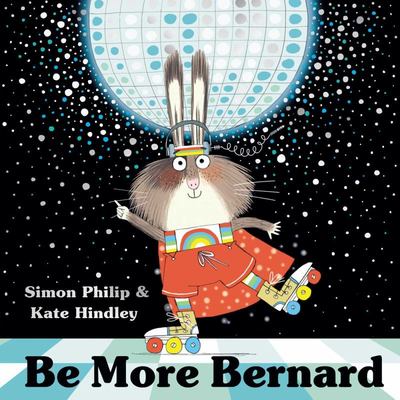 $16.99
AUD
Category: Picture Books
Staff notes: This is an absolute shop favourite. Bernard is a rabbit, but he's not like all the other rabbits. Let's just say he's a little bit… curious. While all the other rabbits dream of carrots, Bernard dreams of disco. When the others hop, he bounces, and when they bounce, he hops. Bernard refuses to believe he's the same as everyone else. And one day he decides it's time to be more Bernard – no more conforming. Different, he decides, is good. Different stands out. Different is disco. Be More Bernard is a joyous celebration of individuality and being yourself.  Perfect for fans of Jim Field and Julia Donaldson, Be More Bernard is the brilliant story of a disco bunny who will encourage us all to chase our dreams and embrace our differences. When the other bunnies bounced, I bounced. When they hopped, I hopped. When they slept, I did too. Like them, I dreamed. But MY dreams weren't the same. They were less . . . rabbity. ​Bernard has decided that he's not going to be like all the other bunnies any more. He's not going to twitch his nose and prick his ears. And while others might dream of carrots, Bernard's dreams are altogether more...disco! He starts small, but when he finally gets to groove with grace and jive with joy at Bertie and Brenda's Bunny Ball, Bernard shows the world that being yourself is the very best thing a bunny can be. From the author of the Sainsbury's Book Award-winning You Must Bring a Hat and the illustrator of the brand-new Treacle Street series! ...Show more
$27.99
AUD
Category: Picture Books
A majestic polar bear heads out on a mysterious walk in a dazzling, playful collaboration from an exciting pair of picture-book creators. Follow a magnificent polar bear through a fantastic world of snow and shockingly blue sea. Over the ice, through the water, past Arctic animals and even a human . . . where is he going? What does he want? Acclaimed author Mac Barnett's narration deftly balances suspense and emotion, as well as poignant, subtle themes, compelling us to follow the bear with each page turn. Artist Shawn Harris's striking torn-paper illustrations layer white-on-white hues, with bolts of blue and an interplay of shadow and light, for a gorgeous view of a stark yet beautiful landscape. Simple and thought-provoking, illuminating and intriguing, this engaging picture book will have readers pondering the answer to its final question long after the polar bear has continued on his way.   ...Show more