$16.99
AUD
Category: Middle Readers | Series: Wednesday Weeks Ser.
In a world of magic, can science save the day? Wednesday Weeks never wanted to be a sorcerer's apprentice. She'd rather study science than magic. But when her cloak-wearing, staff-wielding grandpa is captured by a power-hungry goblin king, Wednesday must find a way to embrace her magical heritage and re scue him from the dreaded Tower of Shadows. Luckily, she's not alone. Her best friend Alfie is a prime-number fan and robotics expert who's all-in on Wednesday's epic plan involving parallel universes, swords of power, and a wise-cracking talking skull. But it's going to take more than science, magic, and the world's cutest robot to take down this bad guy. Because the goblin king is playing for the ultimate prize - and Wednesday and Alfie just walked into his trap...   ...Show more
$17.99
AUD
Category: Middle Readers | Series: Morrigan Crow
Morrigan Crow and her friends have survived their first year as proud scholars of the elite Wundrous Society, helped bring down the nefarious Ghastly Market, and proven themselves loyal to Unit 919. Now Morrigan faces a new, exciting challenge: to master the mysterious Wretched Arts of the Accomplished Wundersmith, and control the power that threatens to consume her. Meanwhile, a strange and frightening illness has taken hold of Nevermoor, turning infected Wunimals into mindless, vicious Unnimals on the hunt. As victims of the Hollowpox multiply, panic spreads. There are whispers - growing louder every day - that this catastrophe can only be the work of the Wundersmith, Ezra Squall. But inside the walls of Wunsoc, everyone knows there is a new Wundersmith - one who's much closer to home. With Nevermoor in a state of fear and the truth about Morrigan threatening to get out, the city she loves becomes the most perilous place in the world. Morrigan must try to find a cure for the Hollowpox, but it will put her - and everyone in Nevermoor - in more danger than she could have imagined. ...Show more
$19.99
AUD
Category: Middle Readers
THE POWERFUL NEW NOVEL FROM AWARD-WINNING AUSTRALIAN WRITER KATRINA NANNESTAD Sometimes it's good to be wild. Sometimes you have to be wild. When the Russian Army marches into East Prussia at the end of the war, the Wolf family must flee. Liesl, Otto and their baby sister Mia find themselves lost and al one, in a blizzard, in the middle of a war zone. Liesl has promised Mama that she will keep her brother and sister safe. But sometimes, to survive, you have to do bad things. Dangerous things. Wild things. Sometimes to survive, you must become a wolf. Bestselling author Katrina Nannestad returns with her most masterful novel yet - a book to crack open your heart, a book to light you up inside, a book to love. ...Show more
$19.99
AUD
Category: Middle Readers | Series: Lightfall
For fans of Amulet and middle grade readers who love sweeping worlds like Star Wars, the first book of the Lightfall series introduces Bea and Cad, two unlikely friends who get swept up in an epic quest to save their world from falling into eternal darkness. Deep in the heart of the planet Irpa stands the Salty Pig's House of Tonics & Tinctures, home of the wise Pig Wizard and his adopted granddaughter, Bea. As keepers of the Endless Flame, they live a quiet and peaceful life, crafting medicines and potions for the people of their once-prosperous world. All that changes one day when, while walking through the woods, Bea meets Cad, a member of the Galdurians, an ancient race thought to be long-extinct. Cad believes that if anyone can help him find his missing people, it's the Pig Wizard. But when the two arrive home, the Pig Wizard is nowhere to be found-all that's left is the Jar of Endless Flame and a mysterious note. Fearing for the Pig Wizard's safety, Bea and Cad set out across Irpa to find him, while danger fights its way out of the shadows and into the light. Will these two unexpected friends find the beloved Pig Wizard and prevent eternal darkness from blanketing their world? Or has Irpa truly seen its last sunrise? ...Show more
$14.99
AUD
Category: Middle Readers | Series: The Unmapped Chronicles
'Nothing, and I mean nothing, is more powerful than a child in possession of a plan.'   Eleven-year-old twins, Fox and Fibber, have been rivals for as long as they can remember. Only one of them will inherit the family fortune and so a race is afoot to save the dwindling Petty-Squabble empire and win th e love of their parents.   But when the twins are whisked off to Jungledrop, a magical Unmapped Kingdom in charge of conjuring our world's weather, things get wildly out of hand. An evil harpy called Morg is on the loose. And if she finds the long-lost Forever Fern before the twins, both Jungledrop and our world will crumble.   Suddenly, Fox and Fibber find themselves on an incredible adventure in a glow-in-the-dark rainforest full of golden panthers, gobblequick trees and enchanted temples. But, with the fate of two worlds in their hands, will the twins be able to work together for once to defeat Morg and her dark magic? Live a life filled with adventure with Abi Elphinstone in this magical series where a whole new world is waiting to be discovered...     ...Show more
$16.99
AUD
Category: Middle Readers
Pearl and Vally Cole live in a bookshop. And not just any bookshop. In 1893, Cole's Book Arcade in Melbourne is the grandest bookshop in the world, brimming with every curiosity imaginable. Each day brings fresh delights for the siblings: voice-changing sweets, talking parrots, a new story written just for them by their eccentric father. When Pearl and Vally learn that Pa has risked the Arcade - and himself - in a shocking deal with the mysterious Obscurosmith, the siblings hatch a plan. Soon they are swept into a dangerous game with impossibly high stakes: defeat seven challenges by the stroke of midnight and both the Arcade and their father will be restored. But if they fail Pearl and Vally won't just lose Pa - they'll forget that he and the Arcade ever existed. ...Show more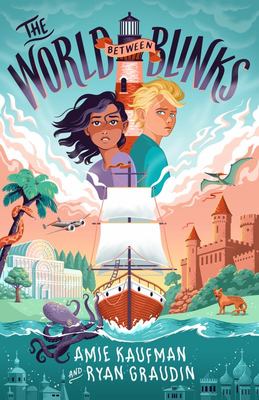 $16.99
AUD
Category: Middle Readers | Series: The\World Between Blinks Ser.
Discover a magical world where lost things are found ... Whenever cousins Jake and Marisol get together, adventure follows. They have their late Nana to thank for that. Her epic trips and treasure hunts were the stuff of family legend. This summer, with the whole family reuniting for one last vacation at Nana's home, the cousins are in for a legendary trip of their own. Following a map Nana left behind, Jake and Marisol sneak out to a nearby lighthouse - then accidentally slip into another world ... The World Between Blinks is a magical place, where all kinds of lost things (and people!) end up. Everywhere they turn, the cousins find real mysteries from history - plus a few they thought were only myths. But the man who holds the key to Jake and Marisol's return journey doesn't want to be found ... and if the cousins don't catch him fast, they could end up lost in this world for good. PRAISE FOR THE WORLD BETWEEN BLINKS:' An inventive, heartwarming first book in a new middle-grade series.'- Kirkus 'A brilliant, heartwarming blend of history, mystery, and adventure. I raced through every page, afraid to blink and miss part of the wonder.'- Shannon Messenger, bestselling author of Keeper of the Lost Cities Series 'A fast-paced fantasy adventure that will appeal to genre fans and reluctant middle grade readers alike.'- School Library Journal, starred review '[an] incredibly inventive story, chock-full of delightful descriptions and fascinating tidbits ... [and] a charming crash course in a host of historical mysteries and figures. Readers will have enormous fun ... all while learning lessons on the power of love, the value of memories, and the wonders that the world holds.' - Booklist, starred review ...Show more
$17.99
AUD
Category: Middle Readers | Series: Supernatural Investigations
Amari Peters has never stopped believing her missing older brother, Quinton, is alive. Not even when the police told her otherwise, or when she got in trouble for standing up to bullies who said he was gone for good. So when she discovers a ticking briefcase in his closet containing a nomination for a summer tryout at the Bureau of Supernatural Affairs, she's certain the secretive organisation holds the key to locating Quinton – if only she can wrap her head around the idea of magicians, fairies, aliens, and other supernatural creatures all being real. Now she must compete for a spot against kids who've known about magic their whole lives. No matter how hard she tries, Amari can't seem to escape their intense scrutiny and doubt – especially once her own supernaturally enhanced talent is deemed 'illegal'. With an evil magician threatening the supernatural world, and her own classmates thinking she's an enemy, Amari has never felt more alone. But if she doesn't stick it out and pass the tryouts, she may never find out what happened to Quinton ... ...Show more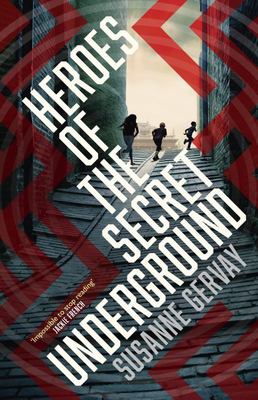 $16.99
AUD
Category: Middle Readers
A timely and powerful time-slip story inspired by the author's family in Budapest during the Holocaust Louie lives with her brothers, Bert and Teddy, in a hotel run by their grandparents. It is one of Sydney's grand old buildings, rich in history ... and in secrets. When a rose-gold locket, once thoug ht lost, is uncovered, it sends Louie and her brothers spinning back in time. Back to a world at war: Budapest in the winter of 1944, where their grandparents are hiding secrets of their own ... From bestselling author Susanne Gervay comes a heart-racing timeslip story inspired by her own family's escape from Budapest during the Holocaust. ...Show more
$17.99
AUD
Category: Middle Readers
The first middle-grade novel from award-winning author Nicki Greenberg, this book is a classic whodunnit mystery set aboard a grand ocean liner in the 1920s. For as long as she can remember, Pepper Stark has wanted one thing: to join her father, the Captain, aboard the magnificent RMS Aquitania on a vo yage to New York. She has never been allowed to set foot on her father's ship – until now. From the decadent food to the star-studded passenger list, travelling First Class on Aquitania is every bit as glamorous as Pepper had imagined. And most dazzling of all is American stage sensation Perdita West, wearing the world-famous Saffron Diamond around her neck. When the priceless jewel disappears mid-voyage, Pepper unexpectedly finds herself entangled in the crime. With the Captain's reputation at stake, Pepper and her new friends set out to solve the mystery. But finding a missing diamond isn't so easy on Aquitania, where everyone has something to hide … With first-class glitz and glamour and a deliciously plotted intrigue featuring an uppity stage star, a missing diamond, a leopard and a loveable cast of child sleuths, The Detective's Guide to Ocean Travel is an exciting romp on the high seas, perfect for fans of Murder Most Unladylike and The Good Thieves. ...Show more
$19.99
AUD
Category: Middle Readers
Imagine making friends with a polar bear... The Last Bear is perfect for readers of 8+, beautifully illustrated throughout by Levi Pinfold - winner of the Kate Greenaway Medal and illustrator of Harry Potter 20th anniversary edition covers. "This is an important first novel, important for us, for pola r bears, for the planet. It is deeply moving, beautifully told, quite unforgettable." Michael Morpurgo. There are no polar bears left on Bear Island. At least, that's what April's father tells her when his scientific research takes them to this remote Arctic outpost for six months. But one endless summer night, April meets one. He is starving, lonely and a long way from home. Determined to save him, April begins the most important journey of her life... This moving story will win the hearts of children the world over and show them that no one is too young or insignificant to make a difference. The Last Bear is a celebration of the love between a child and an animal, a battle cry for our world and an irresistible adventure with a heart as big as a bear's. ...Show more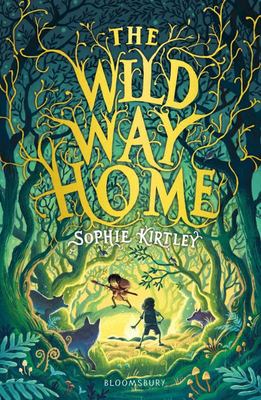 $14.99
AUD
Category: Middle Readers
'So good I read it twice' - Hilary McKay, author of The Skylarks' War'This thrilling time-slip adventure oozes magic and heart' - Bookseller EDITOR'S CHOICEWhen Charlie's longed-for brother is born with a serious heart condition, Charlie's world is turned upside down. Upset and afraid, Charlie flees the hospital and makes for the ancient forest on the edge of town. There Charlie finds a boy floating face-down in the stream, injured, but alive. But when Charlie sets off back to the hospital to fetch help, it seems the forest has changed. It's become a place as strange and wild as the boy dressed in deerskins. For Charlie has unwittingly fled into the Stone Age, with no way to help the boy or return to the present day. Or is there?What follows is a wild, big-hearted adventure as Charlie and the Stone Age boy set out together to find what they have lost - their courage, their hope, their family and their way home.Fans of Piers Torday and Stig of the Dump will love this wild, wise and heartfelt debut adventure. ...Show more