$35.00
AUD
Category: Animals & Natural World | Series: Illumi
Journey back in time to the Triassic, Jurassic and Cretaceous periods with Illumisaurus, coming face-to-face with prehistory's most spectacular dinosaurs, plants and animals. Bring this lost world to kaleidoscopic life with your magic three-colour viewing lens (included). With your lens in hand, discove r amazing places and the creatures that roamed them many millions of years ago. • Your green lens reveals a location, spanning 9 ancient land masses across millions of years. Learn how these places transformed over time to become the habitats of the most spectacular life on Earth. • Your red lens brings to life the mightiest beasts ever to walk the planet: the dinosaurs. Meet a T. rex up close, run with packs of velociraptors and marvel at the gigantic brachiosaurus as you discover how these animals came to rule the Earth. • Your blue lens uncovers the wildlife that lived alongside and after the dinosaurs, including monstrous dragonflies, woolly mammoths and fungi taller than trees. • Fact pages fill in the details and guide you through a world bursting with life and colour. The latest in the bestselling Illumi series, Illumisaurus is a hidden-world adventure with a fascinating scientific angle, and the perfect gift fordinosaur enthusiasts 7 years and older. Innovative illustrations from award-winning design duo Carnovsky make this a natural history like no other, with hundreds of places, plants and creatures to discover on three layers of detailed artwork. How many dinosaurs will you find on your prehistoric journey? ...Show more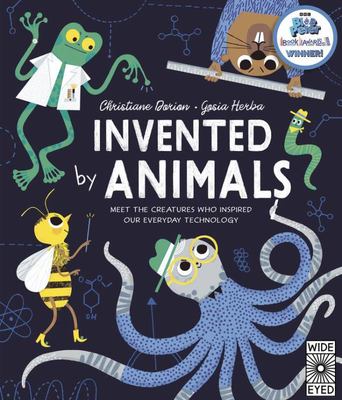 $24.99
AUD
Category: Animals & Natural World
Humans think they invent everything, but the fact is, us animals have invented ways of solving problems, making unbelievable materials, ways of getting around and working out how to survive on our own for millions of years. In this book you will meet the animal inventors who have shared their super inve nting powers to make amazing things for humans. Often human scientists try and solve a problem or invent a new tool and they realise that animals have already invented it for them. In this book you will meet the animal inventors who have shared their super inventing powers to make amazing things for humans. We have invented ways of solving problems, making unbelievable materials, ways of getting around and working out how to survive on our own for millions of years. Sometimes when a human inventor gets stuck, they come to the animal kingdom to see if we can help them out. In this book you will meet the creme de la creme of animal innovators who have created or are in the process of inventing things that people use every day. Meet the shark who invented a pair of swimming shorts so fast, they were banned from the Olympic games. And meet the snail who has invented a house that stays cool inside even in the desert. ...Show more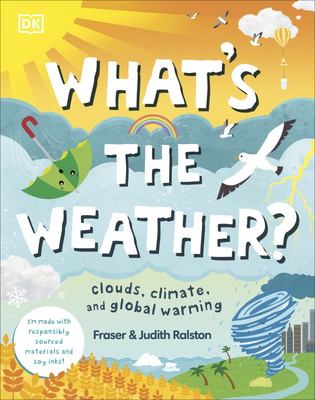 $19.99
AUD
Category: Animals & Natural World
See how snowflakes and lightning storms form and learn the real effects of climate change in this kids book about weather. At a time when extreme weather is becoming more and more common, get clued up on the science behind it and the ways in which it's changing. Learn about all kinds of weather and marv el at how powerful it can be. Discover what the weather was like when the Earth was born and what it could be like in the future. Find out how weather is predicted and the inventions that harness its power.This eco-focussed book is packed with facts and illustrations showing how weather forms, the ways in which it changes over time, and how we can use its power. ...Show more
$29.99
AUD
Category: Animals & Natural World
Did you know that feeding seaweed to cows can reduce the methane in their burps and farts by more than half? Or that a forest of kelp absorbs more carbon than a tropical rainforest of the same size? We can even make edible bioplastics from seaweed! Beyond the tideline, there are around 10,000 types of seaweed. An essential ingredient for life on Earth, seaweed has sustained animals and people for many thousands of years. From ancient history and mythology to modern uses in food, health and medicine, discover how seriously cool seaweed is, and how it can even help tackle climate change. Complete with a guide to common seaweeds and foraging guidelines, this charmingly illustrated picture book will educate and inspire, and encourage respect for the natural world. ...Show more
$19.99
AUD
Category: Animals & Natural World
What could we clever humans ever learn from trees? Take an unashamedly anthropomorphic wander through the woods to learn a few life lessons from our foliaged friends.
$17.99
AUD
Category: Animals & Natural World
The answers to lifes biggest questions can be found in the smallest places, once you are ready to look. Get set for an insightful (and hilarious) peek into what we can learn from the world of the ant.  
$24.99
AUD
Category: Animals & Natural World
We're on an adventure with 1,001 bees Come visit the bees in their hive, meet their queen, and discover how they collect pollen. Then join them as they visit their favorite flowers, work on their honeycombs, and venture out to find good spots for their home.1,001 Bees is an engaging nonfiction book for children full of fascinating facts about nature. With lively and appealing illustrations, it's a must-have for children who are curious about bugs and the animal kingdom.   ...Show more
$26.99
AUD
Category: Animals & Natural World
Now you see them, now you don't! Cloaked in a riot of colour, pattern and texture are a dozen animals - from chameleons and polar bears to Gaboon vipers and mimic octopuses - that have mastered the art of fading into the background. Fact-packed pages segue into clever and beautifully illustrated seek-a nd-find spreads that put readers' newfound knowledge of each creature and its ecosystem to the test. Marc Martin jets budding conservationists around the world and shows them the secrets of animal camouflage. A perfect gift for animal lovers. ...Show more
Iceberg
by Claire Saxby
$24.99
AUD
Category: Animals & Natural World
An iceberg is born into spring and travels through the seasons before dying in a new spring. A stunning, lyrical story for our times, from renowned picture book creators Claire Saxby and Jess Racklyeft. In the final freeze of an Antarctic winter, green tails wave across a star-full sky, as if to farewe ll endless nights. If this world looks empty, look closer... Penguins trek across the ice to their winter homes. As the temperature warms, birds fly above on their long migrations. And with the advent of summer, beneath an iceberg, the sea is teeming with life. Ocean, sky, snow and ice - minute greens and giant blues - dance a delicate dance in this evocative portrayal of the life cycle of an iceberg.  ...Show more

$29.99
AUD
Category: Animals & Natural World
Dive into the incredible world of ocean animals! Ocean animals are truly awesome. They come in every size, color and shape imaginable. They are also some of the weirdest, sneakiest and smartest animals on the planet! This book focuses on the features and skills that make these creatures extra-incredib le. You will discover animals that are masters of defense and others that use high speeds to eat or avoid being eaten. There are sea creatures that use their size as an advantage, both big and small, and others that are just really, really smart! Whether you're a fan of fish, a connoisseur of crustaceans, mad about molluscs or just love jellyfish, Ocean Animalshas got you covered. You may even discover some fantastical creatures you never knew existed. Full of fun facts, "sea-lebrity" species profiles and amazing pictures, you will also learn about issues threatening marine life and tips on how to help protect our amazing ocean environments. Features: Reveals the unique features that enable marine animals to thrive in their habitats Inspires young readers to tackle the challenges of ocean pollution, biodiversity loss and climate change Presents key themes and concepts from the Australian curriculum, providing a fun resource for teaching Highly visual and engaging content, making learning easy and fun ...Show more
$35.00
AUD
Category: Animals & Natural World | Reading Level: Children's - Grade 4-6, Age 9-11
Explore ten of the world's most diverse environments and reveal their hidden secrets with a magic coloured lens that illuminates each page in a kaleidoscope of colour. Discover the dark and mysterious creatures of the night, whose super-sensory powers allow them to live and survive in the shadows, the n switch the lens to step into daylight, where the heat of the sun supercharges the secret lives of creatures big and small. Finally, use the third lens to reveal the luscious plant life of every habitat as you travel through a jungle, a reef, grasslands, woodland and uncover a world that never sleeps. This is an animal book like no other, allowing you to view the natural world in full technicolour. ...Show more
$19.99
AUD
Category: Animals & Natural World
Discover the lifestyles, habitats, and behaviors of the animal kingdom as you've never seen them before with The Encyclopedia of Animals. Each page of this comprehensive guide is packed with amazingly detailed artworks and full-color photographs. From the flying squirrel to the yellow-bellied sapsucker , and from the fire ant to the sun bear, animals are seen in all their splendid variety in this fascinating visual guide. Divided by class and family, the sections in this book clarify the distinguishing traits of the animals, which are depicted in colorful scientific drawings; captions provide additional information. User-friendly and with the sections marked by color tabs for quick consultation, this book could serve as a field guide or a desk reference. Shown in all their glory, here are the gulper eel, the blue wildebeest, the giant African bullfrog, the Sumatran Orangutan, the Chilean flamingo, and the tiny but terrifying anglerfish. Many of the book's images show the animals in their natural environment and behaving as they would in the wild. An orangutan is shown swinging from a branch, a bird-of-paradise is illustrated during a courtship display, and hyenas are depicted in pursuit of zebra prey. Map icons illustrate the animal's distribution around the world, while key fact boxes highlight features of the animal's anatomy, diet, and genus. Learn more about your favorite species, from the smallest insects to the largest mammals, with expert information and up-to-date population statistics throughout. User-friendly and accessible, this is the perfect modern encyclopedia for animal enthusiasts of all ages. ...Show more