$14.99
AUD
Category: Classics/Collections
This classic edition of Louisa May Alcott's most popular and enduring book is beautifully packaged for children today. "I want to do something splendid. something heroic or wonderful that won't be forgotten after I'm dead. I don't know what,but I'm on the watch for it and mean to astonish you all someda y." Curl up with this timeless classic, and your new best friends- Meg, Jo, Beth and Amy, the four March sisterswhose lives will bring tears to your eyesand warmth to your heart, and whose stories will stay with you forever. ...Show more
$24.99
AUD
Category: Classics/Collections
"This is the first time / There's ever been you, / So I wonder what wonderful things / You will do." In this timeless poem about growing up, Emily Windfield Martin explores all the things you can choose to be, from brave and bold to creative and wise. Filled with beautiful, quirky illustrations and clev er rhyme, grown-ups will love reading this book to their children at any age as they lovingly consider all the possibilities that lie ahead. Its enduring message of love and acceptance as children grow and change is both universal and poignant, and it one to share over and over again. ...Show more
$29.99
AUD
Category: Classics/Collections | Reading Level: Teen - Grade 7-9, Age 12-14
The perfect gift - five of Dr. Seuss' best-loved tales in one attractive book. A wonderful gift, featuring five of the hilarious classics that made Dr. Seuss one of the best-loved children's authors: The Cat in the Hat The Cat in the Hat Comes Back Green Eggs and Ham Fox in Socks How the Grinch St ole Christmas With his unique combination of hilarious stories, zany pictures and riotous rhymes, Dr. Seuss has been delighting young children and helping them learn to read for over fifty years. Creator of the wonderfully anarchic Cat in the Hat, and ranking among the UK's top ten favourite children's authors, Seuss is firmly established as a global best-seller, with nearly half a billion books sold worldwide. ...Show more
$29.99
AUD
Category: Classics/Collections
Sylvie wakes one night, suddenly, without knowing why. Then she sees the most spectacular sight – a pair of wings, enormous in size, made of the softest snow-white feathers imaginable. An angel in her bedroom … a snow angel. He tells her that he is here to look after her, for Sylvie is not as well as s he seems... Many months later, as Sylvie recovers from her illness, she longs to see her snow angel again. He saved her life, after all. There is so much she wants to tell him, so much she wants to know. Will he ever come back to her? And how can Sylvie make sure that everyone she loves has their own snow angel, to keep them safe, too?   ...Show more
$27.99
AUD
Category: Classics/Collections | Series: The Story Orchestra
A stunning retelling of the classic ballet story brought to life by music Set to the sound of Tchaikovsky's original music, this favorite ballet story features a a musical note to press on each spread. Join the King and Queen as they throw a party for their new baby, Princess Aurora. But when a terrible guest arrives and places a curse on princess, the kingdom must find the one special person who can defeat it... Read the story, listen to accompanying music, then turn to the back of the book to find out more about the Tchaikovsky musical clips in this stunning gift book. ...Show more
$27.99
AUD
Category: Classics/Collections
Few children's classics can match the charm and originality of Frances Hodgson Burnett's The Secret Garden, the unforgettable story of sullen, sulky Mary Lennox, "the most disagreeable-looking child ever seen." When a cholera epidemic leaves her as an orphan, Mary is sent to England to live with her rec lusive uncle, Archibald Craven, at Misselthwaite Manor. Unloved and unloving, Mary wanders the desolate moors until one day she chances upon the door of a secret garden. What follows is one of the most beautiful tales of transformation in children's literature, as Mary her sickly and tyrannical cousin Colin and a peasant boy named Dickson secretly strive to make the garden bloom once more. A unique blend of realism and magic, The Secret Garden remains a moving expression of every child's need to nurture and be nurtured--a story that has captured for all time the rare and enchanted world of childhood. ...Show more
$14.99
AUD
Category: Classics/Collections | Series: Puffin Modern Classics Ser.
Anne Franks The Diary of a Young Girl is not just a true story but also a piece of history. Written by Anne Frank for herself, at the age of 13, the diary contains candid and intimate details of Annes thoughts and feelings during the two years of the Second World War she and her family and friends staye d hidden. Anne and her family were eventually arrested and sent to the concentration camps,but her diary remains a testament of youthful experiences in times of war. ...Show more
$19.99
AUD
Category: Classics/Collections
All three Nim novels - Nim's Island, Nim at Sea and Rescue on Nim's Island - collected in one edition to celebrate the 21st Anniversary of the original publication of Nim's Island.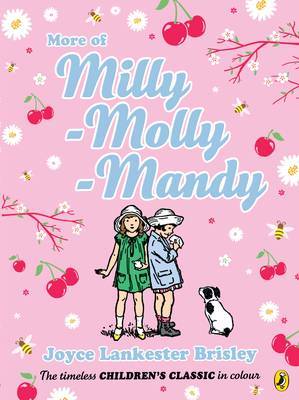 $16.99
AUD
Category: Classics/Collections | Series: Milly-Molly-Mandy
Milly-Molly-Mandy by Joyce Lankester Brisley is loved by new readers and old friends alike. The enchanting and classic adventures of Milly-Molly-Mandy, a little country girl, have been loved and shared for over 80 years. This large format, full colour edition is perfect for reading aloud. The stories ha ve a timeless sense of fun and are illustrated in beautiful detail, enchanced by soft pastel colours evocative of the era. ...Show more
$35.00
AUD
Category: Classics/Collections | Reading Level: 7 Kids picture
Winner of the Kate Greenaway Medal 2020.     A stunning companion to Tales from Outer Suburbia, this collection of illustrated short stories is sure to delight Shaun Tan fans of all ages. Where can we live if not in each other's shadow?World-renowned artist Shaun Tan applies his unique imagination to a reflection on the nature of humans and animals, and our urban coexistence. From crocodile to frog, tiger to bee, this is a dark and surreal exploration of the perennial love and destruction we feel and inflict - of how animals can save us, and how our lives are forever entwined, for better or for worse.Tales from the Inner City is a masterful work, bearing all of Shaun Tan's trademark wit and poignancy in both its prose and exquisite illustrations. ...Show more
$14.99
AUD
Category: Classics/Collections | Series: Anne
Marilla and Matthew Cuthbert are in for a big surprise. They are waiting for an orphan boy to help with the work at Green Gables - but a skinny, red-haired girl turns up instead. Feisty and full of spirit, Anne Shirley charms her way into the Cuthberts' affection with her vivid imagination and constant chatter. It's not long before Anne finds herself in trouble, but soon it becomes impossible for the Cuthberts to imagine life without 'their' Anne - and for the people of Avonlea to recall what it was like before this wildly creative little girl whirled into town. ...Show more
$14.95
AUD
Category: Classics/Collections | Reading Level: From 8 To 99
Storm Boy and his father live alone in a humpy among the sandhills between the Southern Ocean and the Coorong - a lonely, narrow waterway that runs parallel to a long stretch of the South Australian coast. Among the teeming birdlife of the Coorong, Storm Boy finds an injured young pelican whose life he saves. From then on, Storm Boy and Mr Percival the pelican become inseparable friends and spend their days exploring the wave-beaten shore and the drifting sandhills. For over fifty years Australian children have been captivated by this timeless, unforgettable tale of friendship. Commended by the Children's Book Council of Australia in 1964, adapted for film, stage and audio dramatisation, and now newly illustrated by Andrew Davies in this gift edition, Storm Boy has profoundly touched generations of readers and become a classic work of Australian children's literature.   ...Show more