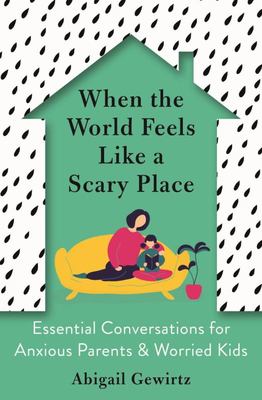 $29.99
AUD
Category: Anxiety/Fears
A timely guide to talking to our kids about the things that worry them. An urgent and necessary book by prominent child psychologist Dr Abi Gewirtz, When the World Feels Like a Scary Place brings solutions to a problem that is only going to get worse - how bad things happening in the world affect our c hildren, and how we can raise engaged and confident kids in spite of them.To say we live in an age of anxiety is an understatement. The myriad problems in the world are almost impossible to tune out. The problem is, most children can't put these issues in perspective, and parents (who are often anxious themselves) can have a hard time talking to their kids without making it worse. Dr Gewirtz offers clear and practical advice for having the kind of tough conversation with your kids that really helps.Through conversation scripts, talking points, prompts and insightful asides, When the World Feels Like a Scary Place is an indispensable guide to talking to our kids about the big things that worry them - making us calmer parents with more resilient children. ...Show more
$24.99
AUD
Category: Anxiety/Fears
Kids can do amazing things with the right information. Understanding why anxiety feels the way it does and where the physical symptoms come from is a powerful step in turning anxiety around. Anxiety explained, kids empowered. For ages 5-12 (and up).
$15.99
AUD
Category: Anxiety/Fears
A fun and reassuring tale about dealing with worries from the author of the bestselling The Lion Inside. It's a beautiful day and Worrysaurus has planned a special picnic. But it isn't long before a small butterfly of worry starts fluttering in his tummy . . . What if he hasn't brought enough to eat? Wh at if he gets lost in the jungle? What if he trips and falls? What if it rains?! Can Worrysaurus find a way to chase his fears away and have fun? The perfect book to help every anxious little dinosaur let go of their fears and feel happy in the moment. ...Show more
$17.99
AUD
Category: Anxiety/Fears
Do you ever worry about your Worries? They can be awful pests, and they hate to see you happy. But if you follow some simple steps you can banish those worries for good!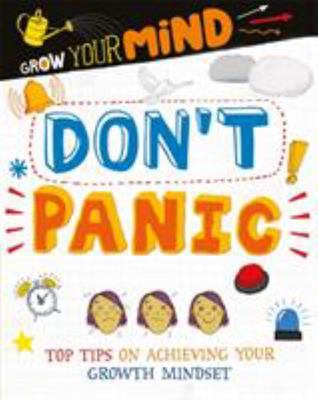 Don't Panic!
by Alice Harman; David Broadbent (Illustrator)
$26.99
AUD
Category: Anxiety/Fears | Series: Grow Your Mind Ser.
Help children, aged 7 plus, stay calm and turn 'can't' into 'can'. This book is packed with fun and varied ways for children to improve concentration, positivity, confidence and mental wellbeing in a way that works for them. Grow your Mind is a series of books that explore how we develop a 'Growth Minds et' - when children understand their brain is growing and changing, they understand that effort makes them stronger and then the extra time and effort they put in can lead to higher achievement, confidence and self-satisfaction. Written in consultation with Katharine Muncaster, a leading headteacher who has implemented a renowned growth mindset programme in her school, this is a must have for any school, or parent, with wellbeing on their agenda. Part of a series of 8 titles: Ask for Help, Boost Your Brain, Build Resilience, Don't Panic, Face Your Fears, Make Mistakes, Think Positive, Work Smarter. ...Show more
$29.99
AUD
Category: Anxiety/Fears | Series: "What to Do" Workbooks for Kids
What to Do When You Worry Too Much is an interactive self-help book designed to guide 6-12 year olds and their parents through the cognitive-behavioral techniques most often used in the treatment of generalised anxiety. Engaging, encouraging, and easy to follow, this book educates, motivates, and empowe rs children to work towards change. It includes a note to parents by psychologist and author Dawn Huebner, PhD. ...Show more
$29.99
AUD
Category: Picture Books
'The best art gives a voice to the voiceless parts of our lives, and Small Things does so with heartfelt precision.' Shaun Tan..An ordinary boy in an ordinary world...With no words, only illustrations, Small Things tells the story of a boy who feels alone with his worries, but who learns that help is al ways close by...A universal story, told simply and with breathtaking beauty, about dealing with sadness, anxiety, depression, heartache or loss, and finding your way in the world. ...Show more
$14.99
AUD
Category: Board Books | Reading Level: Children's - Grade 1-2, Age 6-7
. . . I wanted you more than you'll ever know, so I sent love to follow wherever you go. . . . Love is the greatest gift we have to give our children. It's the one thing they can carry with them each and every day. If love could take shape it might look something like these heartfelt words and image s from the inimitable Nancy Tillman. Here is a book to share with your loved ones, no matter how near or far, young or old, they are. ...Show more

$24.99
AUD
Category: Anxiety/Fears
A witty, perceptive and reassuring story for any child who worries or feels anxious. A quirky, touching fully illustrated picture book that will open up important conversations about worries and anxiety from Blue Peter prize winning author, Pamela Butchart. Jeremy is a worrier. He worries about odd soc ks, spotty bananas, evil squirrels, burnt toast, dinosaurs and, most of all...the wind! His friend Maggie isn't worried about anything - after all, what's the worst that could happen? But when Maggie decides to go outside and play in the wind, Jeremy must act fast to keep her out of danger, and he is soon to discover that a bit of courage leads to the most exciting adventures.A funny and reassuring story from the bestselling author of Wigglesbottom Primary, and with charming and humorous artwork by Kate Hindley, illustrator of best-selling The Same But Different Too and You Must Bring a Hat. ...Show more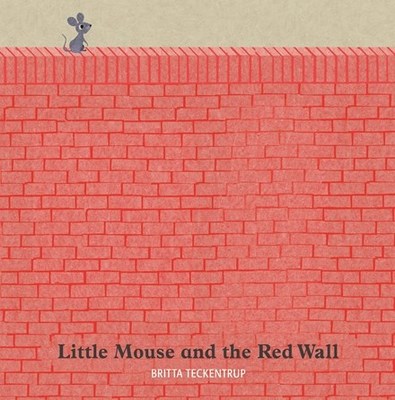 $24.99
AUD
Category: Picture Books
A simple, beautiful and timely picture book about facing our fears, discovering freedom and welcoming change within ourselves and the world. What lies beyond the Red Wall? Mouse's friends don't know - but that doesn't stop them feeling scared. Can Mouse find the courage to travel into the unknown, wher e a world of freedom and possibility awaits? From Global Illustration Excellence Award winner Britta Teckentrup comes a simple and beautiful tale about facing our fears, welcoming change and discovering freedom - perfect for even the youngest children. Lift the stylish dust jacket to reveal the colourful, decorative cover beneath. This beautiful jacketed hardback is the perfect gift for a loved one!  ...Show more
$14.99
AUD
Category: Anxiety/Fears | Series: Being You Ser.
Everyone has feelings ... sometimes we just don't know what to do with them! Happy, sad, lonely, angry, anxious, proud, scared - they're all feelings and emotions and they're all OK! 40pp
$24.99
AUD
Category: Anxiety/Fears
Learn all about emotions with this friendly guide, packed with advice on how to understand your feelings. Feelings can be tricky, and My Mixed Emotions will coach you through situations including dealing with bullying, getting on with siblings, grief, relaxing, dealing with sadness, and how to cope if y our family splits up. Discover great things about yourself, and understand why you laugh when you hear a joke, why you cry when you watch a sad film, what a smile is, why the dark can be scary, why you blush when you're embarrassed, and why sometimes you can feel lots of different emotions all at once! Fun emojis will explain phobias, give you new vocabulary to describe your emotions, and show you what a special person you are. My Mixed Emotions will become your friend and guide as you travel through the mixed-up world of emotions to discover your wonderful, unique self. ...Show more