Found (HB)
by Bruce Pascoe; Charmaine Ledden-Lewis (Illustrator)
$24.99
AUD
Category: Picture Books
This gentle story set in the rugged Australian bush is about a small calf who becomes separated from his family. The little calf is alone and simply wants his mother, sisters and brothers. He can see other animals, and after running to the river, manages to ask some horses if they are his family. The ca lf's family have been taken away in the back of a noisy truck. So begins the little calf's journey to find his family. In Found we share the calf's point of view in an evocative story, accompanied by stunning illustrations. ...Show more
Family
by Aunty Fay Muir; Jasmine Seymour (Illustrator); Sue Lawson
$24.99
AUD
Category: Picture Books | Series: Our Place Ser.
Age range 3 to 9 Family is a thoughtful contemplation for all to learn the different ways that family makes us whole. This beautifully illustrated children's picture book shows everyone that 'family' can be about heart and home; an endless sky; stories and songs. It  'learns' us how to be with each othe r and with Country. Families come in all shapes and sizes, and this remarkably simple story teaches us all, that family can be many things. ...Show more
Respect
by Aunty Fay Muir; Sue Lawson; Lisa Kennedy (Illustrator)
$24.99
AUD
Category: Picture Books | Series: Our Place Ser.
Our Way is old. Older than the red earth. Older than flickering stars. Our way is respect. A tender, thoughtful story reminding us to respect others and respect ourselves. Part of the Our Place series which welcomes children to culture.  'Dream team Aunty Fay Muir and Sue Lawson, who previously brought us the excellent Nganga: Aboriginal and Torres Strait Islander words and phrases, have collaborated with artist Lisa Kennedy to deliver this absolutely exquisite picture book.  In Respect, the first book in Magabala's Our Place series — the aim of which is to welcome children to Aboriginal culture — Muir and Lawson's sparse text is offset by Kennedy's luminous images, which come alive on the page.' — Hannah Gardiner, Books+Publishing ...Show more
$16.99
AUD
Category: Indigenous
This remarkable book is more than an A to Z of Australian animals. It is a spectrum of every feeling under the sun - from wonder to vanity, from weariness to delight - and every one of these passions can be found between the covers of a book...if only you take the time to have a look.
$24.99
AUD
Category: Indigenous
Archie Roach AM's deeply personal song, 'Took the Children Away', from his 1990 debut album, Charcoal Lane, was the first song ever to receive a prestigious Australian Human Rights Award. Its impact was immediate, shining a stark light on Australia's shameful past practices of removing children from the ir families. The song also speaks of love and reconnection and has travelled across seas into the hearts of First Nations communities everywhere.   One dark day, when Archie was just two years old, big black government cars came to his home at Framlingham Aboriginal Mission in southwest Victoria. They forcibly took Archie away from his mother, father and family - everything he had ever known. They took away thousands of other Aboriginal children, right around Australia. Powerful people had decided that these children would be better off living and learning all the white man's ways. Frightened and alone, they grew up in institutions and foster homes. They became known as the Stolen Generations.   Ruby Hunter was one of those children, too, only eight when she was taken from the loving arms of her grandmother living on the Coorong in South Australia.   Archie and Ruby met and fell in love as homeless teenagers and Archie started writing songs to help ease his pain. Archie's songs, loved by fans worldwide, tell a powerful story of survival and renewal, and the healing power of music.   In this special 30th anniversary edition, Archie's iconic lyrics sit alongside evocative illustrations by his beloved soulmate and musical collaborator, Ruby Hunter. Also included are Archie's recollections of his family and rare historical photographs.   Aboriginal and Torres Strait Islander readers are warned that this book contains images of people who are deceased or who may now be deceased.     ...Show more
Aunty's Wedding
by Miranda Tapsell; Joshua Tyler
$24.99
AUD
Category: Indigenous
A Tiwi-Island girl prepares for Aunty's wedding with help from her maningawu in this vibrant picture book by the popular actor and writers of Top End Wedding and the highly acclaimed illustrator of Alfred's War.   Everyone on the island is getting ready for Aunty's wedding.Maningawu puts on her best ha t and I can wear a wurrijinga in my hair. Lucky!We all dress up, but I still don't understand. Why do people have a wedding?A warm family story that celebrates love and culture from actor, activist, writer and Australian sweetheart, Miranda Tapsell, and Joshua Tyler, co-writer of Top End Wedding, lushly illustrated by Samantha Fry. ...Show more
$22.99
AUD
Category: Indigenous
You are on Indigenous lands, swimming in Indigenous waters, looking up at Indigenous skies. Living on Stolen Land is a verse-styled look at our colonial-settler 'present'. This book is the first of its kind to address and educate a broad audience about the colonial contextual history of Australia, in a highly original way. It pulls apart the myths at the heart of our nationhood, and challenges Australia to come to terms with its own past and its place within and on 'Indigenous Countries'. This title speaks to many First Nations' truths — stolen lands, sovereignties, time, decolonisation, First Nations perspectives, systemic bias and other constructs that inform our present discussions and ever-expanding understanding. This title is a timely, thought-provoking and accessible read. ...Show more
$24.99
AUD
Category: Indigenous
"Great-Grandpa Liman lives in a small house by the sea. There are no lights — just stars as far as the eye can see." Brother Moon is a powerful story lovingly told by a great-grandfather to his great-grandson. Beneath the dark sky of the Northern Territory, Hippy-Boy is captivated when Great-Grandpa Lim an tells him the mysterious story of his brother and how it guides his connection to Country. Great-Grandpa is a masterful storyteller and, as the tale unfolds, he finally reveals his brother is the moon — a wonder of the universe. Hippy-Boy learns how his greatgrandfather uses the phases of the moon when he goes hunting and fishing, and why it is important for us all to have an understanding of the natural world. Liman (Harry Morgan), the author's grandfather, was a respected Wadjigany man — a leader amongst his people and the community. Liman was born at Manjimamany in the Northern Territory in 1916. He was a canoe maker, hunter, community mediator, and a family man who lived off the land and travelled the seas. Liman spoke Batjamalh, his first language, and other languages from the Daly River area. ...Show more
$24.99
AUD
Category: Indigenous
Run to the creek, perch on a rock, slip into clear crystal water. An visual and lyrical depiction of coming home to country from acclaimed author and illustrator Bronwyn Bancroft.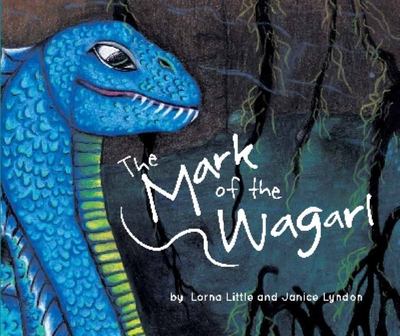 $17.95
AUD
Category: Indigenous
Maadjit Walken is the Sacred Rainbow Serpent. She is the mother spirit and creator of Nyoongar Country in the south-west of Western Australia. She formed the landscape and the waterways, and made her first child Maadjit Wagarl, the Sacred Water Snake, the guardian spirit of all the rivers and fresh wate rs. The Mark of the Wagarl is the story of a how a little boy dared to questioned the wisdom of his elders and why he received the Sacred Water Snake for his totem. Janice Lyndons pastel illustrations resonate with the cultural power of the Maadjit Wagarl and the landscape of the south-west. ...Show more
$24.99
AUD
Category: Indigenous | Reading Level: New Illustrator
Age range 5 to 12 'Warami mittigar. Hello friend. We welcome you to Darug Country.' Cooee Mittigar, meaning Come Here Friend, is an invitation to yana (walk), on Darug Country.  In this stunning picture book, Darug creators Jasmine Seymour and Leanne Mulgo Watson tell a story on Darug Songlines, introdu cing children and adults-alike to Darug Nura (Country) and language. Greeted by Mulgo, the black swan, readers are welcomed to Nura. Journeying through the seasons, Mulgo describes the land, skyscape, birds, animals and totems. It is a gentle guide to how Darug people read the seasons, knowing when it is time to hunt and time to rest. It is also an appeal to remember, off ering new ways of seeing and reading the lands of the surrounding Sydney region.    With Darug language interspersed with English and an extensive glossary throughout, Cooee Mittigar presents an important tool for learning, told as a tender story with exquisite illustrations. It is Jasmine and Leanne's wish that with this book, everyone will know that the Darug mob are still here and still strong.  Cooee mittigar. Tread softly on our lands.Know that this dreaming was here. Is still here.Will be forever. ...Show more
Mum's Elephant (PB)
by Maureen Jipiyiliya Nampijinpa O'Keefe; Christina Booth (Illustrator)
$17.99
AUD
Category: Indigenous
Age range 0 to 8  'A simply lovely story about the sometimes-quirky memories we have of our mothers.' — Dub Leffler, award winning author/illustrator Maureen Jipiyiliya Nampijinpa O'Keefe grew up in the remote community of Ali Curung in the NT. Her family lived a bush life. They didn't own much but her mother had a very special 'elephant'. It was her mother's most prized possession and she gave it tender loving care. When her mother's friends were around, they had real tea-parties with the elephant. Often her mother would sleep with it beside her bed. Christina Booth's splendid illustrations of desert landscapes and bush life deepen the mystery of the elephant, only revealing subtle clues to its true identity. The reader is beguiled by the storytelling until the big surprise when the elephant is revealed. Maureen Jipiyiliya Nampijinpa O'Keefe is a natural storyteller and conveys warmth and humour in her writing. Mum's Elephant will intrigue children and remind adult readers of the simple things that held a special charm when they were young. 'Maureen Jipiyiliya Nampijinpa O'Keefe has spun a cherished childhood memory into a beguiling tale for children in this debut picture book...The joy and value of community lies at the centre of this story — the teapot, which comes out whenever friends visit, is valued for its ability to spark conversations and shared stories — and O'Keefe's gentle humour illuminates the creative and transformative power of a child's perspective on an adult world. Mum's Elephant is a welcome addition to the growing number of stories being shared by First Nations writers.' — Bronte Coates, Books+Publishing ...Show more