$26.99
AUD
Category: History
From monster-slewing heroes to ancient accounts of gods and goddesses from all around the world, such as Thor and Odin, the beautifully illustrated follow-up to Atlas of Monsters and Ghosts is a fun and fascinating journey through the realms of mythology, enthralling with tales of creation, legendary fa bles, gods and beasts. Accompanied by engaging text by Marzia Accatino, Laura Brenella's captivating illustrations take you on a voyage of discovery all over the globe. Guided by the centaur Chiron, young readers will vault across the world to learn about the powers and weaknesses of the gods, the adventures of the great heroes, the best ways to befriend strange creatures, and the most useful tricks for escaping terrible monsters. From Norse legends of valiant Valkyries preparing for battle to the powers of Ancient Egypt's gods and goddesses, this is an exciting introduction to the world of gods, goddesses and heroes for young kids. About Lonely Planet Kids: Lonely Planet Kids - an imprint of the world's leading travel authority Lonely Planet - published its first book in 2011. Over the past 45 years, Lonely Planet has grown a dedicated global community of travellers, many of whom are now sharing a passion for exploration with their children. Lonely Planet Kids educates and encourages young readers at home and in school to learn about the world with engaging books on culture, sociology, geography, nature, history, space and more. We want to inspire the next generation of global citizens and help kids and their parents to approach life in a way that makes every day an adventure. Come explore!   ...Show more
$26.99
AUD
Category: History | Series: Lighthouse Girl Ser.
From fighting for the right to vote to nursing conscripted young men, Rose's life changes forever when World War I arrives in the peaceful English village of Harefield. With an influx of wounded Australian soldiers, the villagers rally around to provide care and comfort, despite suffering their own casu alties and grieving for their own losses. Training to nurse Australian soldiers like Jim the Light Horse boy is hard work, but with it comes much for Rose to treasure--in the gaining of a vocation, in confidence won, and in finding new love in a new land. ...Show more
$14.99
AUD
Category: History | Series: Australia Remembers Ser.
Every year there are special days when we remember all those who have fought in the past to keep Australia free and those who still fight today to keep us safe. On 25 April - Anzac Day - and on 11 November - Remembrance Day - we stop to think about those people and how much they have done for us. Anzac Day reminds us that, as Australians, we are proud of the Anzac spirit which has helped shape our traditions, our culture, and who we are. On Remembrance Day we honour all those who gave up so much for their country, especially those who lost their lives. Australia Remembers presents a detailed explanation of the origins and traditions of Anzac Day and Remembrance Day, exploring both their connections and significance to young Australians today. The colourful traditions and symbols of these special days are described in language that is easily accessible to younger readers, helping them to understand what these mean and how important it is to remember those Australians who have fought for their country and those who keep us safe today. Australia Remembers is designed to ensure that the next generation shares the history and traditions of these important occasions. ...Show more
$24.99
AUD
Category: History
Coming about From dinghies to freight liners, pirate ships to submarines, across oceans and up rivers, set sail on a fascinating journey through the world of ships in this new book from illustrator James Gulliver Hancock. In this companion to How Airports Work and How Trains Work, young readers travel t hrough history and around the world to find out everything they ever wanted to know about ships. Lift the flaps to unfurl papyrus sails on an Ancient Egyptian ship sailing up the Nile, tour a historic Spanish galleon, zoom across the water at almost 320 miles per hour in a speedboat, and much more. See how ships stay afloat, cultivate wind power, and navigate using the stars . Learn all about how the first simple boats carved out of tree trunks evolved into the giant super yachts and cruise liners of today, and take a look at the limitless possibilities of the ships of the future. How Ships Work is jam-packed with amazing facts and awesome illustrations, and was created in consultation with the National Maritime Museum, UK. About Lonely Planet Kids: Lonely Planet Kids - an imprint of the world's leading travel authority Lonely Planet - published its first book in 2011. Over the past 45 years, Lonely Planet has grown a dedicated global community of travelers, many of whom are now sharing a passion for exploration with their children. Lonely Planet Kids educates and encourages young readers at home and in school to learn about the world with engaging books on culture, sociology, geography, nature, history, space and more. We want to inspire the next generation of global citizens and help kids and their parents to approach life in a way that makes every day an adventure. Come explore ...Show more
$24.99
AUD
Category: History
  This fun and colourful lift-the-flap book gives a unique insight into how cities looked in the past, compared to how they look now. With ancient cities and ruins including Pompeii, Great Zimbabwe and Babylon, discover how history has shaped our planet''s urban areas and changed them over time.  Featur ed cities include: Thebes in Egypt (c. 900 BCE) - Shows the ancient Egyptian capital of Thebes compared to the modern city of Luxor. Featured elements include the Temple of Karnak, the Temple of Luxor and King Tutankahmun''s Tomb in the Valley of the Kings Constantinople, Turkey (c. 550) - Highlights the capital of the Eastern Roman/Byzantine Empire as it looked at its peak in the 6th century, with its giant hippodrome compared with the modern city of Istanbul Aarhus, Denmark (c. 950) - Showcases the Viking city of Aarhus as it was in the 10th century, compared to the port city that has grown up in its place Tenochtitlan, Mexico (c. 1521) -  Exhibits the vast capital of the Aztecs as it was at the moment of the Spanish invasion compared to the cosmopolitan Mexico City which was built on top of it Rio de Janeiro, Brazil (c. 1565) - Explores the Brazilian city as it looked at the moment of its foundation, still largely covered in tropical jungle, to how it looks now London, United Kingdom (c. 1666) - Delves into how London has changed since the time of the Great Fire of London to the present day And much, much more! About Lonely Planet Kids:Lonely Planet Kids - an imprint of the world''s leading travel authority Lonely Planet - published its first book in 2011. Over the past 45 years, Lonely Planet has grown a dedicated global community of travellers, many of whom are now sharing a passion for exploration with their children. Lonely Planet Kids educates and encourages young readers at home and in school to learn about the world with engaging books on culture, sociology, geography, nature, history, space and more. We want to inspire the next generation of global citizens and help kids and their parents to approach life in a way that makes every day an adventure. Come explore!   ...Show more
$29.99
AUD
Category: History
In the beginning, about 13.8 billion years ago, the Universe started with a bang. Travel through time and space to learn how the world has evolved from the Big Bang onwards! From the creation of the stars, through the evolution of plants and animals, the dawn of the dinosaurs, and on towards the first humans, early civilisations, empires and technology, this incredible book will take you through the history of, well, everything! The History of Everything in 32 Pagesis a visual guide to 'everything' - from the formation of the solar system, right up to the modern day. Fourteen exciting double-page spreads draw you into a world of discovery. Each fascinating scene depicts a key development in life on earth, with colourful and engagingillustrations and packed with interesting facts and figures. The History of Everything in 32 Pagestakes you through the ages in a compact and concise way, covering a huge-ranging subject in just one book! A fun and accessibleguide to the history of the universe, this book is suitable for children aged 7 and above. Anna Claybourneis a children's author who has written non-fiction books on a wide variety of topics, including science and technology, wildlife and history. ...Show more
$34.99
AUD
Category: History
A visual introduction to our planet and society told through the history of our greatest inventions and the technology that has changed the world. In his signature playful style, Peter Goes illustrates the most fascinating technologies, from the first tools to the most specialized IT, from medical brea kthroughs to the creation of YouTube. He includes remarkable scientists and innovators and highlights lesser-known stories. A compelling history of technology from the Stone Age to the present day, from America to the Southern hemisphere and beyond. ...Show more
Strangers on Country
by David Hartley; Kirsty Murray; Dub Leffler (Illustrator)
$29.99
AUD
Category: History
 Age range 8+ Giom, Anco and Duramboi are the names of just three young shipwreck survivors and convict escapees who were given refuge by Indigenous communities during the nineteenth century. No one knows exactly how many received sustenance from the local people, but there are some documented accounts of these experiences. Strangers on Country includes the stories of six Europeans and the people who cared for them. To Aboriginal and Torres Strait Islander people, the first castaways and runaway convicts that arrived in their homes must have appeared pretty scary. The strangers didn't speak their language and didn't understand their ways, but they were desperately in need of refuge. Despite their fears, the Indigenous hosts often treated the lost strangers with kindness, taking pity on them and giving them food and shelter. When they returned to live among white people, the castaways and convicts spoke fondly of the people who had rescued them. Based on historical records each story in this book is told through two historical fiction narratives. The first is from the point of view of an Indigenous person who befriends the stranger in their land. The second is from the point of view of the castaway or convict who is given refuge. At the end of each chapter, there is a section of facts and information. Too often Australian history is told only from the point of view of the Europeans who sailed here from across the world. Richly illustrated and drawing on the extensive collections of the National Library of Australia, Strangers on Country will inspire young readers to think about how all Australians today can learn from traditional Indigenous ways of thinking and doing. When we listen to and understand others, work with people, instead of doing things to people, then we can all begin to adopt the wise ways of the past. This book was inspired by and based on Living with the Locals: Early Europeans' Experience of Indigenous Life by John Maynard and Victoria K. Haskins.  ...Show more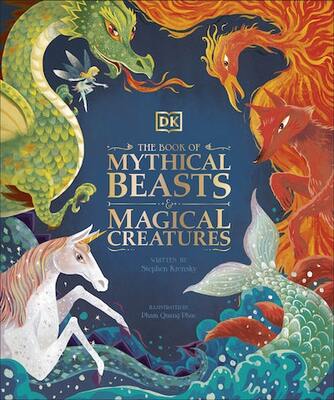 $34.99
AUD
Category: History
Enter the enchanting world of mythical creatures and explore the history behind them in this beautifully illustrated compendium for kids. Meet an incredible cast of fictional animals from all around the world. Say hello to Thunderbird flying over North America and learn about the Native American traditi ons that inspired its story. Voyage to Japan to meet kitsune, supernatural nine-tailed foxes that can turn into humans. And jump on board an ancient storm-battered ship to learn why mermaids were the last thing a sailor wanted to see... From narwhal tusks inspiring the legend of unicorns, to dinosaur bones creating rumours of dragons, there is an interesting story behind every magical beast. Learn about the societies that spawned these legendary creatures, from Ancient Greece to the indigenous tribes of Australia. This is the only kids' guide to magical creatures that tells you the history behind the mythology. ...Show more
$39.99
AUD
Category: History
The extraordinary companion title to the critically-acclaimed Norse Myths: Tales of Odin, Thor and Loki, from a Carnegie Medal-winning author. Enter an ancient world of green glades and glaciers, where gods and goddesses spread their magic whilst rock-giants and mountain-trolls roam. This astonishing ne w collection of Norse tales from the award-winning Kevin Crossley-Holland – with Jeffrey Alan Love's arresting illustrations – will enthral readers of all ages. ...Show more
$24.99
AUD
Category: History
Author Thomas Mayor's journey around Australia with the Uluru Statement has been a moving experience. In particular, when he visited schools he was inspired by the children he spoke with. Unlike past generations, Australian children today are learning Indigenous languages, seasons and the truth of this country's history. Some children he met even knew more about the Australian Constitution than most adults do! The expression 'through a child's eyes' is put into practice in the pages of this picture book for 5- to 10-year-olds. Thomas hopes that by talking to the guardians of future Australian generations, perhaps we can all accept what First Nations have proposed in the words of the Uluru Statement:'When we have power over our destiny our children will flourish. They will walk in two worlds and their culture will be a gift to their country.' The final pages offer children ideas on how they can accept the gift offered by the Uluru Statement, such as finding out who the Traditional Owners are of their home city or town, and trying some different local bushfoods With illustrations created by award-winning artist Blak Douglas, this is a timely children's book that complements Thomas's bestselling adult book Finding the Heart of the Nation.   ...Show more
$27.99
AUD
Category: History | Reading Level: 9 YA
Set your sails east with this stunningly original new history of the world. Peter Frankopan, number one bestselling author and historian explores the connections made by people, trade, disease, war, religion, adventure, science and technology in this extraordinary book about how the east married the we st with a remarkable voyage at its heart - the journey along the Silk Roads. From ancient world laws laid down by King Hammurabi and the mighty Persian empire, to terrifying huns, the rise of Europe, two world wars and politics today, The Silk Roads moves through time and history sewing together the threads from different peoples, empires and continents into a phenomenal history of the globe. With stories from each and every corner of society, Frankopan's magnificent brand new text based on his literary triumph The Silk Roads, sumptuously illustrated by Neil Packer, is a must-have world history. ...Show more