$14.99
AUD
Category: Junior Readers
   Adventure awaits! From the imagination of Rowley Jefferson comes an adventure of epic proportions. Join Roland and his best friend, Garg the Barbarian, as they leave the safety of their village and embark on a quest to save Roland's mom from the White Warlock. Will our heroes survive? Find out in Ro wley Jefferson's Awesome Friendly Adventure! ...Show more
$19.99
AUD
Category: Junior Readers
A deliciously funny tale, with equally amusing illustrations, about being judged for what, rather than who, you are. When Boris and his parents learn that Scotland is re-introducing wolves, they leave their mansion in Morovia for their Scottish homeland. But these wolves aren't planning to settle in t he wild, oh no! Instead, they book into the exclusive Highland Hotel, from where they plan to enjoy Scotland's best tourist spots and cuisine. Is Scotland ready for holidaying wolves? Especially such hungry ones? And why are certain people so unhappy to see them? From spooky dungeons to scheming developers, the Greycoats' new adventure is full of surprising discoveries. ...Show more
$14.99
AUD
Category: Junior Readers | Series: Diary of a Wimpy Kid
An unexpected inheritance gives the Heffley family a chance to make major improvements to their home. But they soon find that construction isn't all it's cracked up to be. When things get rough, will the Heffleys be able to stay ... or will they be forced to move?  
$24.99
AUD
Category: Junior Readers
Millions of young readers have loved the World's Worst Children tales and revelled in the World's Worst Teachers with their delightfully dreadful deeds – now prepare for…THE WORLD'S WORST PARENTS! From the phenomenally bestselling David Walliams and illustrated in glorious colour by the artistic genius, Tony Ross. Are you ready to meet the worst parents ever? Sure, some parents are embarrassing – but they're NOTHING on this lot. These ten tales of the world's most spectacularly silly mums and deliriously daft dads will leave you rocking with laughter. Pinch your nose for Peter Pong, the dad with the stinkiest feet in the world… jump out of the way of Harriet Hurry, the fastest mum on two wheels… watch out for Monty Monopolize, the dad who takes all his kids' toys… and, oh no, it's Supermum! Brandishing a toilet brush and a mop, she's out to save the world! With a very special introduction said to be from David's own mum, these ten tales of the most madcap mums and deliciously daft dads will leave you rocking with laughter. ...Show more
$16.99
AUD
Category: Junior Readers
Halley, Koby and Mimi have been sent a nanny to look after them while their parents are away. The only problem? Their nanny is a monster! Grah is enormous, hairy, dusty and doesn't talk. As the three siblings search for answers, they discover that other neighbourhood kids have also been left with simil ar creatures. So where did they all come from? With no parents around and the fate of their new nanny at stake, the Hellman kids must depend on each other as they solve the mystery of the monsters - and maybe even help them get back to their home. Finnish author Tuutikki Tolonen seamlessly intertwines contemporary life with a world full of strange creatures in this warm, amusing and sweetly-moving story. Monster Nanny is at once a refreshing change of pace and a return to timeless adventure. 'A wonderful rollicking adventure!' Richard Roxburgh; 'An exciting and hilarious read.' Anna Fienberg; 'A strange but entertaining romp that will surprise readers at every turn.' Publishers Weekly ...Show more
$17.99
AUD
Category: Junior Readers | Series: Dog Man
The next great Dog Man adventure from the worldwide bestselling author and artist Dav Pilkey. You'll howl with laughter! The Supa Buddies bamboozled the baddies, but all's not right in the world. Dog Man has a new problem to pound, and he's going to need his entire pack to help him. Will he go barking up the wrong tree?   Dav Pilkey's wildly popular Dog Man series appeals to readers of all ages and explores universally positive themes, including empathy, kindness, persistence, and the importance of doing good.   ...Show more
$16.99
AUD
Category: Junior Readers
Potatoes and espionage collide in The Peski Kids' final mission! With a team of international super spies hunting them down, The Peski Kids' orders are simple – act normal. But for Joe, Fin, April and Loretta that mission is impossible. Tensions run high when their mum moves in and starts spotting ene my agents behind every corner in Currawong. Should The Peski Kids get out of town? Of course they should! But they're not going to. Not when there's a potato festival to celebrate. ...Show more
$16.99
AUD
Category: Junior Readers
'GREETINGS. AM LOOKING FOR A MAJOR CRIME TO SOLVE. PLEASE INFORM ME OF ANY RECENT MURDERS, KIDNAPPINGS OR JEWEL HEISTS IN THIS AREA.' Clara wants to be a famous detective with her own TV show. She can read claw marks, find missing feathers and knows morse code and semaphore. There's just one problem. She's a small scruffy chook, and no one takes her seriously. But when she teams up with Olive, the daughter of the local policeman, they might just be able to solve the crimes that have been troubling the town of Little Dismal. A puzzling and hilarious mystery from bestselling author, Lian Tanner. ...Show more
Jack Goes West
by Mac Barnett; Greg Pizzoli (Illustrator)
$15.99
AUD
Category: Junior Readers | Series: A\Jack Book Ser.
From New York Times bestselling author Mac Barnett and Geisel Award-winning illustrator Greg Pizzoli, an uproarious early reader series about a mischievous rabbit, a cranky old lady, and a lovable dog.   Jack and the Lady take the train West to visit a dude ranch. One night, there's a bank robbery nex t door, and Jack is pegged as the bandit. But thanks to Jack's new rope tricks, the real robber is caught, and Jack leaves the Wild West a free rabbit with a big secret.   Welcome to the laugh-out-loud and irreverent world of Jack, a new early reader series by the New York Times bestselling and award-winning team of Mac Barnett and Greg Pizzoli. ...Show more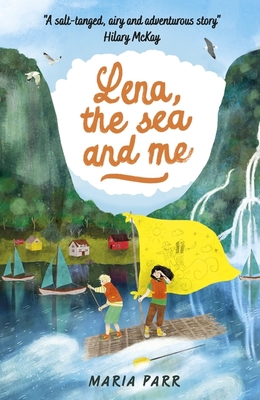 $14.99
AUD
Category: Junior Readers
A heartwarming and action-packed story of friendship from Norway's answer to Astrid Lindgren. This classic in the making from award-winning author Maria Parr is packed full of laugh-out-loud adventures and paints an honest picture of the highs and lows of friendship and growing up. Dark clouds are loom ing in Mathildewick Cove. The arrival of a new football coach is putting twelve-year-old Lena's goalkeeping career in doubt. And in the house next door, Trille is wondering how to impress the girl who has just joined his class. The stage is set for a dramatic year ahead. What are Trille and Lena to do when every raft they build sinks, and every message in a bottle they send washes up on the shore at home? As the best friends battle the elements and their own emotions, one thing is for sure: they're not giving up, not if Lena has anything to do with it! ...Show more
$14.99
AUD
Category: Junior Readers | Series: Treehouse
Andy and Terry's treehouse now has 13 new storeys, including a tiny-horse level, a pyjama-party room, an Underpants Museum, a photo-bombing booth, a waiting room, a Door of Doom, a circus, a giant-robot-fighting arena, a traffic school, a water-ski park filled with flesh-eating piranhas and a treehouse visitor centre with a 24-hour information desk, a penguin-powered flying treehouse tour bus and a gift shop. Well, what are you waiting for? Come on up! ...Show more
$14.99
AUD
Category: Junior Readers
Life's tough when your name's Derek. You're destined to be uncool. But Derek is determined to find something - anything - that will change that. He's sick of being picked last in PE, of not being invited to parties, and of all the cool kids using his freckles as dot-to-dot challenges. Derek is going t o find something that will make him SUPERCOOL and nothing is going to stop him.   ...Show more