$29.99
AUD
Category: Political
What's important is our story, our whole story, including those moments when we feel a little vulnerable . . . Michelle Robinson started life sharing a bedroom with her older brother Craig, in their family's upstairs apartment in her great-aunt's house. Her parents, Fraser and Marian, poured their love and energy into their children. She would go on to become Michelle Obama, the inspirational First Lady of the United States of America.Now adapted for younger readers, with new photographs and a new introduction from Michelle Obama herself, this memoir tells a very personal, and completely inspiring, story of how, through hard work and determination, the girl from the South Side of Chicago built an extraordinary life. A tale of ups and downs, triumphs and failures, this is an incredibly honest account. It'll take you from the early years - first kiss, first school, first love - to the wonders of the White House, and the moment Mrs Obama shook hands with the Queen of England.A book to read, share, and talk about with the adults in your life, this is a call to action and compassion, and hope for change in uncertain times, and in a scary world.You'll be inspired to help others, and understand that no one is perfect. Just like Michelle Obama, you too are finding out exactly who you want to be (and, actually, so are the adults in your life).Above all, it is a book to make you think- who are you, and what do you want to become? ...Show more
$46.00
AUD
Category: Biographies & Memoir | Series: Good Night Stories for Rebel Girls
The latest installment in the New York Times bestselling Good Night Stories for Rebel Girls series, featuring 100 immigrant women who have shaped, and will continue to shape, our world. Good Night Stories for Rebel Girls: 100 Immigrant Women Who Changed the World is the third book in the New York Times bestselling series for children. Packed with 100 all-new bedtime stories about the lives of incredible female figures from the past and the present, this volume recognizes women who left their birth countries for a multitude of reasons: some for new opportunities, some out of necessity. Readers will whip up a plate with Asma Khan, strategize global affairs alongside Madeleine Albright, venture into business with Rihanna, and many more. All of these unique, yet relatable stories are accompanied by gorgeous, full-page, full-color portraits, illustrated by female artists from all over the globe. ...Show more
$14.99
AUD
Category: Biographies & Memoir | Series: Aussie Stem Star Ser.
Age range 9 to 14Georgia Ward-Fear is most famous for her research into shifting ecological paradigms and animal behaviour. She is also an adventurer, travelling extensively in her sea kayak. Georgia Ward-Fear's conservation journey has seen her travel the world, empower young girls to become environmen tal leaders, and carry out trailblazing work to save native animals from the threat of cane toads.An inspiring story of an adventurous spirit whose love of the natural world has made her a STEM superstar.    ...Show more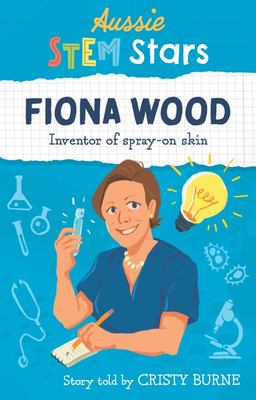 $14.99
AUD
Category: Biographies & Memoir | Series: Aussie Stem Star Ser.
Age range 9 to 14Fiona Wood is a plastic surgeon whose expertise in burns treatment came to the world's attention in 2002 in the wake of the Bali bombings. From defending the weak and fixing the broken to fighting for her chance to study medicine, the story of plastic surgeon and spray-on skin inventor Fiona Wood shows us the value of dreams, hard work, and having the courage to do what is right.'She revolutionised treatment and outcomes for burns patients around the world – and she continues to work tirelessly in this area, striving for a better future. I think everyone she meets comes away affected and uplifted by her spirit, stamina, generosity and courage. It was an extraordinary honour to work with Fiona to tell her story.' — Cristy Burne ...Show more
$49.99
AUD
Category: Biographies & Memoir | Series: Good Night Stories for Rebel Girls
The beloved New York Times bestsellers and Kickstarter crowdfunding sensations are available on audio for the first time, read by a star-studded fierce female cast including Alicia Keys, Ashley Judd, Danai Gurira, Esperanza Spalding, Janeane Garofalo, Mozhan Marn , Phillipa Soo, Rowan Blanchard, and Sam ira Wiley   Good Night Stories for Rebel Girls, Books 1-2 is packed with 200 bedtime stories about the lives of extraordinary women from the past and present, from Elizabeth I to Beyonc . Painters, scientists, dancers, chefs, astronauts, jazz singers, pharaohs, boxers, writers, political leaders...from every corner of the globe Each short biography is written in the style of a fairy tale, filling listeners with wonder and with a burning curiosity to know more about each hero.Good Night Stories for Rebel Girls, Books 1-2 will inspire young girls (and their mothers, their aunts, their cousins...) to be confident, to dream big, to cultivate their strength. Trade in princesses for presidents. Swap out Cinderella for Cleopatra tonight.Includes a PDF of two written exercises: "Write Your Story" & "Draw Your Portrait"   ...Show more
$14.99
AUD
Category: Biographies & Memoir | Series: Aussie Stem Star Ser.
Age range 9 to 14'Life is about making a difference,' Munjed says. "We all have a mission in life, to leave behind a legacy." His resilience, determination and view of the world as a glass half full, not half empty, has helped him excel in his chosen career. Highlights include his development of an impr oved osseointegration prosthetic limb, a new surgery that inserts a titanium implant into the bone, allowing patients to recover a certain level of feeling and greater mobility. His humanitarian work is equally as impressive, and includes being an ambassador for Red Cross, working with Amnesty International, and becoming a patron of the Asylum Seekers Centre.'I admire the way Munjed works tirelessly to give back to others less fortunate than himself. I hope that by sharing ways Munjed has over-come obstacles in his life journey, that readers will be inspired to seek ways to remain positive when they are also faced with hardship.' — Dianne Wolfe ...Show more
$19.99
AUD
Category: Biographies & Memoir
'There are many Australian stories, and mine is just one about what happened to me and other First Peoples of this country. It's important for me to tell my story - because it's not just part of my healing but of this country's as well. We all have a story and as you read this book I would like you to t hink of your own story, what that means and who is also a part of your story.' In his inspirational, highly acclaimed memoir - and including reflectionsfrom First Nations Elders and young people - Archie Roach tells the story of his life and his music. Only two when he was forcibly removed from his family, and brought up by a series of foster parents until his early teens, Archie's world imploded when he received a letter that spoke of a life he had no memory of. It took him almost a lifetime to find out who he really was. Tell Me Why is an unforgettable story of resilience, strength of spirit and hope. ...Show more
$19.99
AUD
Category: Biographies & Memoir
What do you think of when you hear the word 'hero'? Is it the wall-climbing, cape-wearing, villain-fighter you see in comics and films? Heroes can actually come in all forms, shapes and sizes. Some cook for the hungry. Some nurse the poorly back to health. Others raise money for important causes. From small acts of kindness to inventions that have saved the lives of hundreds of people, every person in this book has found their passion - or their superpower. No matter how big or small it might be, your power can be used to change the world for the better too. So put away the cape, climb down from that wall and discover how ordinary people can still do extraordinary things and become heroes. Written by Ben Brooks, the bestselling author of the Dare to Be Different books, and paired with vibrant comic-style illustrations throughout, this is the perfect guide for the budding superhero in your life!   ...Show more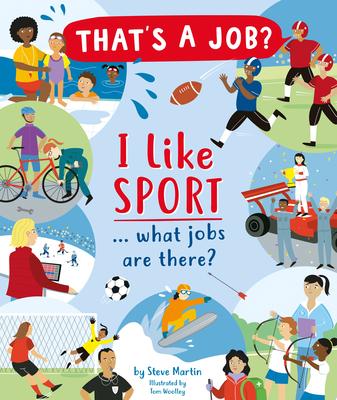 $24.99
AUD
Category: Biographies & Memoir | Series: That's a Job? Ser.
That's a Job? I Like Sport is the perfect guide for children who love sports and want to know all about what careers they could have.
$19.99
AUD
Category: Biographies & Memoir | Series: Little People, Big Dreams
Part of the bestselling Little People, BIG DREAMS series, Steve Jobs tells the inspiring story of this world-renowned entrepreneur.   In this book from the critically acclaimed, multimillion-copy bestselling Little People, BIG DREAMS series, discover the life of Steve Jobs, the visionary whose ideas st ill shape the world. Steve Jobs grew up surrounded by inventors, in sunny Silicon Valley, California. He and his friend Stephen Wozniak channelled their love of computers into their own inventions, building a successful company from Steve's garage. Steve thought that computers were the future, and his big ideas would transform the world and the way people use technology. This inspiring book features stylish and quirky illustrations and extra facts at the back, including a biographical timeline with historical photos and a detailed profile of the brilliant businessman's life. ...Show more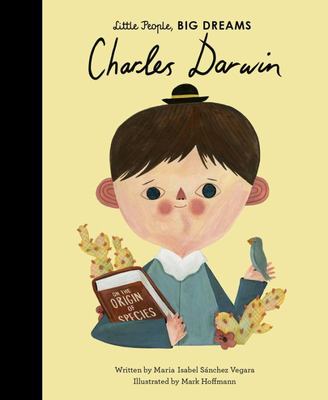 $19.99
AUD
Category: Biographies & Memoir | Series: Little People, Big Dreams
Part of the bestselling Little People, BIG DREAMS series, Charles Darwin tells the inspiring story of this world-renowned naturalist.   From the critically acclaimed, multimillion-copy bestselling Little People, BIG DREAMS series, discover the life of Charles Darwin, the scientist who changed the way p eople see the world. Although he didn't do very well at school, Charles Darwin was passionately curious about wildlife, humans and plants. After a journey to South America, he developed his landmark theory: that all living things are related. Today, he is regarded as one of the most brilliant scientists who ever lived, and a hero to those who dare to think differently. This inspiring book features stylish and quirky illustrations and extra facts at the back, including a biographical timeline with historical photos and a detailed profile of the iconic naturalist's life. ...Show more
$19.99
AUD
Category: Biographies & Memoir | Series: Little People, Big Dreams
New in the critically acclaimed Little People, BIG DREAMS series, discover the amazing life of Jane Goodall, the world's foremost expert on chimpanzees. When Jane was little, her father gave her a toy chimpanzee named Jubilee. This inspired her lifelong love of animals, and she went to study them in th e wild as soon as she could. Jane lived with chimpanzees in their natural habitat and became famous for her pioneering approach to research. She now educates the public on animal rights. This moving book features stylish illustrations and extra facts at the back, including a biographical timeline with historical photos and a detailed profile of the primatologist's life. Little People, BIG DREAMS is a best-selling series of books and educational games that explore the lives of outstanding people, from designers and artists to scientists and activists. All of them achieved incredible things, yet each began life as a child with a dream. This empowering series offers inspiring messages to children of all ages, in a range of formats. The board books are told in simple sentences, perfect for reading aloud to babies and toddlers. The hardcover versions present expanded stories for beginning readers. Boxed gift sets allow you to collect a selection of the books by theme. Paper dolls, learning cards, matching games, and other fun learning tools provide even more ways to make the lives of these role models accessible to children. Inspire the next generation of outstanding people who will change the world with Little People, BIG DREAMS! ...Show more