We have a huge classics section. Please check it out under Fiction - Classics
$12.99
AUD
Category: Classics | Reading Level: very good
Renowned urban artist Shepard Fairey's new look for Orwell's classic dystopian taleOne of Britain's most popular novels, George Orwell's Nineteen Eighty-Four is set in a society terrorised by a totalitarian ideology propagated by The Party. Winston Smith works for the Ministry of Truth in London, chief city of Airstrip One. Big Brother stares out from every poster, the Thought Police uncover every act of betrayal. When Winston finds love with Julia, he discovers that life does not have to be dull and deadening, and awakens to new possibilities. Despite the police helicopters that hover and circle overhead, Winston and Julia begin to question the Party; they are drawn towards conspiracy. Yet Big Brother will not tolerate dissent - even in the mind. For those with original thoughts they invented Room 101. . . Nineteen Eighty-Fouris George Orwell's terrifying vision of a totalitarian future in which everything and everyone is slave to a tyrannical regime. The novel also coined many new words and phrases which regular appear in popular culture, such as 'Big Brother', 'thoughtcrime', 'doublethink' and 'Newspeak'.%%%One of Britain's most popular novels, George Orwell's dystopian tale Nineteen Eighty-Four is set in a society terrorised by a totalitarian ideology propagated by The Party. 'It was a bright cold day in April, and the clocks were striking thirteen.'Winston Smith works for the Ministry of Truth in London, chief city of Airstrip One. Big Brother stares out from every poster, the Thought Police uncover every act of betrayal. When Winston finds love with Julia, he discovers that life does not have to be dull and deadening, and awakens to new possibilities. Despite the police helicopters that hover and circle overhead, Winston and Julia begin to question the Party; they are drawn towards conspiracy. Yet Big Brother will not tolerate dissent - even in the mind. For those with original thoughts they invented Room 101. . . Nineteen Eighty-Fouris George Orwell's terrifying vision of a totalitarian future in which everything and everyone is slave to a tyrannical regime. The novel also coined many new words and phrases which regular appear in popular culture, such as 'Big Brother', 'thoughtcrime', 'doublethink' and 'Newspeak'.'More relevant to today that almost any other book that you can think of' Jo Brand'Right up there among my favourite books...I read it again and again' Margaret AtwoodGeorge Orwell (Eric Arthur Blair) was an accomplished social, political and literary commentator and essayist known for his non-fiction works The Road to Wigan Pierand Homage to Catalonia. His most famous novels, Animal Farmand 1984 have influenced a generation of twentieth century political satirists and dystopian novelists. This edition of Orwell's seminal novel is introduced by Professor Peter Davidson. ...Show more
$12.99
AUD
Category: Classics | Series: Popular Penguins Ser.
First published in 1947, The Plague was an immediate best-seller, striking a powerful chord with readers who were struggling to understand the fascist 'plague' that had just overwhelmed Europe. Seventy years later, author and director Neil Bartlett has adapted Camus' classic for our own dangerous times. Using just five actors, his frank and gripping new stage version uses Camus' original words to put chaos under the microscope and to find hope in the power of our common humanity. ...Show more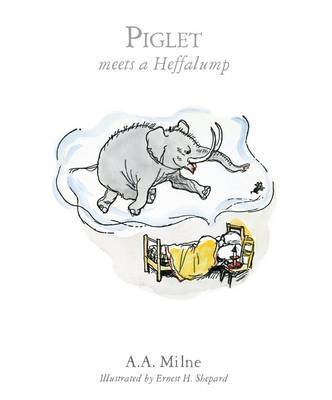 $9.95
AUD
Category: Classics
What is a Heffalump? Is it fierce? Is it fond of Pigs at all? Piglet bravely searches for the answers to these questions, and gets a big surprise.
Love in a Cold Climate
by Nancy Mitford; Alan Cumming (Introduction by)
$22.99
AUD
Category: Feel Good Fiction
A sparkling romantic comedy that vividly evokes the lost glamour of aristocratic life in England between the wars.   Polly Hampton has long been groomed for the perfect marriage by her mother, the fearsome and ambitious Lady Montdore. But Polly, with her stunning good looks and impeccable connections, is bored by the monotony of her glittering debut season in London. Having just come from India, where her father served as Viceroy, she claims to have hoped that society in a colder climate would be less obsessed with love affairs. The apparently aloof and indifferent Polly has a long-held secret, however, one that leads to the shattering of her mother's dreams and her own disinheritance. When an elderly duke begins pursuing the disgraced Polly and a callow potential heir curries favor with her parents, nothing goes as expected, but in the end all find happiness in their own unconventional ways.   Featuring an introduction by Flora Fraser. ...Show more
$19.99
AUD
Category: Classics | Series: Word Cloud Classics Ser.
Designed to appeal to the book lover, the Macmillan Collector's Library is a series of beautifully bound pocket-sized gift editions of much loved classic titles. Bound in real cloth, printed on high quality paper, and featuring ribbon markers and gilt edges, Macmillan Collector's Library are books to lo ve and treasure. When Alice tumbles down a rabbit hole one summer afternoon in pursuit of a White Rabbit, she finds herself in Wonderland. And here begin the adventures that have made Alice the stuff of legend and ensured that Lewis Carroll's book is the best loved and most widely read in children's literature. Illustrated in black and white by Sir John Tenniel, with an Afterword by Anna South. ...Show more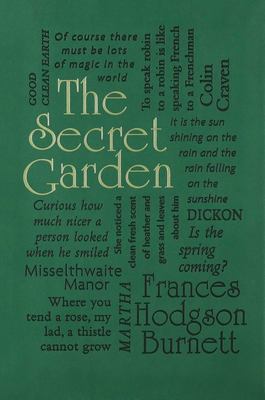 $29.99
AUD
Category: Classics
The classic children's story, now available in a new package   A classic piece of children's literature first published as a novel in 1911, Frances Hodgson Burnett's The Secret Garden is a story of transformation and renewal. Unwanted by her parents, Mary Lennox, a spoiled, selfish young girl is raise d in India by servants. When cholera breaks out killing her parents and most of the servants, Mary is sent to live with a mostly absent uncle in England. It seems as though no one cares for Mary, and that Mary will never care for anyone--until she steps into the secret garden, and her life begins to change.     Now available in this Canterbury Classics edition with a special heat-burnished cover, foil stamping, and designed endpapers, this hopeful and beautiful novel is the perfect gift for every child--and every adult who remembers that first moment when he or she began to finally grow up.     About the Word Cloud Classics series:   Classic works of literature with a clean, modern aesthetic Perfect for both old and new literature fans, the Word Cloud Classics series from Canterbury Classics provides a chic and inexpensive introduction to timeless tales. With a higher production value, including heat burnished covers and foil stamping, these eye-catching, easy-to-hold editions are the perfect gift for students and fans of literature everywhere. ...Show more
$24.99
AUD
Category: Classics | Series: Word Cloud Classics Ser.
The Art of War by Sun Tzu The Art of War is an ancient Chinese military treatise attributed to Sun Tzu, a high-ranking military general, strategist and tactician. The text is composed of 13 chapters, each of which is devoted to one aspect of warfare. It is commonly known to be the definitive work on mil itary strategy and tactics of its time. It has been the most famous and influential of China's Seven Military Classics, and "for the last two thousand years it remained the most important military treatise in Asia, where even the common people knew it by name." It has had an influence on Eastern and Western military thinking, business tactics, legal strategy and beyond. We are delighted to publish this classic book as part of our extensive Classic Library collection. Many of the books in our collection have been out of print for decades, and therefore have not been accessible to the general public. The aim of our publishing program is to facilitate rapid access to this vast reservoir of literature, and our view is that this is a significant literary work, which deserves to be brought back into print after many decades. The contents of the vast majority of titles in the Classic Library have been scanned from the original works. To ensure a high quality product, each title has been meticulously hand curated by our staff. Our philosophy has been guided by a desire to provide the reader with a book that is as close as possible to ownership of the original work. We hope that you will enjoy this wonderful classic work, and that for you it becomes an enriching experience. ...Show more
$18.99
AUD
Category: Classics | Reading Level: very good
Ray Bradbury's internationally acclaimed novel Fahrenheit 451 is a masterwork of twentieth-century literature set in a bleak, dystopian future. Guy Montag is a fireman. In his world, where television rules and literature is on the brink of extinction, firemen start fires rather than put them out. His jo b is to destroy the most illegal of commodities, the printed book, along with the houses in which they are hidden. Montag never questions the destruction and ruin his actions produce, returning each day to his bland life and wife, Mildred, who spends all day with her television "family." But then he meets an eccentric young neighbor, Clarisse, who introduces him to a past where people didn't live in fear and to a present where one sees the world through the ideas in books instead of the mindless chatter of television. When Mildred attempts suicide and Clarisse suddenly disappears, Montag begins to question everything he has ever known. He starts hiding books in his home, and when his pilfering is discovered, the fireman has to run for his life. ...Show more
$99.99
AUD
Category: Classics | Series: Word Cloud Classics Ser.
Discover the world of classic literature   Discover new realms of thought and fantasy in this exclusively selected boxed set Four special-edition Word Cloud Classics are included: The Wizard of Oz, The Wind in the Willows and Other Stories, Hans Christian Andersen Tales, and Aesop's Fables. Readers w ill be proud to display these works on their bookshelf when not reading folktales and detecting morals set forth by our ancestors--and the hot-air balloon cruising across the spines is sure to provoke many an interesting conversation. ...Show more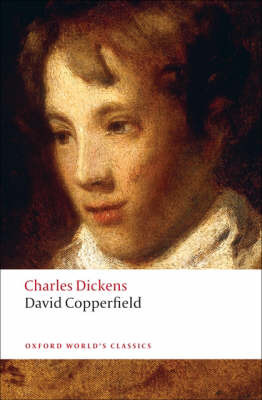 $21.95
AUD
Category: Classics
'I have in my heart of hearts a favourite child. And his name is DAVID COPPERFIELD,' wrote Dickens of what is the most personal, certainly one of the most popular, of all his novels. Dickens wrote the book after the completion of a fragment of autobiography recalling his employment as a child in a Londo n warehouse, and in the first-person narrative, a new departure for him, realized marvellously the workings of memory. The embodiment of his boyhood experience in the novel involved a 'complicated interweaving of truth and fiction', at its most subtle in the portrait of his father as Mr Micawber, one of Dickens's greatest comic creations. Enjoying a humour that never becomes caricature, the reader shares David's affection for the eccentric Betsey Trotwood and her protege Mr Dick, and smiles with the narrator at the trials he endures in his love for the delightfully silly Dora. Settings, (East Anglia, the London of the 1820s), people, and events are unified by their relationship to the story of Steerforth's treachery, which reaches its powerful climax in the storm scene.This edition, which has the accurate Clarendon text, includes Dickens's trial titles and working notes, and eight of the original illustrations by 'Phiz'. ...Show more
$19.99
AUD
Category: Classics
A book which speaks directly to the confusions and agonies of existence, detailing a personal, philosophical odyssey.
$12.99
AUD
Category: Classics
Renowned urban artist Shepard Fairey's new look for Orwell's timeless satire'All animals are equal. But some animals are more equal than others.'Mr Jones of Manor Farm is so lazy and drunken that one day he forgets to feed his livestock. The ensuing rebellion under the leadership of the pigs Napoleon an d Snowball leads to the animals taking over the farm. Vowing to eliminate the terrible inequities of the farmyard, the renamed Animal Farm is organised to benefit all who walk on four legs. But as time passes, the ideals of the rebellion are corrupted, then forgotten. And something new and unexpected emerges. . . Animal Farm- the history of a revolution that went wrong - is George Orwell's brilliant satire on the corrupting influence of power. ...Show more