$14.99
AUD
Category: Penguin Spinner Fiction | Series: The Handmaid's Tale
Lindsey Hilsum: (author of 'In Extremis; the Life of War Correspondent Marie Colvin' &  friend of Bookoccino)   "While others watched the TV series I re-read the book. When The Handmaid's Tale was published in 1985, reviewers compared Margaret Atwood unfavourably to male writers of science fiction. Now we know how prescient the book was, in all its savage brilliance."   The Republic of Gilead offers Offred only one function- to breed . If she deviates, she will, like dissenters, be hanged at the wall or sent out to die slowly of radiation sickness. But even a repressive state cannot obliterate desire - neither Offred's nor that of the two men on which her future hangs. . . . . ...Show more
$14.99
AUD
Category: Penguin Spinner Fiction | Reading Level: Adult
'Shoot all the bluejays you want, if you can hit 'em, but remember it's a sin to kill a mockingbird.' Meet Scout, the narrator of this book. Her story is one of Deep South summers, fights at school and playing in the street. The spooky house of her mysterious neighbour, Boo Radley, sags dark and forbidd ing nearby. Her brother, Jem, and her friend, Dill, want to make Boo come outside. Her story is about justice. When Scout's father, a lawyer, agrees to defend a black man against an accusation by a white girl, he must battle the prejudice of the whole town.It's about imagination - not just the kind you need for childhood games. Because you never really know a man until you stand in his shoes and walk around in them. Vintage Children's Classics is a twenty-first century classics list aimed at 8-12 year olds and the adults in their lives. Discover timeless favourites from The Jungle Book and Alice's Adventures in Wonderland to modern classics such as The Boy in the Striped Pyjamas and The Curious Incident of the Dog in the Night-Time. ...Show more
$24.99
AUD
Category: Penguin Spinner Fiction | Reading Level: very good
FROM THE PULITZER PRIZE-WINNING AUTHOR OF THE GOLDFINCH Truly deserving of the accolade Modern Classic, Donna Tartt's bestseller The Secret History is a remarkable achievement ­­- both compelling and elegant, dramatic and playful. ­­­­­­­______________________________________ 'What we did was terrible, but still I don't think any of us were bad, exactly; chalk it up to weakness on my part, hubris on Henry's, too much Greek prose composition - whatever you like.' Under the influence of their charismatic classics professor, a group of clever, eccentric misfits at an elite New England college discover a way of thinking and living that is a world away from the humdrum existence of their contemporaries. But when they go beyond the boundaries of morality, their lives are changed profoundly and for ever. The Secret History is a story of two parts; the chain of events that led to the death of a classmate - and what happened next. ______________________________________ 'So irresistible and seductive it's almost a guilty pleasure' Guardian 'Donna Tartt is an amazingly good writer. She's dense, she's allusive. She's a gorgeous storyteller' Stephen King 'A haunting, compelling, and brilliant piece of fiction . . . Packed with literary allusion and told with a sophistication and texture' The Times ...Show more
$24.99
AUD
Category: Penguin Spinner Non-fiction | Reading Level: good
In this stunning new book, Malcolm Gladwell takes us on an intellectual journey through the world of "outliers"--the best and the brightest, the most famous and the most successful. He asks the question: what makes high-achievers different? His answer is that we pay too much attention to what successful people are like, and too little attention to where they are from: that is, their culture, their family, their generation, and the idiosyncratic experiences of their upbringing. Along the way he explains the secrets of software billionaires, what it takes to be a great soccer player, why Asians are good at math, and what made the Beatles the greatest rock band. Brilliant and entertaining, Outliers is a landmark work that will simultaneously delight and illuminate. ...Show more
$22.99
AUD
Category: Penguin Spinner Fiction
I have no use for forgiveness, not yet. But other ideas like that, kindness, for example, I think that is fundamental. Resurrection; I like that too. And love, of course, love, love, love.'Alice Murray learns to play the piano aged three on an orange orchard in rural Australia. Recognising her daughter? s gift, her mother sends Alice to boarding school in the bleak north of England, and there Alice stays for the rest of her childhood. Then she?s offered a scholarship to the Royal College of Music in London, and on a summer school in Oxford she meets Edward, an economics professor who sweeps her off her feet.Alice soon finds that Edwards is damaged, and she?s trapped. She clings to her playing and to her dream of becoming a concert pianist, until disaster strikes. Increasingly isolated as the years unravel, eventually Alice can?t find it in herself to carry on. Then she hears the most beautiful music from the walls of her house ... This novel?s love story is that of a woman who must embrace life again if she is to survive. Inspiring and compelling, it explores the dark terrain of violence and the transformative powers of music and love. ...Show more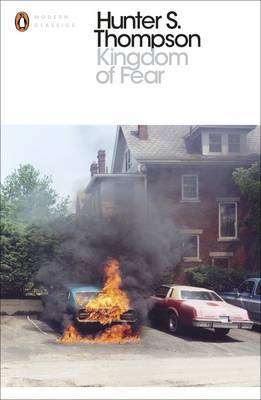 $19.99
AUD
Category: Penguin Spinner Non-fiction | Series: Penguin Modern Classics
'Hot damn! Let us rumble, keep going and don't slow down...let's have a little fun...' In his much-anticipated memoir, Hunter S. Thompson looks back on a long and productive life. It is a story of crazed road trips fuelled by bourbon and black acid, of insane judges and giant porcupines, of girls, guns, explosives and, of course, bikes. He also takes on his dissolute youth in Louisville; his adventures in pornography; campaigning for local office in Aspen; and what it's like to accidentally be accused of trying to kill Jack Nicholson. ...Show more
$22.99
AUD
Category: Cultural, Ideas, Political & Issues
The God Delusioncaused a sensation when it was published in 2006. Within weeks it became the most hotly debated topic, with Dawkins himself branded as either saint or sinner for presenting his hard-hitting, impassioned rebuttal of religion of all types. His argument could hardly be more topical. While E urope is becoming increasingly secularized, the rise of religious fundamentalism, whether in the Middle East or Middle America, is dramatically and dangerously dividing opinion around the world. In America, and elsewhere, a vigorous dispute between 'intelligent design' and Darwinism is seriously undermining and restricting the teaching of science. In many countries religious dogma from medieval times still serves to abuse basic human rights such as women's and gay rights. And all from a belief in a God whose existence lacks evidence of any kind.Dawkins attacks God in all his forms. He eviscerates the major arguments for religion and demonstrates the supreme improbability of a supreme being. He shows how religion fuels war, foments bigotry and abuses children.The God Delusion is a brilliantly argued, fascinating polemic that will be required reading for anyone interested in this most emotional and important subject. ...Show more
$22.99
AUD
Category: Penguin Spinner Fiction | Series: The\Cemetery of Forgotten Bks.
Barcelona, 1945--just after the war, a great world city lies in shadow, nursing its wounds, and a boy named Daniel awakes on his eleventh birthday to find that he can no longer remember his mother's face. To console his only child, Daniel's widowed father, an antiquarian book dealer, initiates him into the secret of the Cemetery of Forgotten Books, a library tended by Barcelona's guild of rare-book dealers as a repository for books forgotten by the world, waiting for someone who will care about them again. Daniel's father coaxes him to choose a volume from the spiraling labyrinth of shelves, one that, it is said, will have a special meaning for him. And Daniel so loves the novel he selects, The Shadow of the Wind by one Julian Carax, that he sets out to find the rest of Carax's work. To his shock, he discovers that someone has been systematically destroying every copy of every book this author has written. In fact, he may have the last one in existence. Before Daniel knows it his seemingly innocent quest has opened a door into one of Barcelona's darkest secrets, an epic story of murder, magic, madness and doomed love. And before long he realizes that if he doesn't find out the truth about Julian Carax, he and those closest to him will suffer horribly. As with all astounding novels, The Shadow of the Wind sends the mind groping for comparisons --The Crimson Petal and the White? The novels of Arturo P rez-Reverte? Of Victor Hugo? Love in the Time of Cholera?--but in the end, as with all astounding novels, no comparison can suffice. As one leading Spanish reviewer wrote, "The originality of Ruiz Zaf n's voice is bombproof and displays a diabolical talent. The Shadow of the Wind announces a phenomenon in Spanish literature." An uncannily absorbing historical mystery, a heart-piercing romance, and a moving homage to the mystical power of books, The Shadow of the Wind is a triumph of the storyteller's art. ...Show more
On the Origin of Species
by Charles Darwin; William Bynum (Editor, Notes by, Introduction by); Janet Browne (Editor); Damien Hirst (Illustrator)
$16.99
AUD
Category: Penguin Spinner Non-fiction
On the Origin of Species is Charles Darwin's classic treatise on his theory of evolution and natural selection and is among the most important works in the history of science and evolutionary biology. When on board H.M.S. Beagle, as naturalist, I was much struck with certain facts in the distribution of the inhabitants of South America, and in the geological relations of the present to the past inhabitants of that continent. These facts seemed to me to throw some light on the origin of species--that mystery of mysteries, as it has been called by one of our greatest philosophers. On the Origin of Species (or more completely, On the Origin of Species by Means of Natural Selection, or the Preservation of Favoured Races in the Struggle for Life), 3] published on 24 November 1859, is a work of scientific literature by Charles Darwin which is considered to be the foundation of evolutionary biology. Darwin's book introduced the scientific theory that populations evolve over the course of generations through a process of natural selection. It presented a body of evidence that the diversity of life arose by common descent through a branching pattern of evolution. Darwin included evidence that he had gathered on the Beagle expedition in the 1830s and his subsequent findings from research, correspondence, and experimentation. 5] Various evolutionary ideas had already been proposed to explain new findings in biology. There was growing support for such ideas among dissident anatomists and the general public, but during the first half of the 19th century the English scientific establishment was closely tied to the Church of England, while science was part of natural theology. Ideas about the transmutation of species were controversial as they conflicted with the beliefs that species were unchanging parts of a designed hierarchy and that humans were unique, unrelated to other animals. The political and theological implications were intensely debated, but transmutation was not accepted by the scientific mainstream. The book was written for non-specialist readers and attracted widespread interest upon its publication. As Darwin was an eminent scientist, his findings were taken seriously and the evidence he presented generated scientific, philosophical, and religious discussion. The debate over the book contributed to the campaign by T. H. Huxley and his fellow members of the X Club to secularise science by promoting scientific naturalism. Within two decades there was widespread scientific agreement that evolution, with a branching pattern of common descent, had occurred, but scientists were slow to give natural selection the significance that Darwin thought appropriate. During "the eclipse of Darwinism" from the 1880s to the 1930s, various other mechanisms of evolution were given more credit. With the development of the modern evolutionary synthesis in the 1930s and 1940s, Darwin's concept of evolutionary adaptation through natural selection became central to modern evolutionary theory, and it has now become the unifying concept of the life sciences, especially evolutionary biology. ...Show more
$22.99
AUD
Category: Penguin Spinner Fiction
Georgie Jutland is a mess. At forty, with her career in ruins, she finds herself stranded in White Point with a fisherman she doesn't love and two kids whose dead mother she can never replace. Leached of all confidence, she spends her days in isolated tedium and her nights in a blur of vodka self-recrim ination. One morning, in the boozy pre-dawn gloom, she sees, a shadow drifting up the beach below - a loner called Luther Fox, with danger in his wake.'Awe-inspiring . . . There are few finer stylists writing in English today.' Chicago Tribune'Wonderfully alive, inventive and assured.' The Age'Vividly written in a seemingly efffortless prose that never puts a foot wrong.' Sunday Times(London)'His prose retains the power to both to shock and to fill us with wonder.' The Bulletin'A compelling novel.' Times Literary Supplement'Beautiful, aching . . . compelling.' Washington Post ...Show more
$24.99
AUD
Category: Penguin Spinner Non-fiction | Series: Patterns of Life Ser.
Read this specially designed new edition of Jared Diamond's Pulitzer-prize winning exploration of what makes us human. Why has human history unfolded so differently across the globe? In this Pulitzer Prize-winning book, Jared Diamond puts the case that geography and biogeography, not race, moulded the c ontrasting fates of Europeans, Asians, Native Americans, sub-Saharan Africans, and aboriginal Australians. An ambitious synthesis of history, biology, ecology and linguistics, Guns, Germs and Steel remains a groundbreaking and humane work of popular science. PATTERNS OF LIFE- SPECIAL EDITIONS OF GROUNDBREAKING SCIENCE BOOKS ...Show more
$19.99
AUD
Category: Penguin Spinner Fiction | Series: Vintage Magic Ser. | Reading Level: good
"The circus arrives without warning. No announcements precede it. It is simply there, when yesterday it was not. The black sign, painted in white letters that hangs upon the gates, reads- 'Opens at Nightfall, Closes at Dawn' the sun disappears beyond the horizon, all over the tents small lights begin to flicker, as though the entirety of the circus is covered in particularly bright fireflies. When the tents are all aglow, sparkling against the night sky, the sign appears. 'Le Cirque des Reves -  Circus of Dreams'. Now the circus is open. Now you may enter." ...Show more