Includes mind body spirit.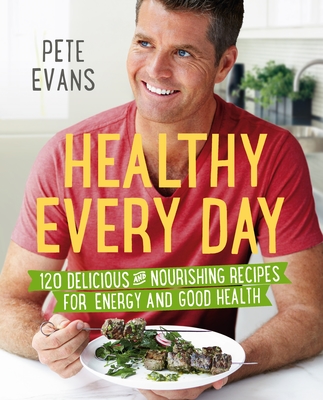 $39.99
AUD
Category: Wholefood
Australia's favourite celebrity chef and host of My Kitchen Rules, Pete Evans, loves nothing more than to nourish his body with fresh, healthy food. Food that not only tastes delicious, but also leaves you feeling great by providing all of the most important nutrients and avoiding empty carbs and bad fa ts. In Healthy Every Day, Pete shares all of his favourite recipes for good health and vitality. Inspired by a 'paleo' way of eating, these are the meals he cooks for his family every day, and they feature loads of fresh veggies, nuts and seeds, sustainable seafood and meat. There are no recipes for potato chips in here, but you will find one for crispy Kale Chips that will satisfy you and give you a hit of iron, calcium and antioxidants at the same time. And instead of the usual fatty and non-nutritious burger and fries, there's a Burger with the Lot that is full of flavour but won't leave you feeling bloated and sluggish. These recipes also draw on Pete's love of international cuisine, with inspiration from Thailand, Fiji, Turkey, Vietnam and Morocco. He shows you how to make lighter, healthier, but just as tasty versions of your favourite curries, salads and skewers. Pete has also been inspired by the fermented food of Korea and Japan, and there is chapter that shows you how to create your own Kimchi and other delicious fermented dishes, like Summer Kraut with Pineapple and Mint. And while you won't find any sugar in this book, there are still some delicious gluten- and dairy-free treats, such as Young Coconut Ice Cream and Raspberry Mousse Cheesecake. With Healthy Every Day, Pete makes it easy to change the way you cook and eat. This book will inspire you to cook and eat real food that will make you feel (and look!) fantastic. ...Show more
$29.99
AUD
Category: Health, Well Being & Psychology
A practical and humorous guide that takes the worst thing about being a woman and turns it into the best thing, by 'period preacher', cult folk singer and former sex education teacher.
$34.99
AUD
Category: Dieting & Fitness | Reading Level: near fine
From the bestselling author of The Mediterranean Diet and The Mediterranean Diet Cookbook, Australia's leading expert on the Mediterranean diet shows us how to improve our heart health. Heart disease is the single leading cause of death in Australia. Every one of us either has or knows someone who has a common risk factor of heart disease, such as high cholesterol or high blood pressure.Diet is a key factor in preventing and reducing the risk factors of heart disease. Scientifically backed by decades of peer-reviewed research, the Mediterranean diet is a rigorously tested diet that has been proven to prevent heart disease and diabetes, help with weight management, and promote longevity. Dr Catherine Itsiopoulos provides 80 delicious recipes, easy-to-follow meal plans and clear advice on why the Mediterranean diet is the #1 diet recommended by cardiologists around the world.Sustainable, satisfying and suitable for the whole family, this is a diet that is a proven pathway to better heart health as much as it promotes long-term good health and wellbeing. ...Show more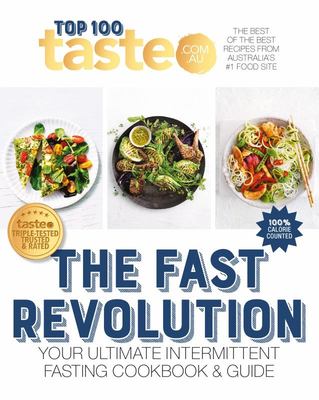 $34.99
AUD
Category: Dieting & Fitness | Series: Taste Top 100 Ser.
RECIPES & MENU PLANS FOR 800-CALORIE DAYS, 250-CALORIE LIGHT MEALS, 125-CALORIE SNACKS AND MORE Losing weight has never been so easy, so sustainable, or tasted so good. The Fast Revolution makes the entire process not just doable, but also fun. This is intermittent fasting without the fuss. Expertl y curated by taste.com.au's food and nutrition teams, The Fast Revolution is packed with more than 100 quick and easy healthy recipes all made with fresh ingredients. The Fast 800 and 5:2 Diets have been international sensations, educating us with the latest science around the long-term health and weight-loss benefits of intermittent fasting. Now, Australia's number-one, most loved and trusted food brand, taste.com.au, brings you The Fast Revolution, an inspiring cookbook where intermittent fasting meets real life, with innovative meal plans, delicious recipes, and calorie guides, plus tips and tricks you need to stay on track. The Fast Revolution is designed for everyone - no matter who you are, no matter your size, gender, exercise level or your dietary preferences. The Fast Revolution delivers recipes and planning tools to maximise the benefits of intermittent fasting to help you hit your magic 800-calorie target. The Fast Revolution also brings you closer to enjoying all the scientifically proven benefits of intermittent fasting - from delayed ageing, to reduced risk of a huge range of chronic diseases such as cancer, diabetes and heart disease. Vive la Revolution! ...Show more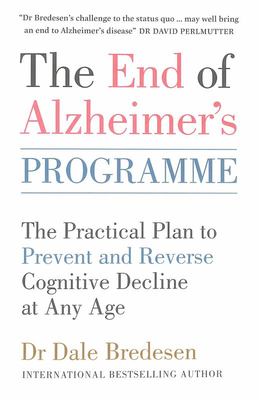 $35.00
AUD
Category: Health, Well Being & Psychology
The scientifically-proven practical plan to help reverse Alzheimer's and prevent cognitive decline from the international bestselling author of The End of Alzheimer's. Following his ground-breaking book that transformed how we think about Alzheimer's and its treatment, world-renowned neurology expert Da le Bredesen provides an unprecedented hands-on guide to achieving complete brain health. In The End of Alzheimer's Programme, he lays out step-by-step his highly sought after, scientifically-proven method that you can follow on your own or with a healthcare professional to stop Alzheimer's in its tracks. Alzheimer's Disease is a protective response to an array of factors that directly affect the brain, such as inflammation, genetic inheritance, nutrients and hormones. In this book, Bredesen will show you which of these factors you need to address to enhance your cognitive abilities by laying out a personalised lifestyle plan. Covering sleep, exercise, diet, brain training and more, Bredesen will show you how to retain, regain and maximise cognitive function for any ability and for any age with extraordinary results. Based on cutting-edge research and full of inspiring success stories from Bredesen's patients, this book is a must-read for anyone looking to enhance their brainpower and is a vital guide for carers and healthcare professionals. ...Show more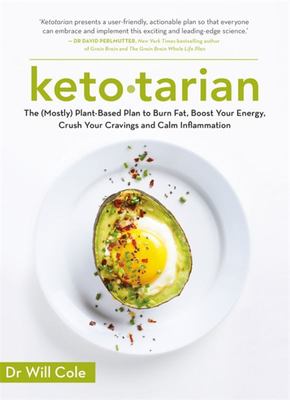 $32.99
AUD
Category: Dieting & Fitness
In short, the ketogenic diet kick-starts your body's metabolism, by burning fat and ketones, instead of sugar, as its primary fuel - however, most keto diets are packed with meat and dairy - which often creates a whole host of other issues - especially for those trying to get more plants and green goodn ess onto their plates (and less bacon). Enter Ketotarian - Dr Will Cole's revolutionary programme that offers a fresh, modern twist on keto by harnessing the same fat-burning power, but with the nutritious, delicious benefits of a mostly plant-based plate. It includes 75 recipes that are veggie, vegan and pescatarian, a four-week meal plan and lots of practical tips that will help you on your journey to optimum health, renewed energy and improved brain function. Let the Ketotarian revolution begin! 'This important book artfully expands access to the powerfully beneficial ketogenic diet. Shifting the body's fuel from sugar to fat is immensely powerful and optimises health. Ketotarian presents a user-friendly, actionable plan so that everyone can embrace and implement this exciting and leading-edge science.' - Dr David Perlmutter, New York Times bestselling author of Grain Brain and The Grain Brain Whole Life Plan ...Show more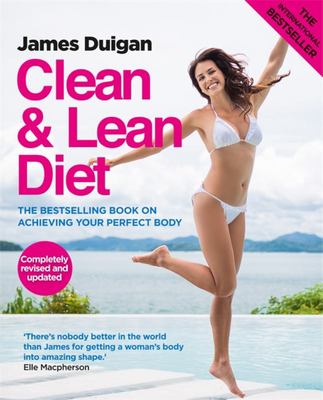 $29.99
AUD
Category: Dieting & Fitness | Series: Clean & Lean
Completely revised edition of the original bestselling book with: * new cover and design throughout * entirely new recipes and recipe photography * new foreword by Elle Macpherson * updated and expanded Bad, Better & Best columns * new contributions from James' celebrity clients Divided into two sec tions, it explains first how to get 'Clean' by detoxing, and then how to get 'Lean' by honing your body through a combination of diet and maximum-impact exercises that are accompanied by step-by-step photography. With flexible meal plans, recipes, tips on avoiding the cravings that can lead you off track, advice on avoiding the toxic foods and drinks that prevent us losing weight and keeping it off, plus a maintenance plan that shows you how to maintain your new healthy lifestyle, James demonstrates that you, too, can be clean and lean for life. ...Show more
$24.99
AUD
Category: Dieting & Fitness
The companion guide to the groundbreaking #1 bestselling The Fast Diet, with 150 delicious and nutritious, low-calorie recipes - illustrated in full colour throughout.
$22.99
AUD
Category: Health, Well Being & Psychology
'Astonishing ... an amazing book ... absolutely chocker full of things that we need to know' Chris Evans 'Matthew Walker is probably one of the most influential people on the planet' Evening Standard THE #1 SUNDAY TIMES BESTSELLER TLS, OBSERVER, SUNDAY TIMES, FT, GUARDIAN, DAILY MAIL AND EVENING STAND ARD BOOKS OF THE YEAR 2017 Sleep is one of the most important aspects of our life, health and longevity and yet it is increasingly neglected in twenty-first-century society, with devastating consequences: every major disease in the developed world - Alzheimer's, cancer, obesity, diabetes - has very strong causal links to deficient sleep. In this book, the first of its kind written by a scientific expert, Professor Matthew Walker explores twenty years of cutting-edge research to solve the mystery of why sleep matters. Looking at creatures from across the animal kingdom as well as major human studies, Why We Sleep delves into everything from what really happens during REM sleep to how caffeine and alcohol affect sleep and why our sleep patterns change across a lifetime, transforming our appreciation of the extraordinary phenomenon that safeguards our existence. 'Startling, vital ... a life-raft' Guardian 'A top sleep scientist argues that sleep is more important for our health than diet or exercise' The Times 'Passionate, urgent . . . it had a powerful effect on me' Observer ...Show more
$34.99
AUD
Category: Health, Well Being & Psychology
Before the colonisation of Australia, Aboriginal Australians lived on a wonderful larder of fresh fruit, vegetables and lean meat, in a land largely free from disease, with more exercise, less stress and supportive communities. Today, in Aboriginal communities all over Australia, there are higher instan ces of heart disease, type 2 diabetes, renal disease, some types of cancer and lung diseases than in the general population. This book is an attempt to preserve bush tucker knowledge for future generations of Aboriginal and non-Aboriginal people to ensure the information is not lost with the passing of Elders. The authors describe over 260 species of the edible plants and fungi that were regularly gathered by the Noongars of the Bibbulmun Nation of the south-west of Western Australia before and after colonisation. Many of these plants and fungi are difficult to find today because of land clearing for crops and the farming of sheep and cattle. ...Show more
$27.99
AUD
Category: Medical, Nursing & Health
Everything you need to successfully tap the amazing healing power of celery juice--and press the reset button on your body--in a concise, practical how-to guide from the Medical Medium.   Celery juice detox is the hottest topic in Anthony William's global online community--and for good reason. According to Anthony, celery juice is an unsung superfood with an incredible ability to create sweeping improvements on every level of our health: * Rebalancing gut pH and relieving gastrointestinal disorders * Flushing toxins and debris out of the GI tract and liver * Addressing a vast range of conditions as disparate as diabetes, migraine, ADHD, fatty liver, ALS, and Lyme disease * Improving kidney function and adrenal balance * Restoring health in people who've suffered from unexplained chronic or mystery illness for yearsIn Celery Juice: The Miracle Cleanse, Anthony introduces you to these benefits and many others, explaining how celery does its anti-inflammatory, alkalizing, health-renewing work. Then he gives you practical guidelines to do your own celery juice cleanse correctly and successfully. You'll get instructions on how to make the juice, when to drink it, and what to expect as your body begins to detox, plus answers to FAQs such as "Is it safe to drink celery juice while pregnant?" and "What if I don't like the taste of celery?" Here is everything you need to know to get the full benefit of what Anthony calls "one of the greatest healing tonics of all time." ...Show more
$29.99
AUD
Category: Better Living, Self Help & Personal development
Can't sleep? Who better to deliver the recipe for a peaceful night based on groundbreaking sleep science than the bestselling author of The Fast 800, The Clever Guts Diet and The 8-week Blood Sugar Diet.A good night's sleep is essential for a healthy brain and body. So why do so many of us struggle to s leep well?   In Fast Asleep, Dr Michael Mosley explains what happens when we sleep, what triggers common sleep problems and why standard advice rarely works.   Prone to insomnia, he has taken part in numerous sleep experiments and tested every remedy going. The result is a radical, four-week programme, based on the latest science, designed to help you re-establish a healthy sleep pattern in record time.   With plenty of surprising advice including tips for teenagers, people working night shifts and those prone to jet lag, plus recipes which will boost your deep sleep by improving your gut microbiome, Fast Asleep provides the tools you need to sleep better, reduce stress and feel happier. ...Show more