Includes mind body spirit.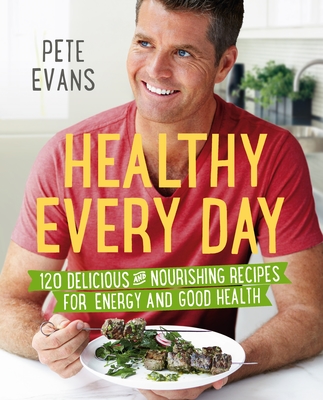 $39.99
AUD
Category: Wholefood
Australia's favourite celebrity chef and host of My Kitchen Rules, Pete Evans, loves nothing more than to nourish his body with fresh, healthy food. Food that not only tastes delicious, but also leaves you feeling great by providing all of the most important nutrients and avoiding empty carbs and bad fa ts. In Healthy Every Day, Pete shares all of his favourite recipes for good health and vitality. Inspired by a 'paleo' way of eating, these are the meals he cooks for his family every day, and they feature loads of fresh veggies, nuts and seeds, sustainable seafood and meat. There are no recipes for potato chips in here, but you will find one for crispy Kale Chips that will satisfy you and give you a hit of iron, calcium and antioxidants at the same time. And instead of the usual fatty and non-nutritious burger and fries, there's a Burger with the Lot that is full of flavour but won't leave you feeling bloated and sluggish. These recipes also draw on Pete's love of international cuisine, with inspiration from Thailand, Fiji, Turkey, Vietnam and Morocco. He shows you how to make lighter, healthier, but just as tasty versions of your favourite curries, salads and skewers. Pete has also been inspired by the fermented food of Korea and Japan, and there is chapter that shows you how to create your own Kimchi and other delicious fermented dishes, like Summer Kraut with Pineapple and Mint. And while you won't find any sugar in this book, there are still some delicious gluten- and dairy-free treats, such as Young Coconut Ice Cream and Raspberry Mousse Cheesecake. With Healthy Every Day, Pete makes it easy to change the way you cook and eat. This book will inspire you to cook and eat real food that will make you feel (and look!) fantastic. ...Show more
$32.99
AUD
Category: Dieting & Fitness
Our health is in crisis and so is our climate. What if there was a way of eating that may help us live healthier for longer and protect the future of our planet, too? The good news is that evidence now shows a plant-based diet may offer us exactly that - and straight-talking nutritionist Simon Hill has done the hard work translating the science into actionable advice for everyday life. Before transitioning to a plant-based diet Simon held many of the common misconceptions. But instead he experienced incredible improvements in his energy levels, digestion, mental clarity and post-workout recovery after making the shift. He'd finally understood the power of food and was determined to find out - and share - the agenda-free truth about the optimum diet for human health. By undertaking a master's degree in nutrition, poring over the latest scientific papers and books, and producing hundreds of hours of his internationally successful Plant Proof podcast, Simon has pursued the answers to all the questions he had about fuelling our bodies with more plants. Now, in his first book, he brings it all together into one inspiring and practical guide. It covers-- The reasons why we're all so confused about what to eat- The evidence showing how a whole-food plant-based diet might reduce risks of heart attacks and strokes, type 2 diabetes, cancer and dementia- The positive impact of plant-based living for the climate and animal welfare- Common myths about a plant-based diet - and what the real facts are- How to build a healthy, satisfying plant-based plate, from macronutrients to micronutrients- Practical tips for making the shift, and much more. If you want to understand and unlock the many benefits of putting more plants on your plate, this book is for you. ...Show more
$34.99
AUD
Category: Health, Well Being & Psychology
For many women, perimenopause and menopause are daunting mysteries, dreaded occurrences, or a little of both. The Hormone Repair Manual is a must-have guide to demystifying the process, both physically and emotionally, and finding a path that will help you not only survive these years, but also thrive. This is an easy-to-read exploration of all the ways you can soothe, cool, nourish and strengthen your body. Lara offers tips on how to speak to your doctor about evidence-based solutions - including hormone therapies, natural treatments, nutritional supplements and a healthy diet - aiming to alleviate common symptoms, such as hot flushes, insomnia, mood, weight gain, low libido and heavy and painful periods. Backed by scientific research and real-world case studies, Hormone Repair Manual is a calming and reassuring look into achieving healthy hormones. ...Show more
$29.99
AUD
Category: Health, Well Being & Psychology | Reading Level: very good
A practical and humorous guide that takes the worst thing about being a woman and turns it into the best thing, by 'period preacher', cult folk singer and former sex education teacher.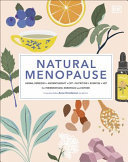 $29.99
AUD
Category: Alternative Therapies
Understand the menopause with all its changes and challenges - and choose practices and treatments, brought to you by a team of experts, to make this next stage in your wellness journey healthy, positive, and joyful. Your menopause is unique to you - a milestone on your personal wellbeing journey. A luc ky few will breeze through it, but for most women this time of hormonal upheavals throws up a variety of challenging symptoms. Understand the menopause better and find the right combination of resources for you - to stay physically, mentally, and spiritually well throughout. Find out how to adapt your existing wellness practices and build in new ones to smooth the path of your menopause: adopt yoga poses to reduce stress or help you sleep; use essential oils for a relaxing massage to lift mood; enjoy foods that boost energy and sharpen focus; discover the best exercises for strong bones and a healthy heart; use CBT and mindfulness to relieve anxiety and calm hot flushes; choose the best herbal remedies to balance hormones and diminish mood swings. Menopause expert, Dr Anne Henderson, brings together a team of specialists to help you discover how to attend to your specific needs holistically, either alongside or without prescription medication. Your go-to guide to help make the transition an energising and liberating experience, Natural Menopause lets you take charge and embrace The Change. ...Show more
$29.99
AUD
Category: Health, Well Being & Psychology
A vibrant, empowering guide to surviving and thriving with endometriosis, from triple j presenter and endometriosis advocate Bridget Hustwaite.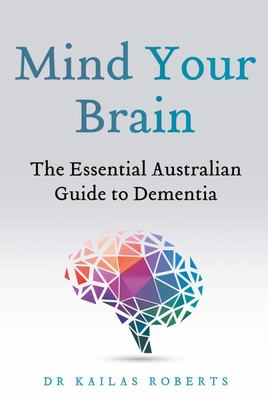 $34.99
AUD
Category: Health, Well Being & Psychology
There are steps you can take to reduce your risk of dementia, to delay its onset, and to ease the journey if the condition does occur. Over 400,000 Australians are currently living with dementia, yet misunderstanding about the condition is widespread. Few people realise they can take action to lessen th eir chances of it developing. There are also effective interventions and treatments now available to address dementia-related symptoms. Dr Kailas Roberts works as a specialist in memory loss and dementia. In Mind Your Brain he brings a wealth of knowledge from his medical practice and presents it in plain and accessible language. He explains how dementia affects the brain and body, what to expect in the event of a diagnosis, and how to manage each step along the way. Including an important list of support resources, Mind Your Brain is an invaluable guide for people with dementia, their carers and loved ones, and for anyone who wants to maintain a healthy brain. ...Show more
$35.00
AUD
Category: Dieting & Fitness
The New Mediterranean Diet Cookbook is your guidebook to the ultimate superdiet, an evidence-based keto diet that emphasizes a diversity of fish, healthy fats, and a rainbow of colorful vegetables--with 100 delicious recipes for everything from snacks to dinner. The Mediterranean diet has long been tou ted as one of the world's healthiest diets, renowned for its protective effects against heart disease, cancer, and other chronic illnesses. However, its heavy inclusion of grains and carbohydrates can contribute to obesity and is a drawback for many. Also shown to have many health benefits, the ketogenic diet stimulates the fat-burning and longevity-promoting state of ketosis by limiting carbs and emphasizing high-fat foods. While the keto diet is about the proportion of macronutrients (fats, protein, carbohydrates) in the food you eat, the Mediterranean diet is about specific food types: seafood, olive oil, colorful  vegetables, and other anti-inflammatory foods. This book is about living and eating at the intersection of these complementary diets so you can reap the benefits of both. While both diets advocate significant amounts of healthy fats and protein, The new Mediterranean approach to keto significantly shifts the fat profile of the diet to emphasize the monounsaturated and omega-3 fats that health experts agree promote living a long disease-free life. It also includes colorful vegetables, providing a diversity of nutrients and flavor. The result is an enhanced Mediterranean diet that stokes metabolism, supports the gut and microbiome, and is anti-inflammatory, anti-aging, and nutrient-dense.   Improve your overall health while enjoying delectable dishes including: Superfood Shakshuka Blender Cinnamon Pancakes with Cacao Cream Topping Green Goddess Salad Pancetta Wrapped Sea Bass Sheet Pan Crispy Salmon Piccata Fierce Meatball Zoodle Bolognese Nordic Stone Age Bread Chocolate Hazelnut "Powerhouse" Truffles With The New Mediterranean Diet Cookbook, you'll learn how to balance your macronutrients, what foods are considered the new Mediterranean superfoods, and how to make tasty dishes to keep you satisfied all day. ...Show more
$29.99
AUD
Category: Better Living, Self Help & Personal development
Can't sleep? Who better to deliver the recipe for a peaceful night based on groundbreaking sleep science than the bestselling author of The Fast 800, The Clever Guts Diet and The 8-week Blood Sugar Diet.A good night's sleep is essential for a healthy brain and body. So why do so many of us struggle to s leep well?   In Fast Asleep, Dr Michael Mosley explains what happens when we sleep, what triggers common sleep problems and why standard advice rarely works.   Prone to insomnia, he has taken part in numerous sleep experiments and tested every remedy going. The result is a radical, four-week programme, based on the latest science, designed to help you re-establish a healthy sleep pattern in record time.   With plenty of surprising advice including tips for teenagers, people working night shifts and those prone to jet lag, plus recipes which will boost your deep sleep by improving your gut microbiome, Fast Asleep provides the tools you need to sleep better, reduce stress and feel happier. ...Show more
$35.00
AUD
Category: Dieting & Fitness
NEW COMPANION RECIPE BOOK TO THE INTERNATIONAL NUMBER ONE BESTSELLERS FAST 800 AND FAST 800 RECIPE BOOK Following their bestselling Fast 800 Recipe Book, Dr Clare Bailey and Justine Pattison return with a fabulous new cookbook, featuring super-simple recipes to enable you to eat well with minimum prep time on your fasting days. All of the dishes in this book are based on the Mediterranean style of eating now proven to revolutionise your health, and many can be thrown together from freezer or store-cupboard staples. There are numerous vegetarian options, plus simple ways to expand meals for non-fast days or when you are eating with friends or family. With everything from salads and wraps to winter stews and curries, Fast 800 Easy will help you rustle up delicious, nutritious meals in minutes – food that tastes so good you won't feel the low calorie count. 'The Fast 800 approach represents a new and highly effective way to help people lose weight and keep it off, fast and safely. I hope you enjoy these recipes as much as we do.' Dr Michael Mosley ...Show more
The Fast Diet
by Michael Mosley; Mimi Spencer
$19.99
AUD
Category: Dieting & Fitness | Reading Level: very good
Is it possible to eat well, most of the time and get slimmer and healthier as you do it? With The Fast Diet it is!
$34.99
AUD
Category: Dieting & Fitness
The health benefits of intermittent fasting are now indisputable, and 16:8 is the easiest and most effective fasting method. Jaime Rose Chambers is a practising dietitian who sees countless patients looking for advice on how to manage their weight. She prescribes intermittent fasting as a matter of cour se, as it's by far the easiest and most effective tool for healthy weight control that she's seen. This indispensable plan has everything you need to know about intermittent fasting, and follows on from her bestselling 16:8 Intermittent Fasting ...Show more