Includes mind body spirit.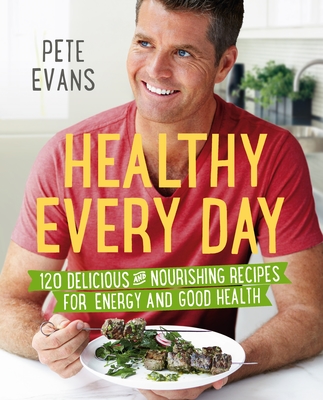 $39.99
AUD
Category: Wholefood
Australia's favourite celebrity chef and host of My Kitchen Rules, Pete Evans, loves nothing more than to nourish his body with fresh, healthy food. Food that not only tastes delicious, but also leaves you feeling great by providing all of the most important nutrients and avoiding empty carbs and bad fa ts. In Healthy Every Day, Pete shares all of his favourite recipes for good health and vitality. Inspired by a 'paleo' way of eating, these are the meals he cooks for his family every day, and they feature loads of fresh veggies, nuts and seeds, sustainable seafood and meat. There are no recipes for potato chips in here, but you will find one for crispy Kale Chips that will satisfy you and give you a hit of iron, calcium and antioxidants at the same time. And instead of the usual fatty and non-nutritious burger and fries, there's a Burger with the Lot that is full of flavour but won't leave you feeling bloated and sluggish. These recipes also draw on Pete's love of international cuisine, with inspiration from Thailand, Fiji, Turkey, Vietnam and Morocco. He shows you how to make lighter, healthier, but just as tasty versions of your favourite curries, salads and skewers. Pete has also been inspired by the fermented food of Korea and Japan, and there is chapter that shows you how to create your own Kimchi and other delicious fermented dishes, like Summer Kraut with Pineapple and Mint. And while you won't find any sugar in this book, there are still some delicious gluten- and dairy-free treats, such as Young Coconut Ice Cream and Raspberry Mousse Cheesecake. With Healthy Every Day, Pete makes it easy to change the way you cook and eat. This book will inspire you to cook and eat real food that will make you feel (and look!) fantastic. ...Show more
$34.99
AUD
Category: Health, Well Being & Psychology
For many women, perimenopause and menopause are daunting mysteries, dreaded occurrences, or a little of both. The Hormone Repair Manual is a must-have guide to demystifying the process, both physically and emotionally, and finding a path that will help you not only survive these years, but also thrive. This is an easy-to-read exploration of all the ways you can soothe, cool, nourish and strengthen your body. Lara offers tips on how to speak to your doctor about evidence-based solutions - including hormone therapies, natural treatments, nutritional supplements and a healthy diet - aiming to alleviate common symptoms, such as hot flushes, insomnia, mood, weight gain, low libido and heavy and painful periods. Backed by scientific research and real-world case studies, Hormone Repair Manual is a calming and reassuring look into achieving healthy hormones. ...Show more
$35.00
AUD
Category: Dieting & Fitness
NEW COMPANION RECIPE BOOK TO THE INTERNATIONAL NUMBER ONE BESTSELLERS FAST 800 AND FAST 800 RECIPE BOOK Following their bestselling Fast 800 Recipe Book, Dr Clare Bailey and Justine Pattison return with a fabulous new cookbook, featuring super-simple recipes to enable you to eat well with minimum prep time on your fasting days. All of the dishes in this book are based on the Mediterranean style of eating now proven to revolutionise your health, and many can be thrown together from freezer or store-cupboard staples. There are numerous vegetarian options, plus simple ways to expand meals for non-fast days or when you are eating with friends or family. With everything from salads and wraps to winter stews and curries, Fast 800 Easy will help you rustle up delicious, nutritious meals in minutes – food that tastes so good you won't feel the low calorie count. 'The Fast 800 approach represents a new and highly effective way to help people lose weight and keep it off, fast and safely. I hope you enjoy these recipes as much as we do.' Dr Michael Mosley ...Show more
$29.99
AUD
Category: Health, Well Being & Psychology
A practical and humorous guide that takes the worst thing about being a woman and turns it into the best thing, by 'period preacher', cult folk singer and former sex education teacher.
$34.99
AUD
Category: Dieting & Fitness | Reading Level: near fine
From the bestselling author of The Mediterranean Diet and The Mediterranean Diet Cookbook, Australia's leading expert on the Mediterranean diet shows us how to improve our heart health. Heart disease is the single leading cause of death in Australia. Every one of us either has or knows someone who has a common risk factor of heart disease, such as high cholesterol or high blood pressure.Diet is a key factor in preventing and reducing the risk factors of heart disease. Scientifically backed by decades of peer-reviewed research, the Mediterranean diet is a rigorously tested diet that has been proven to prevent heart disease and diabetes, help with weight management, and promote longevity. Dr Catherine Itsiopoulos provides 80 delicious recipes, easy-to-follow meal plans and clear advice on why the Mediterranean diet is the #1 diet recommended by cardiologists around the world.Sustainable, satisfying and suitable for the whole family, this is a diet that is a proven pathway to better heart health as much as it promotes long-term good health and wellbeing. ...Show more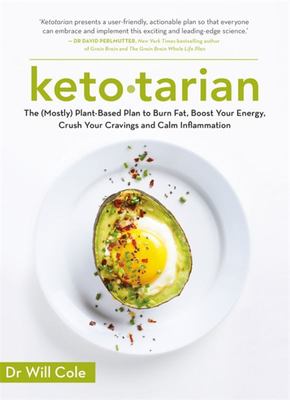 $32.99
AUD
Category: Dieting & Fitness
In short, the ketogenic diet kick-starts your body's metabolism, by burning fat and ketones, instead of sugar, as its primary fuel - however, most keto diets are packed with meat and dairy - which often creates a whole host of other issues - especially for those trying to get more plants and green goodn ess onto their plates (and less bacon). Enter Ketotarian - Dr Will Cole's revolutionary programme that offers a fresh, modern twist on keto by harnessing the same fat-burning power, but with the nutritious, delicious benefits of a mostly plant-based plate. It includes 75 recipes that are veggie, vegan and pescatarian, a four-week meal plan and lots of practical tips that will help you on your journey to optimum health, renewed energy and improved brain function. Let the Ketotarian revolution begin! 'This important book artfully expands access to the powerfully beneficial ketogenic diet. Shifting the body's fuel from sugar to fat is immensely powerful and optimises health. Ketotarian presents a user-friendly, actionable plan so that everyone can embrace and implement this exciting and leading-edge science.' - Dr David Perlmutter, New York Times bestselling author of Grain Brain and The Grain Brain Whole Life Plan ...Show more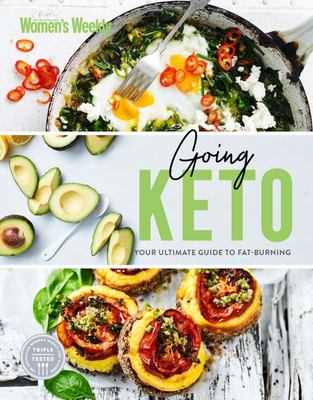 Going Keto AWW
by The Australian Women's Weekly
$24.99
AUD
Category: Dieting & Fitness
Keto is one of the biggest diets of modern times. It's a low carb, high-fat diet which encourages your body to burn fat for energy. On a keto diet, you'll be saying goodbye to carb-loaded bread and pasta, plus many fruits, grains and starchy vegetables. This book will give you a foundation of keto appro priate recipes covering drinks, snacks and main meals, plus an introductory guide to the reasoning behind it. You should consult a dietician before fully committing to a Keto diet. ...Show more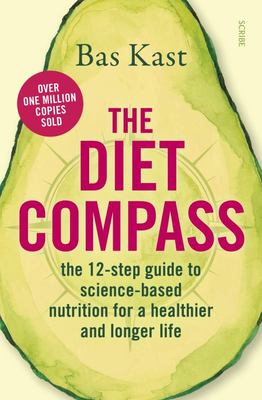 $32.99
AUD
Category: Dieting & Fitness
The answer to all questions about ageing and nutrition. When science journalist Bas Kast collapsed with chest pains when he was only 40, he was faced with an existential question: had he ruined his health with junk food? He decided to radically change his eating habits in order to heal himself. But what is really good for you? This was the beginning of a journey of discovery into the latest research into ageing and nutrition -- and it lasted several years. What do people with a particularly long life span eat? How can you lose weight efficiently? Are afflictions typical of old age avoidable? Can you 'eat yourself young' with certain foods? Much of what we think is healthy can even be harmful. Bas Kast has filtered out from thousands of sometimes contradictory studies scientifically founded findings about what really makes for healthy eating. ...Show more
$29.99
AUD
Category: Dieting & Fitness
From the author of the 1,000,000-copy bestselling Fast Diet ... Millions of us have dangerously high blood sugar - and we don't know it. There are no symptoms. We appear healthy. Yet raised blood sugar is storing up problems for the future. It furs up our arteries, piles hidden fat into our internal org ans and is a precursor not just to Type 2 diabetes but a range of diseases, including heart failure, dementia and cancer. Scientists in the UK have recently shown that rapid weight loss, when done properly, is an extremely effective way to kill dangerous fat, combat blood sugar problems, reverse Type 2 diabetes, perhaps even cure it. In this book, Dr Michael Mosley draws on the work of Professor Roy Taylor - one of the world's foremost diabetes experts - and his own experience as a one-time diabetic, to present a groundbreaking new approach to longterm health - a radical eight week diet for diabetics who want to reverse their condition and stay medication-free, as well as an easier, flexible regime for anyone just keen to keep their blood sugar levels in check. As Dr Mosley says, it is never too late to act... ...Show more
$29.99
AUD
Category: Dieting & Fitness | Reading Level: very good
THE ULTIMATE GUIDE TO FASTING, WEIGHT LOSS AND LONG-TERM GOODHEALTH THE CULMINATION OF DR MOSLEY'S BESTSELLING DIETING TRILOGY FEATURES REVELATORY NEW SCIENCE WITH A HIGHER 800-CALORIE LIMIT   Six years ago, Dr Michael Mosley started a health revolution with The 5.2 Fast Diet, telling the world about th e incredible power of intermittent fasting. In this book he brings together all the latest science (including a new approach: Time Restricted Eating) to create an easy-to-follow programme. Recent studies have shown that 800 calories is the magic number when it comes to successful dieting – it's an amount high enough to be manageable but low enough to speed weight loss and trigger a range of desirable metabolic changes. Depending on your goals, you can choose how intensively you want to do the programme: how many 800-calorie days to include each week, and how to adjust these as you progress. Along with delicious, low-carb recipes and menu plans by Dr Clare Bailey, The Fast 800 offers a flexible way to help you lose weight, improve mood and reduce blood pressure, inflammation and blood sugars. Take your future health into your own hands. ...Show more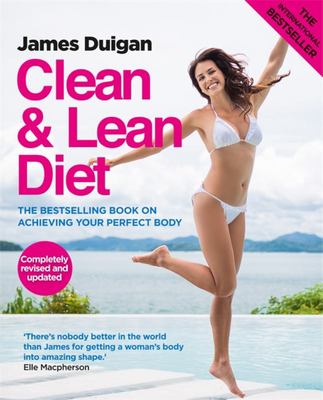 $29.99
AUD
Category: Dieting & Fitness | Series: Clean & Lean
Completely revised edition of the original bestselling book with: * new cover and design throughout * entirely new recipes and recipe photography * new foreword by Elle Macpherson * updated and expanded Bad, Better & Best columns * new contributions from James' celebrity clients Divided into two sec tions, it explains first how to get 'Clean' by detoxing, and then how to get 'Lean' by honing your body through a combination of diet and maximum-impact exercises that are accompanied by step-by-step photography. With flexible meal plans, recipes, tips on avoiding the cravings that can lead you off track, advice on avoiding the toxic foods and drinks that prevent us losing weight and keeping it off, plus a maintenance plan that shows you how to maintain your new healthy lifestyle, James demonstrates that you, too, can be clean and lean for life. ...Show more
$29.99
AUD
Category: Dieting & Fitness
In Keto for Life, Mark shows readers how to reset their biological clock in 21 days through a unique program that combines intermittent eating with strategies to lower inflammation and achieve metabolic flexibility. Readers will come to understand the Four Pillars of Longevity: Diet, Fitness, Mental Fle xibility, and Rest and Restoration, learning best practices to slow the ageing process. Then they will carry out a 21-day Biological Clock Reset, with action items complete each day from each of the four pillars (including dietary practices, journal exercises, movement and routines, and rejuvenation practices) and develop a morning routine that promotes healthy living. Mark's meal plans detail what to eat for every decade of life, how to reduce carbs and increase protein intake as you age, and how to turbo charge your metabolism for increased energy, appetite, cognitive function, and stabilised mood. Specifically targeted for the nutrition and lifestyle needs at each stage of life, this book brings and entirely new facet to the ketogenic eating trend. The book includes 80 recipes and a 16-page colour insert. ...Show more