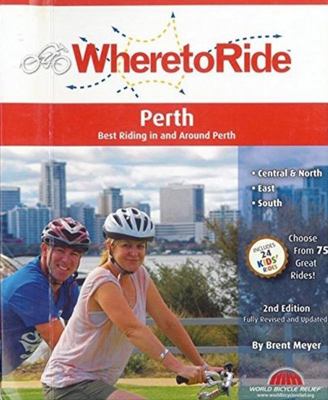 $34.99
AUD
Category: Bicycles | Series: Where to Ride Ser.
Designed for maximum utility on the go, the book uses a gloss paper stock, tough enough to cope with the rigours of sweaty hands and plenty of use out on the trail. Riders will appreciate the sturdy construction and convenient spiral binding of the book, this includes a fold out overview map of all ride s that doubles as a book marker with map legend, ride ratings and terrain guide. Riders can refer between the map they are using and reference information with ease. Whats new in this edition: 8 new adult rides 24 kids rides Family-friendly ratings Extensive enhancements to mapping Region overview maps Detailed terrain classifications Where to Ride Perth will inspire you to get out and ride. ...Show more
$22.99
AUD
Category: Sport & Hobbies
A complete training plan that allows anyone to achieve results that were once only available to elite athletes - devised by Michael Jordan's trainer Tim S. Grover.
$34.99
AUD
Category: Football/Rugby | Reading Level: near fine
How the captains of the last 50 years have gone about leading the world's most successful rugby team. The job of All Blacks captain comes with a scrutiny that puts it alongside the prime minister in terms of profile and public expectation. It takes a strong, confident and assured personality to capta in a team where failure is never tolerated. The Captain's Run is a behind the scenes journey into the world of All Blacks captaincy. It reveals how the great captains dealt with the pressure of the toughest job in world rugby, how they coped with failure, and what they would have done differently, if given their time again. ...Show more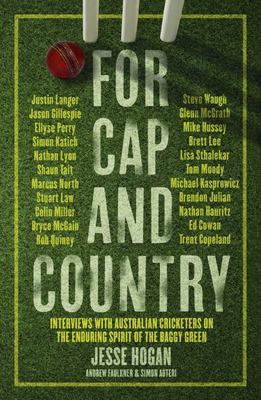 $34.99
AUD
Category: Cricket
Breathe in the mowed grass and linseed oil as they take their first steps to glory. Share with them the euphoria of their cap presentations. Immerse yourself in the wonder of Test triumphs and the despair of being dropped form the team. In sharing the players' stories - and disclosing how treasured Aust ralian caps are kept under lock and key, in dank cupboards and stuffed in undies drawers - Jesse Hogan takes you inside their lounge rooms as well as cricket's dressing rooms.Their stories contain salutary lessons for the game's future. As such, this is a conversation about Australian cricket as much as it is a chat with its best players. And at its heart is the unifying force of the cap, under which all players are equals, no matter if they've played 168 Tests like Steve Waugh, or one like Bryce McGain.What began as a passion project for sports journalist Jesse Hogan and cricket agent Simon Auteri in 2015 - to interview Australian cricketers, past and present, on the significance of gaining their Test spots - became a story about the spirit of cricket and its power to bring us together.Just two weeks before the first draft was completed, tragedy struck. At the age of 33, Jesse Hogan suffered a devastating stroke that left him unable to speak, write or even walk. Following intensive rehabilitation and with immense support, Jesse made it back and finished the book with the help of fellow journalist Andrew Faulkner.For Cap and Country and its publication is about the importance of generosity, sportsmanship, perseverance and community to help us achieve our goals in life as much as in sport. Now cricket tragics like Jesse can finally enjoy these stories too. ...Show more
$34.99
AUD
Category: Cricket
From one of India's finest writers, thinkers and commentators, a memoir of a love affair with cricket. As a fan, player, writer, scholar, controversialist and administrator, Ramachandra Guha has spent a life with cricket. In this book, Guha offers both a brilliantly charming memoir and a charter of th e life of cricket in India. He traces the game across every level at which it is played: school, college, club, state and country. He offers vivid portraits of local heroes, provincial icons and international stars. Following the narrative of his life intertwined and in love with the sport, Guha captures the magic of bat and ball that has ensnared billions. ...Show more
$55.00
AUD
Category: Transportation
Guaranteed to rev the engines of car fans everywhere. Supercars are the purest and most extreme expression of automotive performance there is - and no one knows their supercars more than theTop Gear Magazine team. From the stylish curves and cutting-edge technology to the absurd power and baffling pric e-tags, this book is a celebration of the Supercar in all its glory. With all new selections including electric supercars, the stunning full-colour photography and hair-raising visuals will take you under the hood of the fastest, and most ridiculous cars on the planet. This is Top Gear Ultimate Supercars. Buckle up. Are you ready? ...Show more
Roughy
by Jarryd Roughead
$45.00
AUD
Category: Football/Rugby
Roughy is a story of perspective from a Hawthorn legend – much more than a footballer's tale. A country boy who grew up watching his old man play local footy in Leongatha, Jarryd Roughead's talent and dedication turned him into an AFL star. Lining up alongside some of the greatest to ever play the ga me, he was a key player in a Hawthorn team that will live on as one of the best of any era.In 2015, when a melanoma was found on his bottom lip, it seemed like only a small setback. The spot was removed and, soon after, Jarryd was back on the ground, helping the Hawks secure their famous three-peat – his fourth premiership. He was newly married, planning a family, and life seemed carefree. Then, during a routine check-up in 2016, a scan showed the melanoma had moved into his lungs. He had cancer.Jarryd was one of the first to receive an immunotherapy treatment that is now saving lives around the world – and ultimately saved his. But the side effects were brutal. Endless days and nights of agony, including nerve damage to his feet that threatened any possible return to footy.What saw Jarryd through was the same resilience, drive and positivity that had turned him into an elite footballer in the first place. Not only did he return to play AFL, he was named captain of Hawthorn. A one-club man, Roughy retired as a legend and an inspiration. ...Show more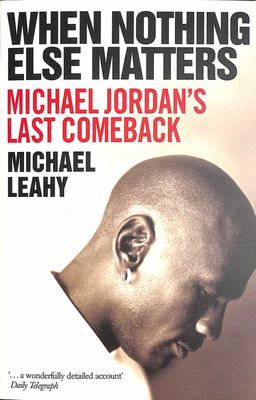 $22.99
AUD
Category: Sport & Hobbies
For fans of Netflix's The Last Dance, this is the definitive account of Michael Jordan's spectacular and disastrous return to basketball. As one of the greatest, most celebrated athletes in history, Michael Jordan conquered professional basketball as no one before. Powered by a potent mix of charisma, n ear superhuman abilities and a ferocious drive to dominate the game, he achieved every award and accolade conceivable before retiring from the Chicago Bulls and taking an executive post with the Washington Wizards. But retirement didn't suit the man who was once king, and at the advanced age of thirty-eight Michael Jordan decided it was time to reclaim the court that was once his. Having closely followed Jordan's final two seasons, Michael Leahy draws a fascinating portrait of an intensely complex man hampered by injuries and assaulted by younger players eager to usurp his throne. In this enthralling book Jordan emerges as an ambitious, at times deeply unattractive character with, unsurprisingly, a monstrous ego. WHEN NOTHING ELSE MATTERS is an absorbing portrait not only of one athlete's overriding ambition, but also of a society so in thrall to its sports stars that it is blind to all their faults. ...Show more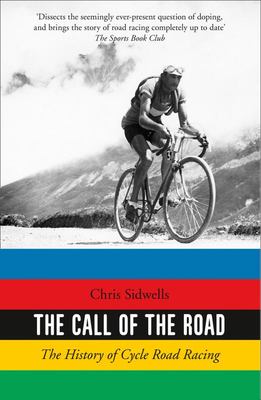 $24.99
AUD
Category: Bicycles
Eddy Merckx. Fausto Coppi. Jacques Anquetil. Bernard Hinault. Beryl Burton. Marianne Vos.A sole cyclist battling over a pass high in the mountains is one of the most romantic of sporting images. In the past 150 years road cycling has been dominated by a series of iconic people who have redefined enduran ce and fortitude. Every decade has pushed human limits, until limits were extended by inhuman pharmacology. And these battles have not been fought over just one race, but an annual series beginning with the Spring Classics and then culminating in the three great tours - the Giro d'Italia, Vuelta d'Espagne and the Tour de France - before the cyclists retire to lick their wounds and start on another winter of training.The Call of the Road is the definitive story of cycle road racing, from the first race in 1868 to the present day. It is a story that has never been told as the professionals experience it - as a whole energy-sapping year. It looks at the beginning and development of the sport, it explains the tactics and looks at the different physical types that succeed. It explains why some nations have dominated this sport and why, until recently, British riders have underperformed. It also looks at the way the great races were founded and developed, and how the great riders stamped their authority on them through the ages.Sidwells doesn't shy away from controversy: dissecting the vexed and seemingly ever-present question of doping. The final chapter brings the story of road racing completely up to date with insight into jiffy bags and salbutamol levels.Truly international in scope, looking at road racing in North and Latin America, Australia, Africa and Asia, as well as continental Europe, The Call of the Road is essential reading for anyone who is interested in the history, tactics or personalities of cycle road racing. ...Show more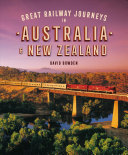 $39.99
AUD
Category: Transportation
  35 trips that highlight some of the most interesting, scenic and rewarding railway journeys in Australia and New Zealand. They include the renowned long-distance journeys, such as The Indian Pacific in Australia that takes travellers on a three-day trip from Perth to Sydney or the The Northern Explor er in New Zealand's North Island that stretches from Wellington to Auckland, as well as those that traverse stunning scenery, such as New Zealand's TranzAlpine train or the Spirit of the Outback in Australia. There are also routes on which restored steam locomotives operate and other lines included for the wonder of their engineering.   Trains are a great way to travel in these countries, taking you at ground level past superb scenery that often cannot be seen by any other means of transport. David Bowden's entertaining text describes the route, the major features of interest along the way and any special technical details about the locomotive or the track.   ...Show more
$32.99
AUD
Category: Cricket
 Some are born great, some achieve greatness, and some have greatness thrust upon them by virtue of their skills with ball and bat. This book is about the latter. Australia's favourite sport has a proud history of turning nobodies into somebodies and ordinary men and women into heroes of international r enown. From the black-and-white belligerence of Ian Chappell to the colourful celebrity of Shane Warne, the diplomacy of Adam Gilchrist to the ruthlessness of Meg Lanning, the pantheon of Australia's greatest cricketers is as mottled as the crowds that cheer them on. But who is the greatest of them all? In The 50 Greatest Australian Cricketers, sports journalist and comedy writer Dan Liebke charts the careers, characteristics and enduring legacies of the finest Australian cricket players of the past 50 years.  ...Show more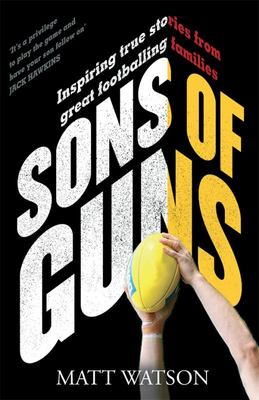 $34.99
AUD
Category: Football/Rugby
When the AFL's father-son rule was introduced in the 1940s, it gave emerging players the chance to live out the ultimate lifelong dream- to play for the same beloved club as their fathers. This is about as sentimental as football gets. Today some of the AFL's finest players are the sons of guns - legend s like Mitchell, Ablett, Watson, Shaw, Fletcher, Kennedy, Hawkins, to name just a few - and many of them have given frank and candid interviews for this book. Sons of Guns takes us inside a number of these famous footballing families - the successes, failures and incidents that have never before been made public. The fathers confide doubts about whether their sons would ever make it, and the incredible pride when they did, while the sons describe overcoming the burden of their surname to forge their own identity. This is an insightful and hugely inspiring book about generations of men in the same family who shared the dedication, courage, toughness and desire it takes to succeed at the ultimate level. ...Show more