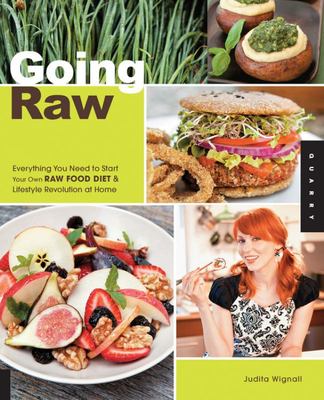 $35.00
AUD
Category: Raw food
Going Raw combines the beauty and flavor of a gourmet cookbook with everyday recipes that are practical for the real-world home chef. There are utilitarian books that offer a lot of great basics but do not illuminate the content with stylish and instructional photography. Going Raw promises the basics ( kitchen gear, pantry ingredients, how to plan your grocery shopping and menus, prep and storage techniques) and delivers delicious, simple recipes for the starter raw foodist. A 30 minute bonus DVD content features various food preparation techniques, finished presentations, and "raw food 101" lifestyle tips and advice as well. ...Show more
$34.99
AUD
Category: Raw food
This picture-driven raw lifestyle book is for busy people who want to improve their health and vitality without having to go 100% raw. It's an easy to use guide that showcases creative yet simple-to-make plant-based recipes, and highlights multiple nutrition-packed superfoods. But more than just a raw f ood guide, Raw and Radiant includes chapters on functional fitness & beauty, shares the basics of cleansing, and has helpful mind-body connection tips, all important pillars for optimum health. This healthy lifestyle guide is filled with vibrant and inspiring photos to help encourage your lifestyle shifts and food transformations. Summer will give you tools to add radiant plant-based foods into your diet no matter what your present eating style. She wants to inspire you to create your best life ever by making small shifts today that will affect your entire life and generations to come. ...Show more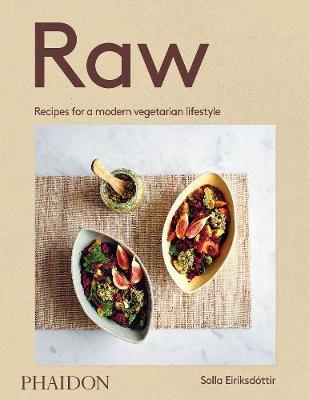 $49.95
AUD
Category: Raw food
A modern and fresh take on vegetarian and raw food from celebrated Icelandic chef Solla Eiriksdottir Featuring 75 healthy and delicious recipes, Raw introduces readers to the new look of vegetarian and raw food. Divided into five chapters - breakfast, snacks, light lunches, main dishes, and sweet treats - readers can expect bright, fresh flavours with recipes like Green smoothie, Pistachio and kale hummus, Quinoa pizza, and vegan Vanilla ice cream. All the recipes are vegetarian and many are raw and vegan. Every recipe includes symbols to indicate whether dishes are suitable for a dairy-free, gluten-free, nut-free, raw-food, or vegan diet. After each chapter of recipes there is a seasonal recipe and activity section, which explores some wider lifestyle elements of living healthily, for example growing vegetables in small spaces, dying cloth with turmeric in summer, picking wild berries in fall, and making holiday gifts in winter. This book will appeal to raw food fans, the health conscious, and lovers of all things Nordic. ...Show more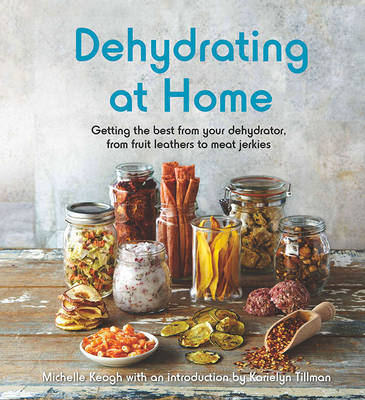 $24.99
AUD
Category: Raw food
A food dehydrator is a versatile kitchen appliance that enables you to easily preserve large quantities of fresh foods and create healthier versions of grocery store treats. Not only can you and your family snack healthier and add variety to your diet, you can save money at the same time! The snack reci pes in Dehydrating at Home are a perfect solution for busy families who do not want to compromise when it comes to health and nutrition. Dehydrating at Home features easy recipes for the beginner such as Dried Nectarines, Strawberry-Apple Fruit Leather, or Dried Tomatoes. It also features a wide variety of recipes that take dehydrating to the next level such as Polka Dot Fruit Roll Ups, flatbreads, cookies, and yogurt. The majority of the recipes are inspired by fresh seasonal ingredients that develop upon the ingredients' innate deliciousness. Dehydrating at Home emphasises foods that store well for months in addition to being easy to grab on your way out the door to school, work, sporting events, or a walk in the woods. The Herbs Seasonings chapter is an exception to this rule, but its simple recipes strive to make your time in the kitchen easier and more fruitful. Once you learn what to look for in a dehydrator, how to prepare your foods for dehydrating, and how to store your bounty, your dehydrator can become a major player in your kitchen that can save you a great deal of money as well as produce foods that are much fresher and tastier than their supermarket counterparts. ...Show more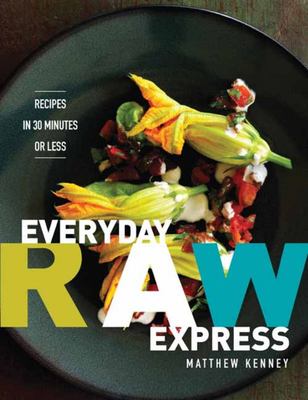 $27.99
AUD
Category: Raw food
Many readers love the benefits and philosophy behind eating raw food, but too often the recipes take hours--or even several days--to prepare. "Everyday Raw Express" offers delicious soup, smoothies, pastas, wraps, and more all prepared in 30 minutes or less.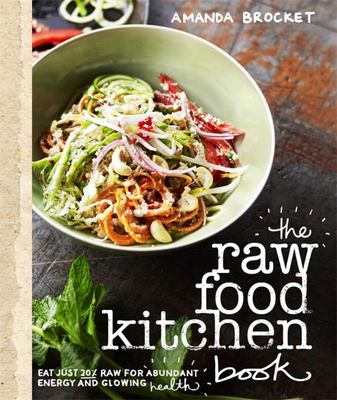 $39.99
AUD
Category: Raw food
Amanda Brocket is a passionate advocate of eating raw--fresh natural food that has not been heated over 44C (or 111F). After a five-year health battle, she discovered raw food and quickly lost weight, stopped craving sugar, regained her energy and cured herself of her health condition. In this book Aman da explains how to start incorporating more raw food into your diet to experience its life-changing benefits. There are more than 80 delicious, nourishing recipes to get you started, as well as expert advice on ingredients, preparation, techniques and equipment. Includes dual measures. ...Show more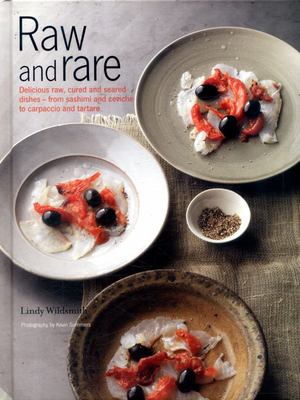 $39.99
AUD
Category: Raw food | Reading Level: General Adult
In recent years there has been a global explosion of culinary interest in the age-old traditions of eating raw fish, seafood and meat. Suddenly, it seems, sashimi, ceviche, tartare and carpaccio have become the inspiration and focus for young chefs around the world. This book gives you all these recipes , plus many more modern fusion dishes, so you can create globally inspired raw food in your own kitchen. This book has a wealth of ideas for preparing and presenting raw fish, meat, vegetables and fruits, but also provides variations if you prefer them lightly cooked, whether fleetingly applying the searing heat of a griddle, the flame of a blow torch, a waft of hot or cold smoke, a surge of bubbling stock, or a brief encounter with a pickling potion, merely to seal the succulence within. Raw and Rare is raw gastronomy for the home cook, inspired by simple age-old culinary traditions. It provides in-depth ideas on how to use healthy, seasonal raw fruit, vegetables and salads as well as fish, seafood and meat to prepare fresh, highly nutritious, top-quality and stunningly presented dishes. ...Show more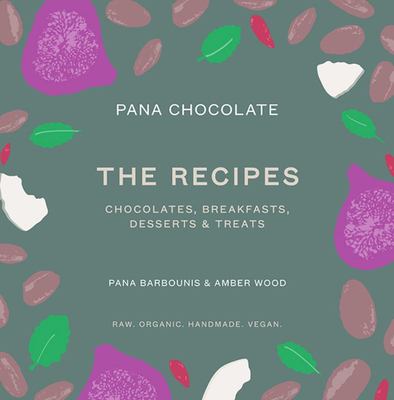 $29.99
AUD
Category: Raw food
Cacao Crunch, Cardamom Dream, Spiced Chocolate Chai, Butterscotch Apple Crumble! Pana Chocolate, The Recipes is the book vegans and health-conscious sweet tooths have been waiting for. It includes 60 beautiful recipes that cover the spectrum: from fillings for your own raw chocolate creations; to fanc y but achievable plated desserts using raw chocolate; to traditional desserts that you can make raw; to raw desserts for kids' parties (think chocolate crackles and honey joys) to breakfast (chia pudding, granola, buckwheat porridge!) The recipes are all raw, organic, vegan, free from dairy, gluten, soy and refined sugar. ...Show more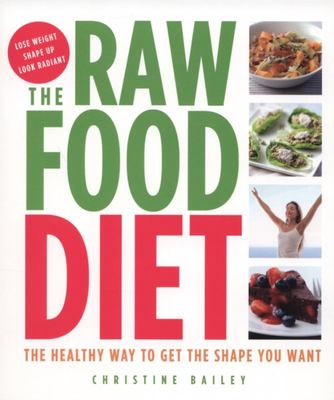 $22.99
AUD
Category: Raw food
Presenting a fresh way of eating that will help you get into shape fast, The Raw Food Diet gives you a step-by-step programme to help you achieve a slim, healthy and vibrant new you.
$22.95
AUD
Category: Raw food
"Fabulous Raw Food" contains three, seven, and twenty-one day programs - each full of delicious recipes - that give you the opportunity to decide just how much change is right for you right now. Erica Palmcrantz Aziz also emphasizes the importance of choosing organic ingredients that enable the body to cleanse itself while improving the quality of the earth's ecosystem. Give your body the chance to get back to its natural balance. Eat raw for just a few weeks and you'll begin to understand your eating habits, and how factors like activity, sleep, and emotions govern what you eat. ...Show more
$29.99
AUD
Category: Raw food
The comprehensive handbook for dehydrating foods at home. Dehydrating is one of the most effective ways to preserve food for maximum nutrition at very low cost. Sales of dehydrators are soaring as many cooks reject the suspect ingredients in commercially prepared foods. Dehydrating with the recipes in t his book is one way to control all ingredients and please the whole family. Recipes for dried ingredients include herbs and seasonings, fruits, fruit leathers, vegetables and beef jerky. These nutritious ingredients are included in delicious recipes such as: Beef and potato stew Chicken pot pie Vegetable lasagna Zucchini and red pepper fritters Dried tomato and basil polenta Mushroom, herb and white wine sauce Strawberry rhubarb tarts. These recipes appeal to a wide array of tastes, feature contemporary ingredients such as whole grains and work equally well in a home kitchen, on an RV, on a boat or at a campsite. Recommendations for buying a dehydrator and storing dehydrated foods are also included. Easy-to-follow instructions with specific time guidelines and best practices and the latest data on food safety make this the ideal dehydrating guidebook and cookbook. ...Show more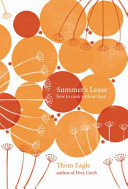 $39.95
AUD
Category: Writing/Reference/Essays
From the author of the Fortnum & Mason Debut Food Book of 2019, Summer's Lease looks at the cooking techniques we use instead of heat which, in letting us step away from the stove, lend themselves perfectly to summer eating: breaking, salting, souring and ageing. The long dog days of a tiring summe r are no time to be a cook. A few charred sardines are of course a wonderful thing, but there the grill sits, pouring out heat into the already-hot kitchen; anyone with any sense who wants charred sardines is somewhere close to the seaside.... It is a time when you might, if you weren't so hot, wonder what it means to cook at all. Is there cooking without fire...? We understand that when we say something is cooked, we mean it has been heated; but we also understand that a cook does much more than just cooking. The chopping, the beating, the marinating, the dressing ... What cooks do is best defined not by the word 'cooking', but by the idea of metamorphosis. Cooks transform ingredients.   Through recipes and meanderings, award-winning food writer Thom Eagle explores what it means to create dishes without a reliance on fire and flame, and offers a unique and tantalising glimpse inside the mind of a chef.        ...Show more