$49.99
AUD
Category: Professional Chefs
Ottolenghi on steroids, with a sense of humour and a bit of a Kitchen Confidential vibe - it's brash, bold, boozy and it roars.  Duncan Welgemoed's food is exciting some of the most exacting palates. He cooks African-inspired vegetables, grilled and smoked meats, flatbreads, pickles, ferments, vegan-ins pired desserts and serves cocktails and natural wine. The food and the experience he recreates links directly back to his South African birthplace, Johannesburg. The food is all about using sustainably sourced, low -impact-on-the-earth ingredients (carefully sourced meats, fish, vegetables, grains, pulses, seaweed, algae, shellfish) to create dishes that have big, powerful flavours, are punchy, bold, butch and that 'open another box in your palate and in your mind'. The range of recipes covers vegetarian and vegan; full-on South African meat dishes cooked on fire, in embers and ashes, in ovens and cast iron pots; ferments, dips, pickles and sauces that are good for the gut and good on the palate; South African inspired vegan desserts. Expect to find recipes for peri peri chicken; roast rib of beef with pap (polenta); wood-roasted sardines with poached plums; charcoal prawns with preserved pumpkin; kingfish muamba (crudo) with pickled kohlrabi; prawns grilled with kombu butter; firepit sausages; squid with seaweed tapenade; bush meats (charcuterie) with smoked oysters; boom chakalakka (radicchio-based kimchi pickles); caramelised corn kernels with white chocolate and hazelnuts - and a soundtrack to accompany the food. ...Show more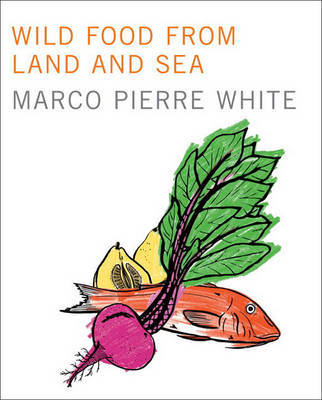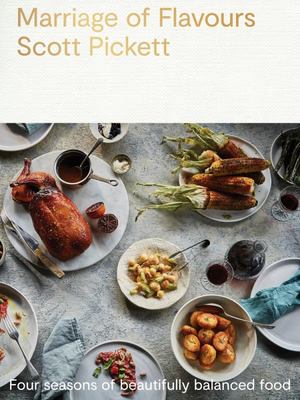 $39.99
AUD
Category: Professional Chefs | Reading Level: 5 Cooking
Sweet. Sour. Bitter. Salty. Spicy. Umami. Temperature. Texture. It's one thing to be able to make a dish from a technical perspective, but it's something else when you have that exciting lightbulb moment around flavour that illuminates your cooking, allowing you to understand, develop and enjoy it even more. The marriage of contrasting and complementary flavours has driven Scott Pickett's way of cooking since the early days of his career, earning him a reputation for brilliant combinations and incredibly tasty food. Inspired by the changing seasons, the abundance of quality Australian produce and the principle of eight key flavour profiles, with this collection of irresistible recipes he opens the door into his kitchen for a masterclass in putting together a dish or meal that's perfectly balanced. From Scott's interpretations of the classic combinations to more unusual pairings that bring unexpected sensory delight, these are dishes and ideas to help you find a new harmony in the way you cook. ...Show more
$45.00
AUD
Category: Professional Chefs | Reading Level: 5 Cooking
This wonderful book is full to the brim with everything new foodies need to know to become relaxed and confident in the kitchen. Arranged alphabetically, it includes 56 ingredient chapters--from Apples to Zucchini--and more than 300 achievable recipes ranging from classics every cook will want to try, t o exciting new dishes that reflect our diverse nation. Stephanie explains more than 100 important techniques in straightforward language, discusses the kitchen tools she likes to use, and describes ingredients you might not know: How do I whisk eggs to soft peaks? What does it mean to "make a well" in dry ingredients? Why should I roast spices? How do I prepare fresh chilies safely? What is "resting meat" and why should I do it? How do I prepare a mango? What flavors work well together?What is fresh mozzarella? How do I say "quinoa?" The Cook's Apprentice gives all you new cooks the inspiration you need for a lifetime of enjoyment in the kitchen. Includes conversion charts. ...Show more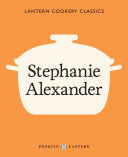 $19.99
AUD
Category: Professional Chefs | Series: Lantern Cookery Classics
Highly acclaimed cook, writer and seasonal food pioneer Stephanie Alexander shares some of her all-time favourite recipes in this classic collection. Lantern is proud to publish many of Australia's most celebrated cooks and chefs. Lantern Cookery Classicsgathers timeless recipes from these much loved authors in this new series of indispensable books for your kitchen bookshelf. Soon you'll be whipping up your favourite dishes from Stephanie Alexander, Maggie Beer, George Calombaris, Kylie Kwong, Gary Mehigan and Matt Moran. Why not treat yourself to the complete set? ...Show more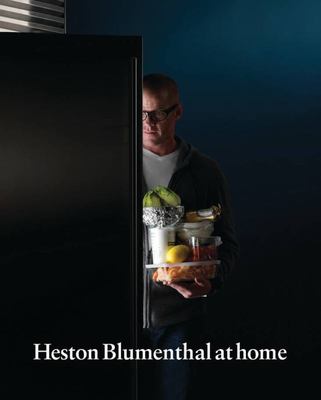 $65.00
AUD
Category: Professional Chefs
Until now, home cooking has remained stubbornly out of touch with technological development but Heston Blumenthal, champion of the scientific kitchen, changes all that with this radical book. With meticulous precision, he explains what the most effective techniques are and why they work. Heston's instru ctions are precise and easy to follow, with lots of helpful tips, and each chapter is introduced with an explanation of Heston's approach to 1) Stocks 2) Soups 3) Starters 4) Salads 5) Meat 6) Fish 7) Sous-vide 8) Pasta and grains 9) Cheese 10) Sides and condiments 11) Ices 12) Desserts and sweets 13) Biscuits, snacks and drinks. Recipes include Green bean and radish salad; Prawn cocktail; Roast chicken; Shepherd's pie; Sea bass with vanilla butter; Liquorice poached salmon; Carbonara; The ultimate cheese toastie; Strawberry sundae; Liquid centre chocolate pudding and Raspberry sherbert. And, of course, Heston's famous Triple-cooked chips. Heston Blumenthal at Home will change the way you think about cooking forever - prepare for a culinary revolution! ...Show more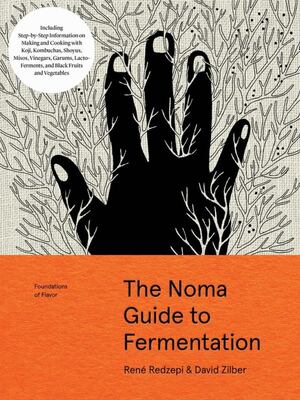 $55.00
AUD
Category: Preserving/Conserving/Curing/Fermenting | Series: Foundations of Flavor Ser.
A New York Times Best Cookbook of Fall 2018​ At Noma--four times named the world's best restaurant--every dish includes some form of fermentation, whether it's a bright hit of vinegar, a deeply savory miso, an electrifying drop of garum, or the sweet intensity of black garlic. Fermentation is one of the foundations behind Noma's extraordinary flavor profiles. Now René Redzepi, chef and co-owner of Noma, and David Zilber, the chef who runs the restaurant's acclaimed fermentation lab, share never-before-revealed techniques to creating Noma's extensive pantry of ferments. And they do so with a book conceived specifically to share their knowledge and techniques with home cooks. With more than 500 step-by-step photographs and illustrations, and with every recipe approachably written and meticulously tested, The Noma Guide to Fermentation takes readers far beyond the typical kimchi and sauerkraut to include koji, kombuchas, shoyus, misos, lacto-ferments, vinegars, garums, and black fruits and vegetables. And--perhaps even more important--it shows how to use these game-changing pantry ingredients in more than 100 original recipes. Fermentation is already building as the most significant new direction in food (and health). With The Noma Guide to Fermentation, it's about to be taken to a whole new level. ...Show more
$55.00
AUD
Category: Professional Chefs
Ottolenghichanged the way we cook in this country just as surely and enduringly as Elizabeth David?s A Book of Mediterranean Foodhad in 1950. It brought into our kitchens bold flavours, a vivid simplicity, a spirited but never tricksy inventiveness and, above all, light.? Nigella LawsonInspired by their childhoods in West and East Jerusalem, Yotam Ottolenghi?s and Sami Tamimi?s original cookbook Ottolenghi- The Cookbook showcases fresh, honest, bold cooking and has become a culinary classic. Yotam and Sami's inventive yet simple dishes rest on numerous culinary traditions, ranging from North Africa to Lebanon, Italy and California. First published in 2008, this new updated edition revisits the 140 original recipes covering everything from accomplished meat and fish main courses, through to healthy and quick salads and suppers, plus Ottolenghi's famously delectable cakes and breads.A new introduction sheds fresh light on a book that has become a national favourite.Ottolenghi is an award-winning chef, being awarded with the James Beard Award 'Cooking from a Professional Point of View' for Nopi in 2016, and 'International Cookbook' for Jerusalem in 2013. In 2013 he also won four other awards for Jerusalem. Praise for Ottolenghi- ' A book that has barely left my kitchen...the fact that Yotam Ottolenghi and Sami Tamimi have been generous to put their recipes in a book is something I had long dreamed of? Nigel Slater, The Observer Magazine 'Possibly the best cookery book I have ever owned. The recipes...are well-tested and produce results that will astound your tastebuds. Try the aubergine-wrapped ricotta gnocchi with sage butter, the chicken with three-rice salad or their famous meringues and you'll know just what I mean.? Caroline Jowett, Daily Express 'A wonderful book for vegetarians and cake lovers alike? Bee Wilson, Sunday Times ...Show more
Sweet
by Yotam Ottolenghi; Helen Goh
$55.00
AUD
Category: Professional Chefs
The Sunday Times and New York Times Bestseller. There's nothing like a perfectly light sponge flavoured with spices and citrus or an icing-sugar-dusted cookie to raise the spirits and create a moment of pure joy. In his stunning new baking and desserts cookbook Yotam Ottolenghi and his long-time collabo rator Helen Goh bring the Ottolenghi hallmarks of fresh, evocative ingredients, exotic spices and complex flavourings - including fig, rose petal, saffron, aniseed, orange blossom, pistachio and cardamom - to indulgent cakes, biscuits, tarts, puddings, cheesecakes and ice cream.Sweetincludes over 110 innovative recipes with stunning photos by award-winning Peden + Munk - from Blackberry and Star Anise Friands, Tahini and Halva Brownies, Persian Love Cakes, Middle Eastern Millionaire?s Shortbread, and Saffron, Orange and Honey Madeleines to Flourless Chocolate Layer Cake with Coffee, Walnut and Rosewater and Cinnamon Pavlova with Praline Cream and Fresh Figs. There is something here to delight everyone - from simple mini-cakes and cookies that parents can make with their children to showstopping layer cakes and roulades that will reignite the imaginations of accomplished bakers. ...Show more
Organum
by Peter Gilmore
$100.00
AUD
Category: Professional Chefs
While there is a layered complexity to world-renowned chef Peter Gilmore's ethereal yet grounded cuisine, his philosophy of cooking is relatively simple. Just four elements are required to create perfect unison in a dish: nature, texture, intensity, and purity. In his new book, Peter invites the reader to share in his private obsession with nature. When not in the kitchen at Sydney's Quay restaurant, he is working in his experimental garden where he grows a huge array of edible plant species. Each component of a plant, from sweet, earthy roots, to bitter fronds and fragrant blossoms, is potentially destined for inclusion in one of the 40 exquisite dishes featured here. Peter also introduces us to the many influences on his cooking, and to the people who grow, catch and source key ingredients. Images include intensely beautiful food and ingredient shots, as well as producers and produce photographed on location. ...Show more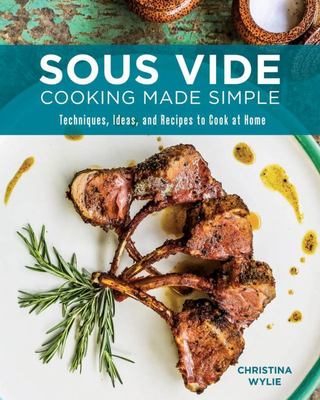 $39.99
AUD
Category: Professional Chefs
In Sous Vide Cooking Made Simple, Anova sous vide recipe developer, Christina Wylie, presents 70+ recipes for perfectly cooked meals and desserts using this revolutionary cooking device.
$59.99
AUD
Category: Professional Chefs
Yotam Ottolenghi has changed the way people cook and eat. His emphasis on inspiring flavours, bold spicing and freshness of ingredients has ensured every meal is a celebration. Following on from Yotam's seminal first cookbook, Ottolenghi- The Cookbook, in this brand-new collection Yotam and long-time c ollaborator and Head Chef Ramael Scully offer recipes from their outstanding central London restaurant, NOPI. The NOPI Cookbookincludes over 100 of the most popular dishes. Written with Scully, who brings an Asian-inspired pantry to Ottolenghi's more traditional staples, this stunning book delivers original, inspirational, flavour-packed dishes. Recipes include Celeriac Tahini Puree with Spiced Cauliflower and Quail's Eggs; Roasted Duck Breast with Hazelnut Beer Butter; Buttermilk Cod with Urid Dhal; Wilted Kale with Fried Chilli and Garlic; Lavender Labneh, Roasted Rhubarb and Pine Nut Biscotti; Cornbread with Grilled Peaches and Maple Cream, and there are even a few cocktails - such as a Sumac Martini and a Saffron Chase. So whether you have already experienced the joy of NOPI or you just want to make their most popular dish - Burrata with blood orange, coriander seeds and lavender oil - The NOPI Cookbookwill provide you with all the best-loved recipes from Ottolenghi's innovative London restaurant. ...Show more