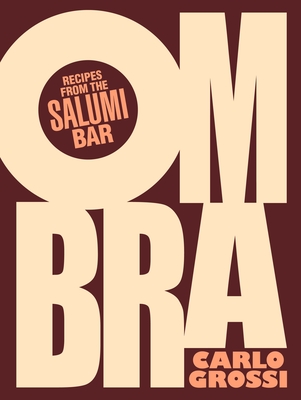 $39.99
AUD
Category: Italian
In Venice you'll often hear the phrase Andiamo per un ombra? ('Shall we go for a drink?'). And it's this 'ombra', the Venetian name for a small tumbler of wine, that inspired Carlo Grossi's restaurant - a modern take on an authentic Italian salumi bar right in the bustling heart of Melbourne. Any time is a good time for a drink at Ombra, and when you step in the door at 76 Bourke Street you'll always find a warm and hospitable welcome (and something delicious to eat). It's an intimate, energetic place where all walks of life can drop by and come together over plates of finely cured meats and cheese, bringing with them a great sense of community - a community that thrives at the bar; that argues, loves and lives between slurps of white wine and Aperol. The Ombra cookbook brings together the very best of Carlo's food and hospitality, from lovingly aged meats and homemade sausages to mouth-watering pizzas, all sorts of irresistible bar snacks (cicchetti), hearty evening meals, fermented and pickled vegetables and fruits, and delectable desserts to finish off the evening. With family heirloom recipes and dishes inspired by Carlo's travels all over Italy, the Italian ideals of preservation and quality produce are on proud display in this collection of familiar and tasty food that's made for sharing over a lively conversation. So pull up a seat - it's time for un ombra!   ...Show more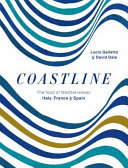 $49.99
AUD
Category: Italian
Recipes and stories from the stunning Mediterranean coastline for the perfect pesto, the best bouillabaisse, the purest paella.
$39.99
AUD
Category: Italian
In Simple Italian, Silvia Colloca shares the essential dishes and techniques that are at the heart of the world's most popular cuisine.With 100 recipes and countless tips and tricks, you'll be cooking like a nonna in no time. Create silky smooth pasta, find out which shapes go with which sauce and learn the secrets to achieving perfectly creamy risotto and soft gnocchi every time. Alongside chapters on pasta, gnocchi and rice, you'll also learn how to create stunning antipasto spreads and cook hearty mains and elegant sides to go with them. Whip up light and airy focaccia, then turn your leftover bread into delicious meals, such as meatballs or deep-fried mozzarella toasties. And don't forgot the sweets - nothing fancy here, just the simple cakes, biscuits and tarts that Italians actually eat at home. If you have always wanted to be able to cook like an Italian, this book is for you. Silvia's food is authentic, fresh, simple and delicious. No fussy or elaborate techniques and nothing but the best produce and ingredients. These are the meals that Italians can't live without - and soon you won't be able to either. ...Show more
$65.00
AUD
Category: Italian | Series: Ultimate Ser.
From focaccias to pan pizza and the deep-dish delight of Chicago-style, Pizza: The Ultimate Cookbook will capture your taste buds and your imagination.   Pizza has a delicious history that travels back across continents, developing unique flavors throughout time until it has become the staple we know today. From focaccias to pan pizza and the deep-dish delight of Chicago-style, Pizza: The Ultimate Cookbook will capture your taste buds and your imagination. With over 300 delicious recipes made for every palate, this is the definitive guide to pizzas and flatbreads world-wide. At over 800 pages, this is the perfect gift for the pizza lover in your life. Profiles and interviews with world-famous pizza makers will have you craving a slice, while delectable recipes will help satiate your cravings and awaken your taste buds to flavor combinations you've never tried before. Gorgeous, full-color photography brings each slice to life in front of you long before you roll out the dough. With Pizza: The Ultimate Cookbook on hand, you'll always go back for seconds. ...Show more
$39.99
AUD
Category: Italian
With more than 45,000 copies sold, this beautifully designed, updated edition of Pietro Demaio's bestselling collection of traditional Italian preserving recipes is essential for anyone who wants to grow and preserve their own food, reduce food waste and help keep cultural traditions alive. Pietro (who first self-published the book in 1995) has meticulously collected family recipes handed down for generations from nonne and nonni all around Italy. Including how to preserve vegetables and fish in oil or salt, how to make cheese, cure meats and dry herbs, and traditional methods for making bread, wine and liqueurs, this is an essential recipe collection for preserving enthusiasts as well as a love song to the author's Italian heritage. ...Show more
$39.99
AUD
Category: Italian
'Florentine is a book that appeals both to my sense of nostalgia and my appetite. It's a beautiful book, with gorgeous pictures of Florence, and snatches of Florentine life, but is far from being a coffee-table book: the recipes take you there just as evocatively.' Nigella Lawson Stroll through the str eets of Florence with the 2020 edition of Emiko Davies' award-winning Florentine. This new format cookbook beautifully packages Emiko's recipes, photographs and insights, each informed by her experience of Tuscany's capital over more than a decade. As well, it includes new neighbourhood itineraries - from 24 Hours in Florence, to Day Trips Outside the City Centre, to Best Bistecca and Pastry Shops, to Shopping for Cook's Tools. Emiko's recipes transport readers to the piazzas of Florence. From her torta di mele - a reassuringly nonna-esque apple cake - to ravioli pera e ricotta - mouthwateringly buttery pear and ricotta ravioloni - she shares an enchanting culinary tour of the city. Visit pastry shops bustling with espresso-sippers, hole-in-the-wall wine bars, busy food vans and lunchtime trattorias, and learn how and why the people of Florence remain so proudly attached to their unchanging cuisine. It's a cuisine that tells the unique story of its city, dish by dish. From the morning ritual of la pasticceria (the pastry shop) and il forno (the bakery), the tantalising fresh produce of il mercato (the market) and il maccellaio (the butcher) through to the romance of la trattoria. With a nod to Florence's rich history, Florentine offers traditional dishes beloved in homes across the region too, including schiacciata fiorentina (orange and vanilla cake), apricot jam crostata (apricot jam pie), piselli alla fiorentina (peas cooked in tomato sauce) and cinghiale con le olive (stewed wild boar with olives). Seasons and long-held food traditions play an important role in the Tuscan kitchen and this is reflected in every Florentine menu, bakery window or market stall. A Japanese-Australian who lives in the hills of Tuscany with her Italian sommelier husband and their family, Emiko says that one of the things she has come to appreciate is that there is no such thing as Italian cuisine; rather, Florentine is about offering readers a local's perspective on one of the country's 20 regional cuisines. In this case, the one that has won her heart.   ...Show more
$36.99
AUD
Category: Italian
'This is not a dramatic tale of overcoming incredible adversity. No loves have been lost, no hearts broken. This is a rather ordinary tale of finding myself and forming a ritual of self-care that I like to call Saturday Night Pasta.' Saturday Night Pasta is therapy for the modern-day food lover, teachin g self-care through the humble act of making pasta. Like the practice of meditation, making pasta by hand is a way of achieving self-discovery and mindfulness ... with delicious results. Including stories, mantras, step-by-step guides to making different pasta shapes and basic doughs, trouble-shooting tips and 40 utterly mouthwatering recipes (with dried pasta substitutes for the time poor), this is a cookbook to inspire and empower. Pasta recipes include:Burnt butter with tomato and hazelnuts; Basil pesto and ricotta ravioli with lemon butter; Zucchini, fried capers and mint; Pumpkin and cavolo nero lasagne; Buffalo mozzarella cream with slow-roasted cherry tomatoes; Mixed mushrooms with optional bacon crumb; Smoked trout with lemon cream and pink peppercorns; Chicken and clove ragù with lemon breadcrumbs; Bitter greens with chilli and pork crackling; Classic meatballs; Bloody Mary lamb with kale; and many more. Praise for Saturday Night Pasta 'As if we didn't love pasta enough, 2020 became the year our emotional obsession with it was signed, sealed and validated. Ever on the pulse of the zeitgeist, Elizabeth Hewson's Saturday Night Pasta homes in on more than a love of our favourite carb: substantial foods that take time to perfect are nourishment for the soul in times of uncertainty, giving us far more than just a full and happy stomach.' Melissa Leong 'Impressive, inspiring and charming - and you end up with Saturday night dinner. This book is so right for our times.' Jill Dupleix 'Lizzie is the real deal, a passionate cook who has found a tonic to help deal with our stressful modern world' Peter Gilmore ...Show more
Made in Italy
by Silvia Colloca; Carla Coulson (Photographer); Chris Chen (Photographer)
$49.99
AUD
Category: Italian
'I was lucky enough to grow up in a family of foodies: my brother is a chef, my mum is a great cook, and my dad is a wonderful eater! No wonder I have such a passion for the food of my homeland.'In her second cookbook, Italian-born Silvia Colloca returns to the villages where she spent her childhood, in the regions of Abruzzo, Marche and Molise. Reuniting with family and close friends, Silvia celebrates the incredible array of fresh produce, its marked regional variations, and how this affects the local cuisine. With her trademark warmth and good humour, Silvia shares family stories and recipes that are close to her heart, and shows how simply a handful of seasonal ingredients can be transformed into something truly exceptional, including homemade ricotta, roast potatoes with bay leaves and cured pork cheek, handmade noodles with monkfish ragu, wine-drenched peaches with mascarpone cream and the intriguing-sounding 'bear's cake'! ...Show more
$39.99
AUD
Category: Italian
In Bitter Honey, seasoned chef Letitia Clark invites us into her new home on one of the most beautiful islands in the Mediterranean Sea - Sardinia. Cooking here reflects life: it is a slow and relaxed affair. Meat is almost always slow roasted over an open fire, often on a rustic spit. Cheese is made an d matured slowly, using age-old methods and tools. Beans and legumes, and most vegetables too are cooked long and slow, extracting all their sweetness. There is no sense of urgency about anything. The recipes in this book don't take long to make, but you can taste the ethos behind every one of them - one which invites you to slow down, to enjoy yourself, to nourish yourself with food, friends, and family. Try your hand at Roasted eggplants with honey, mint, garlic & burrata, or a fresh, zesty salad of Celery, orange, anchovy and hazelnut, followed by Malloreddus (the shell-shaped pasta from the region) with crab, saffron and tomato, or a Roast chicken stuffed with ricotta and chard. If you're craving something sweet, follow up with an Almond panna cotta with poached apricots, or a bowl of Mascarpone and sour cherry ice cream. Each of these recipes, and the stories behind them, will transport you to the glittering, turquoise waters and laid-back lifestyle of this Italian paradise. With beautiful design, photography, full color illustrations and joyful anecdotes throughout, Bitter Honey is a vacation, a cookbook and a window onto a covetable lifestyle in the sun - all rolled into one. ...Show more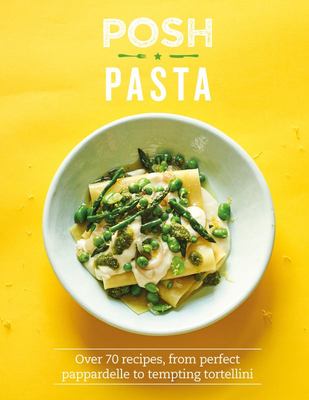 $24.99
AUD
Category: Italian | Series: Posh Ser.
Pasta is loved the world over. Whether it's a pile of saucy spaghetti, a creamy cheesy bake or unctuous buttery parcels, pasta is the go-to dinner choice for millions around the globe - no other food is so versatile, so comforting and so delicious. Fact.   In this latest book in the Posh series, we cele brate the humble bowl of pasta in its many forms and offer amazing new ways to elevate classics, as well revealing new sure-to-be favourites. Beginning with clear instructions for basic pasta doughs, followed by recipes on meaty, fishy and veggie pasta, as well as bakes, salads and soups, you'll have a mouth-watering variety of dishes to choose from every time that pasta craving calls. From Crispy sausage orecchiette, Wild garlic spaghetti and Crab and saffron linguine, through to Mac and cheese arancini, Hot smoked salmon farfalle salad and Baked aubergine caponata, it's time to posh-up your pasta!   Feeling fancy? Whip up some homemade pasta dough. Stuck for time? Use store-bought pasta instead. Either way, with easy-to-follow instructions and a photo for every recipe, Posh Pasta is the fool-proof way to indulge in everyone's favourite carb.   ...Show more
$49.95
AUD
Category: Italian
Six years ago Stephanie Alexander and Maggie Beer went to Italy to run three cooking schools. For two months they lived in the heart of Tuscany, in a beautiful villa nestled among the vineyards and fields south of Siena. They immersed themselves in Tuscan culinary traditions. Central to the cuisine are olive oil, bread, tomatoes and wine, and grilling over a fire. The fresh and delicious recipes in this book are based on the local cuisine. The breathtaking photography by Simon Griffiths captures the food, culture, countryside and people of the region in a book that glows with the light of Tuscany. ...Show more
$69.99
AUD
Category: Italian
Mimi explores the beautiful coasts and countrysides of Italy in this lavishly photographed cookbook featuring simple, authentic recipes inspired by the country's devoted producers and rich food heritage.   Beloved for her gorgeous cookbooks A Kitchen in France and French Country Cooking, Mimi Thorisso n, along with her lively family and smooth fox terriers in tow, immersed readers in the warmth of their convivial lives in rural France. In their newest cookbook, the Thorissons pause their lives in the idyllic French countryside to start a new adventure in Italy and satisfy their endless curiosity and passion for the magic of Italian cooking. Old World Italian captures their journey and the culinary treasures they discovered. From Tuscany to Umbria to Naples and more, Mimi dives into Italy's diverse regional cuisines and shares 100 recipes for authentic, classic dishes, enriched by conversations with devoted local food experts who share their timeworn techniques and stories. You'll indulge in dishes culled from across the country, such as plump agnolotti bathed in sage and butter from the north, the tomato-rich rag s and pastas of the southwest, and the multifaceted, seafood-laden cuisine of Sicily. The mysteries of Italian food culture will unravel as you learn to execute a perfect Neapolitan-style pizza at home or make the most sublime yet elemental cacio e pepe. Full of local color, history, and culture, plus evocative, sumptuous photography shot by Mimi's husband, Oddur Thorisson, Old World Italian transports you to a seat at the family's table in Italy, where you may never want to leave. ...Show more