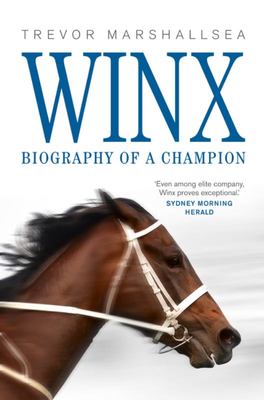 $39.99
AUD
Category: Horses
WINX: BIOGRAPHY OF A CHAMPION BY TREVOR MARSHALLSEA Phar Lap, Kingston Town, Black Caviar - now a new superstar has captivated the heart of the nation. The beautiful bay Winx has transcended the track to become a national icon, earning the affection and acclaim usually reserved for just a chosen few. Si nce the start of her extraordinary winning streak, Winx has run like a horse possessed. Now ranked No 1 in the world, she has won 23 races in a row and counting, including three Cox Plates, matching Kingston Town's record. As well, she's won 17 Group 1 races, breaking a record held since 1984. In 2017 she was inducted into the Australian Racing Hall of Fame, only the third horse to be so honoured after Sunline and Black Caviar. At this rate, Winx might just become the greatest Australian horse that ever raced. But the wins and accolades are just part of the Winx story, a story that hasn't been told in full until now. Winx: biography of a champion, is a book not just about an extraordinary horse, but about the people who made it all happen, their hopes, dreams, a whole lot of hard yakka and, sometimes, hard cash. By racing aficionado and bestselling writer of Peter Moody's A Long Way from Wyandra and with 48 pages of stunning colour photographs, the book is essential reading for racing fans everywhere. This great Australian sporting legend deserves nothing less. ...Show more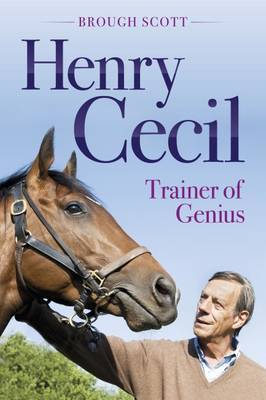 $39.99
AUD
Category: Horses
For more than four decades the elegant, slightly foppish figure of trainer Henry Cecil has been adulated by racing fans. He has handled countless top horses - his '25 English Classics' include four Derby winners - and won dozens of big races around the world. But his story is far from a chronicle of unb roken success. A sharp downturn in his racing fortunes in the late 1990s was accompanied by all manner of personal trials, including well publicised marital problems and then cancer, but the dogged manner in which he has climbed back to the top was rewarded in 2011 by the presence in his Newmarket yard of the wonder horse Frankel. Based on extensive research and interviews with those closest to "Cecil", and shot through with Brough Scott's unparalleled inside knowledge of the sport, this will be the racing book not only of the year, but of the decade. ...Show more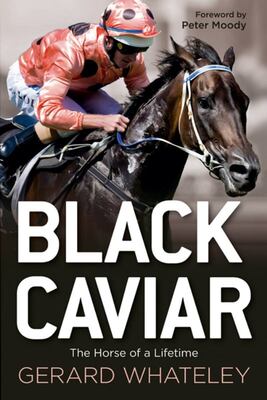 $45.00
AUD
Category: Horses | Series: Black Caviar Titles
Black Caviar has captured the heart of a nation like no sporting figure since the days of Phar Lap and Don Bradman. This is greatness the likes of which is rarely seen. This is a tale that will not weary. This is the authorised story of the horse that couldn't be beaten, by acclaimed journalist and broa dcaster Gerard Whateley. • 'His [Whatelely] is always a human voice, intelligent and relaxed, telling a story in prose that, like the horse he is writing about, lifts the spirit.' - Weekend Australian • 'An outstanding book of its kind.' - Sydney Morning Herald • 'this is a book about greatness. It's about a horse that transcended the track to become an Australian icon. Her story deserves to be told.' - the Canberra times • 'Yet another winner for the Black Caviar team.' - Courier Mail • 'Highly recommended.' - the Weekly Review • 'As an avid reader of sports and racing biographies, I must say this book rates up there with the best.' - Bendigo Advertiser Black Caviar is the biography of the Australian champion, written by acclaimed journalist and broadcaster Gerard Whateley, with a foreword by Peter Moody, BLACK CAVIAR this book documents the career of the racehorse who transcended the track to become an Australian icon. It begins with the entrancing story of champion trainer Peter Moody, a self-made man bred in the remote outback of Queensland, who came to select and guide the fastest horse the world had ever seen. Under Moody's patient and masterful guidance, the hulking injury-prone filly matured into a champion, idolized by a devoted following more akin to a rock band than a racehorse. Her gift is to defy the very nature of sport, making victory look both certain and effortless. But would her customary speed be enough to prevail at the most famous race track of all? At the climax of the tale, half a world away from her devoted nation and in front of the Queen, Black Caviar set out to conquer the world. With her invincible run and marauding dominance, Black Caviar has returned racing to the glory days of more than half a century past and secured a reputation that will echo for as long as horses are sent out to race. ...Show more
$19.99
AUD
Category: Horses
'Strap yourselves in for a thrilling tale' - Inside Sport Some of Australia's greatest sporting legends are horses - Phar Lap, Kingston Town, Black Caviar. Now a new legend has captivated the heart of the nation - Winx. After a patchy start, the unremarkable-looking bay mare settled into a winning strea k that continues four years later and includes 22 Group 1 wins and an astonishing record-breaking four Cox Plates. Winx: Biography of a Champion, traces the rise and rise of this extraordinary racehorse and captures the colour, excitement and nail-biting moments of her assent to the top of the world. A rich and compelling story of the highs and lows, the colour and passion of the sport of kings, it's a fitting tribute to a great Australian sporting legend. The wondrous Winx deserves nothing less. ...Show more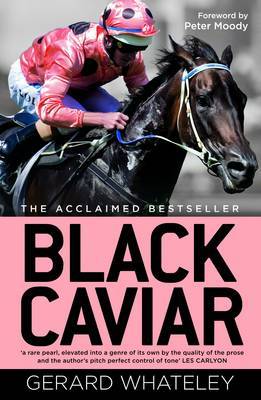 $29.99
AUD
Category: Horses
The updated and bestselling biography, written by acclaimed journalist and broadcaster Gerard Whateley, with a foreword by Peter Moody, BLACK CAVIAR documents the career of the racehorse who transcended the track to become an Australian icon. It begins with the entrancing story of champion trainer Pete r Moody, a self-made man bred in the remote outback of Queensland, who came to select and guide the fastest horse the world had ever seen. Under Moody's patient and masterful guidance, the hulking injury-prone filly matured into a champion, idolized by a devoted following more akin to a rock band than a racehorse. Her gift is to defy the very nature of sport, making victory look both certain and effortless. With her invincible run and marauding dominance, Black Caviar has returned racing to the glory days of more than half a century past and secured a reputation that will echo for as long as horses are sent out to race. This edition features a new epilogue and updated tables. ...Show more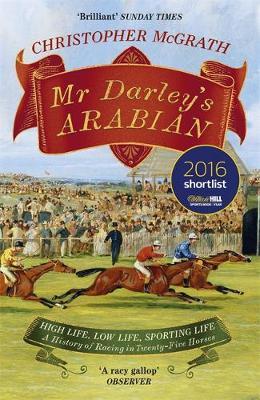 $22.99
AUD
Category: Horses
Shortlisted for the William Hill Sports Book of the Year Award In 1704 a bankrupt English merchant sent home the colt he had bought from Bedouin tribesmen near the ruins of Palmyra. Thomas Darley hoped this horse might be the ticket to a new life back in Yorkshire. But he turned out to be far more than that: and although Mr Darley's Arabian never ran a race, 95% of all thoroughbreds in the world today are descended from him. In this book, for the first time, award-winning racing writer Christopher McGrath traces this extraordinary bloodline through twenty-five generations to our greatest modern racehorse, Frankel. The story of racing is about man's relationship with horses, and Mr Darley's Arabian also celebrates the men and women who owned, trained and traded the stallions that extended the dynasty. The great Eclipse, for instance, was bred by the Duke who foiled Bonnie Prince Charlie's invasion (with militia gathered from Wakefield races) and went on to lead the Jockey Club. But he only became a success once bought and raced by a card-sharp and brothel-keeper - the racecourse has always brought high and low life together. McGrath expertly guides us through three centuries of scandals, adventures and fortunes won and lost: our sporting life offers a fascinating view into our history. With a canvas that extends from the diamond mines of South Africa to the trenches of the Great War, and a cast ranging from Smithfield meat salesmen to the inspiration for Mr Toad, and from legendary jockeys to not one, but two disreputable Princes of Wales (and a very unamused Queen Victoria), Mr Darley's Arabian shows us the many faces of the sport of kings. ...Show more
$34.99
AUD
Category: Horses | Reading Level: 4 Non Fiction
A champion racehorse, Manikato won races at the elite level over six seasons through the late 1970s and early 1980s and became the first Australian sprinter to earn $1 million in prize money. But once getting to the top echelon of racing as a two-year-old, his life endured twists and turns that continua lly threatened to derail his career, and his life. From the sudden death of his original trainer Bon Hoysted shortly after the 1978 Golden Slipper Stakes, to the prolonged illnesses and niggling injuries that kept Manikato's name in the headlines, the fact he could compete let alone win was almost miraculous. Year after year, Manikato was guided patiently by astute trainer, Bob Hoysted - Bon's brother. The powerhouse chestnut with a quirky personality forged historic moments including victory in the William Reid Stakes at Moonee Valley five years in a row; a record unlikely to ever be matched. In his later years, his grittiness and courage were more evident than his speed in continuing to win races, further endearing him to race crowds. Just as his life was full of drama, so was his mysterious and tragic death at the age of eight, despite the resilient efforts of those closest to 'The Man'. ...Show more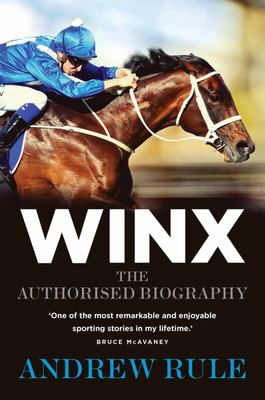 $44.99
AUD
Category: Horses
In Winx: Greatest of all Racehorses, Andrew Rule, her owners, her breeder, her trainer and her rider tell the real story behind the story of the world's greatest racehorse.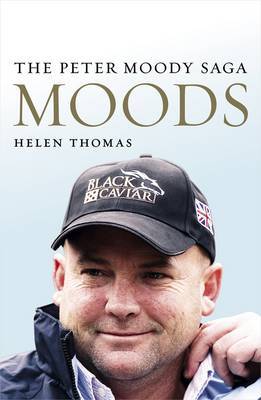 $34.99
AUD
Category: Horses
In March 2016 Peter Moody, the man who took his 'good mare' Black Caviar to an unprecedented 25 straight victories, walked away from racing. Suspended for six months after he was found to have presented a horse on race day with an illegal level of cobalt in its system, the trainer made the drastic decis ion to close down his Caulfield stables altogether. How had it come to this? In Moods, respected journalist Helen Thomas traces Moody's extraordinary career, and shines a spotlight on the cobalt scandal that engulfed him. Through interviews with family, colleagues and friends, and with Peter Moody himself, Thomas explores the horseman's life and achievements- from his time with turf legend T.J. Smith to the day he first noticed the bay filly who grew up to become Black Caviar, and the inquiry that led him to quit the job he loves. Articulate yet reticent, tough yet sensitive, Moody is an intriguing character. For the first time, discover what drives the man who will always be remembered as Black Caviar's trainer, and a true Aussie legend. ...Show more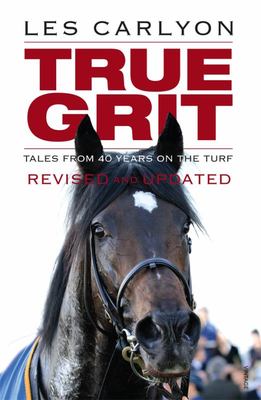 $34.95
AUD
Category: Horses
Four decades of tales from the turf from Australia's leading writer on history and horses, Les Carlyon. Every outrage that occurs on any racecourse anywhere can be explained by one line from Damon Runyon: 'Well, it is horse racing.' Les Carlyon's acclaimed collection of feature stories and vignettes fro m Australian racing now spans forty years. From Bart Cummings before he was a Cup legend to Colin Hayes and Kerry Packer and Peter Moody and his unbeatable Black Caviar, no one sees the magic and heartbreak in the world of horses and racing with quite the poetry of Les Carlyon. Les's eye is both sharp and tender, his writing is so vivid you can almost feel the steaming breath of the mighty gallopers on your cheek and he is under no illusions about the reality of this glorious, awful, fortune-making, heart-breaking sport. ...Show more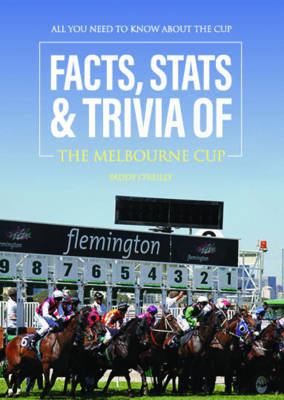 $14.99
AUD
Category: Gift & Humour
This one little book has all the important information for 155 years of The Melbourne Cup - winners, placegetters, jockeys, trainers, prizemoney, starting prices, margins of victory, weights, winning saddle numbers and barriers.