$55.00
AUD
Category: Vegetarian
Flavour-forward, vegetable-based recipes are at the heart of Yotam Ottolenghi's food. In this stunning new cookbook Yotam and co-writer Ixta Belfrage break down the three factors that create flavour and offer innovative vegetable dishes that deliver brand-new ingredient combinations to excite and inspir e. Ottolenghi FLAVOUR combines simple recipes for weeknights, low effort-high impact dishes, and standout meals for the relaxed cook. Packed with signature colourful photography, FLAVOUR not only inspires us with what to cook, but how flavour is dialled up and why it works. The book is broken down into three parts, which reveal how to tap into the potential of ordinary vegetables to create extraordinary food: Process explains cooking methods that elevate veg to great heights; Pairing identifies four basic pairings that are fundamental to great flavour; Produce offers impactful vegetables that do the work for you. With surefire hits, such as Aubergine Dumplings alla Parmigiana, Hasselback Beetroot with Lime Leaf Butter, Miso Butter Onions, Spicy Mushroom Lasagne and Romano Pepper Schnitzel, plus mouthwatering photographs of nearly every one of the more than 100 recipes, Ottolenghi FLAVOUR is the impactful, next-level approach to vegetable cooking that Ottolenghi fans and vegetable lovers everywhere have been craving.     ...Show more
$59.99
AUD
Category: Vegetarian
A joyous must-have vegetable companion for the vegetarian or simply veg-forward: 'Alice Zaslavsky is a force of nature!' Nigella Lawson. The definitive guide to making vegetables the centre of the plate.In this comprehensive and fully illustrated kitchen companion, food writer and presenter Alice Zaslav sky profiles 50 favourite vegetable varieties, offering 150+ recipes reflective of both tradition and modernity, just as all good cooking should be. Uniquely organised by colour and filled with countless tips on flavour combinations, rule-of-thumb buying/storing/cooking methods, shortcuts, and veg wisdom from over 50 of the world's top chefs, In Praise of Veg will help beginners and avid cooks alike turn a bag of yawns or a produce-box surprise into a knock-out meal. For the vegetarian or just veg-forward, In Praise of Veg is the most ambitious and comprehensive reference on the topic, as well as the delicious answer to the age-old question: what are we eating?   ...Show more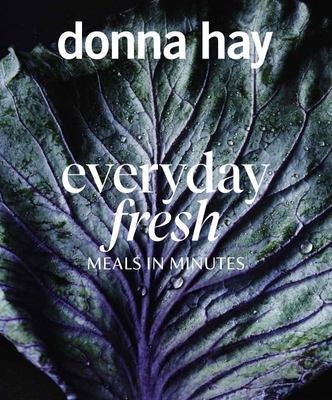 $45.00
AUD
Category: Everyday Cooking
From Australia's bestselling and most trust cook comes a stunning new book featuring super-fresh, super-fast recipes to help you feel nourished and energised ... and ready to savour life. 'One of the questions I get asked most frequently is if I still cook at home. The answer is yes. Absolutely. As oft en as possible.'There are days when it feels as though there's barely time to eat dinner, let alone prepare it. Donna knows on days like these, we all need a little Everyday Fresh in our lives. We all want to create delicious meals packed with flavour and everything that's good for us, with a minimum of fuss. And that's exactly what Donna Hay delivers. 'Simple made special' is the foundation of almost every recipe Donna has ever written. She's all about the classics, but also about a flexible, fresher approach to eating. She's constantly on the lookout for ways to make something easier, healthier, quicker or a little more on-trend - and she also loves a cheat, a quick-fix or anything that can be made in one bowl, that still tastes great. 'If I can create a dish that makes someone feel better because it's mouth-wateringly delicious, packed with nourishing vegetables, or helps them bring a little more balance to their life - that's success!' ...Show more
$34.99
AUD
Category: Gift & Humour | Series: Travel Guide Ser.
Lonely Planet Best Day Walks Australia is your passport to 60 escapes into nature. Stretch your legs away from the city by picking a walk that works for you, from just a couple of hours to a full day, from easy to hard. Stroll vine-striped hillsides, discover hidden coastlines, or explore the Outback. G et to the heart of Australia and begin your journey now!   Inside Lonely Planet Best Day Walks Australia Travel Guide:  Colour maps and images throughout Special features - on Australia's highlights for walkers, kid-friendly walks, accessible trails and what to take Best for... section helps you plan your trip and select walks that appeal to your interests Region profiles cover when to go, where to stay, what's on, cultural insights, and local food and drink recommendations to refuel and refresh. Featured regions include: Sydney & Around, Byron Bay to the Sunshine Coast, The Daintree & the Far North, the Outback, The Kimberley & Pilbara, Southwest Forests to the Sea, Flinders to Fleurieu, Grampians to the High Country, the Prom to the Great Ocean Road, and Tasmania Essential info at your fingertips - walk itineraries accompanied by illustrative maps are combined with details about walk duration, distance, terrain, start/end locations and difficulty (classified as easy, easy-moderate, moderate, moderate-hard, or hard) Over 70 maps   The Perfect Choice: Lonely Planet Best Day Walks Australia, our most comprehensive guide to walking in Australia, is perfect for those planning to explore Australia on foot. Looking for more information on Australia? Check out Lonely Planet Australia guide for a comprehensive look at what the country has to offer.    ...Show more
$70.00
AUD
Category: Garden design
The Australian garden was born mid-century, a time of postwar confidence and growing national identity. Gardens became outdoor rooms for recreation and healthy living - removing the barriers between inside and out - and bold designs celebrated native Australian plants. The mid-century modern aesthetic has seen a revival in recent years, with contemporary garden designers reinterpreting the optimism, innovation and independence of that era. The gardens in Living Outside speak to an Australia that draws on the confidence of the last century while pushing the boundaries of experimentation, all to rise to the environmental and social challenges of today. The featured projects embrace their unique surrounding landscapes, from coastal cliffs and expansive grassland to tropical forest and even urban neighbourhoods. They also reflect a return to modernism - not just the look and feel, but also the functionality and values of invention, conservation, wellbeing.These gardens are more than just ornamental backdrops: they provide shade for neighbourhoods, food for pollinating insects, habitat for wildlife, hubs for both social interaction and moments of respite. They are platforms for research into resilient futures, experiments in sustainability and places for families to grow. They have been designed in response to their contexts and exemplify the singular and joyous spaces that can result from a deep appreciation of place.   ...Show more
$49.99
AUD
Category: Everyday Cooking
'Food, for me, is a constant pleasure- I like to think greedily about it, reflect deeply on it, learn from it; it provides comfort, inspiration, meaning and beauty, as well as sustenance and structure. More than just a mantra, "cook, eat, repeat" is the story of my life.' Cook, Eat, Repeat is a delicio us and delightful combination of recipes intertwined with narrative essays about food, all written in Nigella's engaging and insightful prose. Whether asking 'What is a Recipe?' or declaring 'Death to the Guilty Pleasure', Nigella's wisdom about food and life comes to the fore, with tasty new recipes that readers will want to return to again and again. 'The recipes I write come from my life, my home', says Nigella, and in this book she shares the rhythms and rituals of her kitchen through over fifty new recipes that make the most of her favourite ingredients. Dedicated chapters include 'A is for Anchovy' (a celebration of the bacon of the sea), 'Beetroot and Me', 'A Vegan Feast', a shout out for 'Brown Food', a very relatable 'How To Invite People for Dinner Without Hating Them (or Yourself)', plus new ideas for Christmas. Within these chapters are recipes for all seasons and tastes- Burnt Onion and Aubergine Dip; Butternut with Chilli, Ginger and Beetroot Yoghurt Sauce; Brown Butter Colcannon; Spaghetti with Chard and Anchovies; Beef Cheeks with Port and Chestnuts; Oxtail Bourguignon; and Wide Noodles with Lamb in Aromatic Broth, to name a few. Those with a sweet tooth will delight in Rhubarb and Custard Trifle; Chocolate Peanut Butter Cake; Rice Pudding Cake; and Cherry and Almond Crumble.     ...Show more
$49.99
AUD
Category: Everyday Cooking
The hotly anticipated new book from Bill Granger celebrates today's bright picture of Australian food - 20 years since he released the bestselling Sydney Food. In the 20 years since Bill Granger published his first book of recipes, Sydney Food, the world has fallen in love with the joyfully casual Aust ralian way of eating. As a self-taught cook, straight out of art school, Bill furnished his first street-corner eatery in minimalist style, serving a small but perfectly formed menu of domestic dishes around a central communal table. He captured the hearts of Sydneysiders and visitors alike, while setting an exciting new standard for cafe dining. Since then, Bill has been crowned the 'egg master of Sydney' (New York Times 2002), the 'king of breakfast' (The Telegraph Magazine, 2016), the 'creator of avocado toast' (Washington Post 2016) and 'the restaurateur most responsible for the Australian cafe's global reach' (The New Yorker 2018).Nowadays, from Sydney to Tokyo, and London to Seoul, queues form to enjoy ricotta hotcakes ('Sydney's most iconic dish' Good Food 2019), fluffy scrambled eggs, lively salads and punchy curries. It is a bright picture of Australian food that has travelled across the globe, packed with fresh flavours and local produce, healthy but never preachy, whose main ingredient seems to be sunshine itself. The plates at any of Bill's restaurants are more sophisticated today, reflecting decades of global experience and culinary creativity - but the warmth of atmosphere and joy of eating remain the same. ...Show more
$34.99
AUD
Category: Sustainability/Environment
Down-to-earth recipes for a resourceful, tox-free, and waste-free home life. Home by Natural Harry is a compendium of DIY recipes, tips, tricks, and hacks for a calm, resourceful, and tox-free existence. It is a modern reference for anyone who wants to ditch their joyless supermarket habit, reduce plast ic waste, and save money and the world. Home by Natural Harry considers every room of the house (stain remover for the laundry, shower cleaner in the bathroom, dish liquid in the kitchen) and presents alternatives to shop-bought cleaning products, as well as a comprehensive chapter on body care (from toothpaste to shampoo to foaming hand wash). Readers will also be treated to a handful of recipes for Harriet's favorite money-saving kitchen staples including oaty seed loaf, coconut yoghurt, and pickled veg. Home by Natural Harry celebrates a slower, more frugal and thoughtful life--the joys of which people the world over are learning to respect and embrace. ...Show more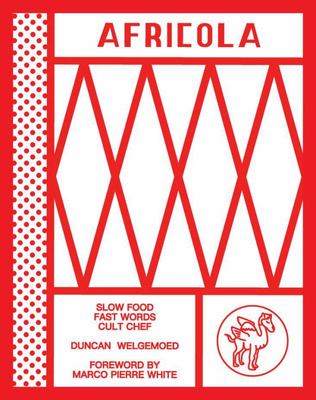 $49.99
AUD
Category: Professional Chefs
Ottolenghi on steroids, with a sense of humour and a bit of a Kitchen Confidential vibe - it's brash, bold, boozy and it roars.  Duncan Welgemoed's food is exciting some of the most exacting palates. He cooks African-inspired vegetables, grilled and smoked meats, flatbreads, pickles, ferments, vegan-ins pired desserts and serves cocktails and natural wine. The food and the experience he recreates links directly back to his South African birthplace, Johannesburg. The food is all about using sustainably sourced, low -impact-on-the-earth ingredients (carefully sourced meats, fish, vegetables, grains, pulses, seaweed, algae, shellfish) to create dishes that have big, powerful flavours, are punchy, bold, butch and that 'open another box in your palate and in your mind'. The range of recipes covers vegetarian and vegan; full-on South African meat dishes cooked on fire, in embers and ashes, in ovens and cast iron pots; ferments, dips, pickles and sauces that are good for the gut and good on the palate; South African inspired vegan desserts. Expect to find recipes for peri peri chicken; roast rib of beef with pap (polenta); wood-roasted sardines with poached plums; charcoal prawns with preserved pumpkin; kingfish muamba (crudo) with pickled kohlrabi; prawns grilled with kombu butter; firepit sausages; squid with seaweed tapenade; bush meats (charcuterie) with smoked oysters; boom chakalakka (radicchio-based kimchi pickles); caramelised corn kernels with white chocolate and hazelnuts - and a soundtrack to accompany the food. ...Show more
$39.99
AUD
Category: Everyday Cooking
A kitchen skills handbook to buy less, waste less, save money and make more with what you've got by the original waste warriors.   Buy less, buy whole, use it all  This practical handbook is an invitation to reduce food waste while eating generously. It's a book for people juggling real life and trying to make better choices in their kitchens.  For years Alex Elliott-Howery and Jaimee Edwards, from boundary-breaking food community Cornersmith, experimented in their home kitchens to figure out how to feed their families efficiently, affordably and sustainably. The result is this invaluable guide to modern food wisdom. Structured around weekly seasonal shopping baskets, it includes:- More than 230 recipes with alternative flavour combinations so you can adapt a recipe to what you have on hand (and never get bored!)- Clever ideas to make the most of the whole ingredient so that a little goes a long way- Waste hacks for turning tired produce or offcuts into something special. Use It All offers a simple, delicious way to cook and eat by buying less, wasting less and making more with what you've got. ...Show more
$45.00
AUD
Category: South American/Mexican
Mexican street food is one of the world's most diverse and delicious cuisines--dive in with this beautifully packaged book. This high-design cookbook is a work of culinary and cultural art, overflowing with accessible recipes from the streets of Mexico. As any visitor will tell you, Mexico is a true foo die's paradise - seen especially in the hustle and bustle of its city and small-town streets. In Mexican Street Food Rosa celebrates the rich, diverse, and well-loved recipes found across her country of origin - from breakfast tamales in the thriving metropolis of Mexico City to the tacos you find on every street corner to incredible snacks and heartier fare, like chicharr nes and tortas, and late-night treats like elotes and churros. "You'll never go hungry in Mexico," says Rosa.   With stunning food photography of its seventy recipes, and dynamic images of Mexican life throughout the book, Mexican Street Food is the perfect gift for the armchair traveler or anyone wanting a throwback to their trip to Mexico.   ...Show more
$59.99
AUD
Category: Indoor, succulents & terrariums.
Houseplants have the power to transform any room. With their lush foliage, structural beauty and air-purifying qualities, they help create indoor oases that bring a sense of tranquility to our busy lives. In Plantopedia, Lauren Camilleri and Sophia Kaplan from Leaf Supply present the definitive guide to keeping happy, healthy houseplants in any space. This guide features over 150 plant profiles including foliage plants, succulents, and cacti and rarer gems of the plant world. Each profile includes detailed care information including troubleshooting tips and tricks to ensure that your houseplants thrive. There are plants for all levels of indoor gardeners, from budding novices to green thumbs and beyond.   ...Show more