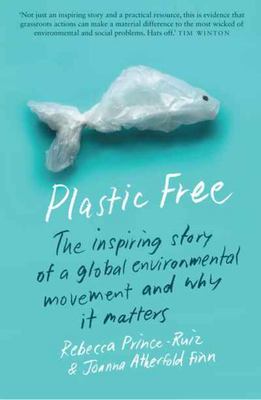 $32.99
AUD
Category: Sustainability/Environment
'I'm going plastic free next month, who wants to join me?' When Rebecca Prince-Ruiz asked her colleagues this question in 2011, she had no idea that less than a decade later it would inspire a global movement of 250 million people in 177 countries to reduce their plastic use. Plastic Free tells the incr edible story of how a simple community initiative grew into one of the world's most successful environmental movements. It also shares tips from people around the world who have taken on the Plastic Free July challenge and significantly reduced their waste.Plastic Free is a book about positive change and reminds us that small actions can make a huge impact, one step – and piece of plastic – at a time.'Not just an inspiring story and a practical resource, this is evidence that grassroots actions by ordinary individuals and communities can make a material difference to the most wicked of environmental and social problems.  Hats off.' — Tim Winton'Some people feel overwhelmed by the environmental state of affairs and wait for politicians or manufacturers to change; others, like Rebecca Prince-Ruiz, take matters into their own hands, starting with their own lives …Use this book to be inspired, or better, use it as a template to change the world in your own way!' — Bea Johnson, author of Zero Waste Home'The more time I spend at sea, the more I realise the solutions start on land. This book will guide you on that journey to making global change for the ocean from your doorstep.' — Emily Penn, ocean advocate, skipper and co-founder of eXXpedition'Plastic Free July inspires me to step up my commitment to reducing single-use plastic in my daily life and on tour.' — Jack Johnson, musician and Plastic Free Foundation ambassador'Plastic Free shows us how to organise around our innate desire for a beautiful, clean environment, and eventually change, in a fundamental way, the system that unnecessarily creates the ugly mess.' — Captain Charles Moore, veteran seafarer and author of Plastic Ocean'Few people have spent as much time as Rebecca Prince-Ruiz trying to work out how to minimise the plastic in our lives.' — Craig Reucassel, comedian and presenter of War on Waste'Plastic Free shows how one person can ripple out and cause good around the globe. Never has there been a more important time to share hope and action, and combine them for our Mother Earth.' — Melissa Joan Hart, actor ...Show more
$32.99
AUD
Category: Sustainability/Environment
The inside story of how a network of influential climate sceptics, politicians and business leaders fought to control Australia's response to the climate crisis. As the climate crisis threatens more extreme bushfire seasons, droughts and floods, many Australians are demanding their leaders answer the qu estion: 'Why didn't you do something?' The Carbon Club reveals the truth behind Australia's two decades of climate inaction. It's the story of how a loose confederation of influential climate-science sceptics, politicians and business leaders sought to control Australia's response to the climate crisis. They shared a fear that dealing with climate change would undermine the nation's wealth, jobs and competitive advantage - and the power of the carbon club. Central to their strategy was an international campaign to undermine climate science and the urgency of the climate crisis. The more the climate science was questioned, the more politicians lost the imperative to act. The sustained success of the carbon club over two decades explains why Australian governments failed to deal with the challenge of climate change. But at what cost to us and the next generation? One of Australia's most respected investigative journalists, Marian Wilkinson has tracked the rise and rise of Australia's carbon club in brilliant detail, with extraordinary access to key players on all sides. The result is a book that is both essential and disturbing reading.   ...Show more
$27.99
AUD
Category: Sustainability/Environment
The Paris Agreement was a landmark for humanity. In this timely and important book, two of the principle creators of that agreement show us why and how we can now realise its' promise. I hope it is widely read and acted on' Jane Goodall, PhD, DBE, Founder of the Jane Goodall Institute and UN Messenger o f Peace The Future We Choose is a passionate call to arms, written by former UN Secretary for Climate Christiana Figures and Tom Rivett-Carnac, her UN political strategist. They outline two scenarios for our future: how life on Earth will be by 2050 if we fail to meet the Paris Agreement climate targets; or how it will look and feel to live in a carbon neutral, regenerative world. Each of us must confront the crisis head on, with determination and optimism. Practical and empowering, The Future We Choose features ten things we can do today to make a difference. The Future We Choose is for all of us, teenagers to adults, who feel powerless to stop the climate emergency. This is the final hour: it can be our finest hour. We can solve our climate emergency, but we must act now. ...Show more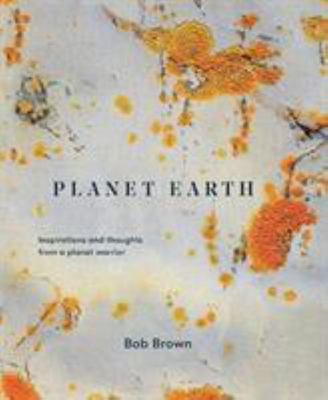 $29.99
AUD
Category: Sustainability/Environment
In his first speech in the Senate, Bob Brown raised the threat posed by climate change. It has taken 10 years for politicians to finally begin to acknowledge the causes and effects of climate change. Since 1996, Bob has continued to take a courageous, and often politically lonely, stand on issues around the saving of our planet, whether they have a local or international focus: saving Tasmania's ancient forests, opposing the dumping of nuclear waste in Australia, protesting against Japanese whaling, the protection of rainforests and a host of other campaigns. In 2010 Bob led the Australian Greens to a historic result with more than 1.6 million Australians voting for the Greens. In 2012 Bob stepped down as Leader of the Australian Greens, and then retired from the Senate. Since then he has continued to campaign on conservation issues across Australia and the world. This book is both an inspiration and a call to action: Bob Brown's words are a clear message on the issues facing our planet yet his positive approach is an inspiration to us all. ...Show more
$22.99
AUD
Category: Sustainability/Environment
An international bestseller, the first climate book that doesn't leave the reader depressed: realistic and hopeful, witty and clarifying.
$32.99
AUD
Category: Sustainability/Environment
A toolkit for understanding our emotional responses to climate change and how we can have meaningful conversations across dividing lines. 'The antidote to climate anxiety is action. Make your first action reading this book.' OSHER GUNSBERG'Rebecca Huntley has given us a great gift: an essential guide to understanding ourselves and each other as we face the climate crisis. Let's take down the walls that divide us. Collectively, with compassion and courage, we can make real change happen.' KYLIE KWONG'Explains whether and how we will choose to solve the climate problem. Immensely important analysis in a great read.' PROFESSOR ROSS GARNAUT Why is it so hard to talk about climate change?While scientists double down on the shocking figures, we still find ourselves unable to discuss climate change meaningfully among friends and neighbours - or even to grapple with it ourselves. The key to progress on climate change is in the psychology of human attitudes and our ability to change. Whether you're already alarmed and engaged with the issue, concerned but disengaged, a passive skeptic or an active denier, understanding our emotional reactions to climate change - why it makes us anxious, fearful, angry or detached - is critical to coping on an individual level and convincing each other to act.This book is about understanding why people who aren't like you feel the way they do and learning to talk to them effectively. What we need are thousands - millions - of everyday conversations about the climate to enlarge the ranks of the concerned, engage the disengaged and persuade the cautious of the need for action. ...Show more
$29.99
AUD
Category: Sustainability/Environment
Sometimes the solutions are closer than we think.         Denmark will reach 100 per cent renewable electricity by 2030. Iceland has topped gender equality rankings for a decade and counting. Singaporean students beat almost all others in maths and reading. South Koreans will soon live longer than an yone else on Earth. The US city of Boston, global epicentre of biotech, has the most innovative square mile on the planet. How have these places and more achieved such remarkable success? Policy adviser Andrew Wear examines what has worked around the world and how we can apply the lessons at home, introducing us to inspiring community leaders, renowned authorities and visionary policymakers transforming the globe.             We don't have to look far to tackle humanity's most pressing concerns. Solved! is a much-needed dose of optimism in an atmosphere of doom and gloom, a toolkit for those seeking social change. Informative, accessible and revelatory, it shows the solutions exist – we just need to know where to find them.  ...Show more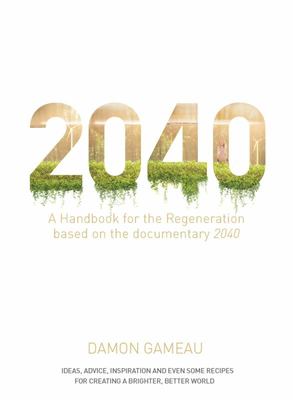 $34.99
AUD
Category: Sustainability/Environment
'You never change things by fighting the existing reality. To change something, build a new model that makes the existing model obsolete.' Buckminster Fuller Like most of us, Damon Gameau has spent most of his adult years overwhelmed into inaction by the problem of climate change and its devastating ef fects on the planet. But when Damon became a father, he knew he couldn't continue to look away. So he decided to do what he does best, and tell a story. And the story became an imagining of what the world could look like in 2040, if we all decided to start doing things differently, right now. The result is the era-defining documentary 2040 - a meticulously researched plea for the adoption of community-building, energy-generating, forest-renewing, ocean-replenishing measures that science tells us will reset our planet's health, drive our economies and improve lives across the globe. 2040: A Household Handbook for the Regeneration shows us how we can stitch this magnificent vision into everyday life by engaging in activities such as cooking, shopping, gardening, sharing, working and teaching our kids. It shows us that climate change is a practical problem that can be tackled by each of us, one small step at a time, and that we can make a genuine difference - if we know what to do. Brimming with practical wisdom and even 50 delicious recipes, 2040: A Household Handbook for the Regeneration empowers you to become the change you want to see in the world. ...Show more
$29.99
AUD
Category: Sustainability/Environment
We've had a decade of distraction and inaction on climate change, but what made things go so very wrong in Australia? And what can the rest of the world learn from our mistakes – and opportunities? In Windfall, renewable energy expert Ketan Joshi examines how wind power inspired the creation of a weird, fabricated disease, and why the speed with which emissions could have been reduced — like putting a price on carbon — was hampered by a flurry of policy disasters. He then plots a way forward to a future where communities champion equitable new clean tech projects, where Australia grows past a reliance on toxic fuels, and where the power of people is used to rattle fossil fuel advocates from their complacency. Renewable energy can become a key player in the effort to upgrade our species from one on a path to self-destruction to a path of sustainability and fairness. With the knowledge of how the last decade was lost, the next decade can work the way it's meant to. 'In Windfall: Unlocking a fossil-free future, renewable energy industry insider Ketan Joshi gives a teeth-gnashing account of Australia's interminable climate debates. ...Show more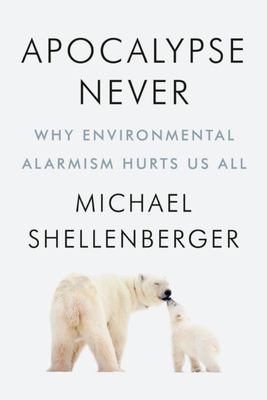 $34.99
AUD
Category: Sustainability/Environment
Climate change is real but it's not the end of the world. It is not even our most serious environmental problem. Michael Shellenberger has been fighting for a greener planet for decades. He helped save the world's last unprotected redwoods. He co-created the predecessor to today's Green New Deal. And h e led a successful effort by climate scientists and activists to keep nuclear plants operating, preventing a spike of emissions. But in 2019, as some claimed "billions of people are going to die," contributing to rising anxiety, including among adolescents, Shellenberger decided that, as a lifelong environmental activist, leading energy expert, and father of a teenage daughter, he needed to speak out to separate science from fiction. Despite decades of news media attention, many remain ignorant of basic facts. Carbon emissions peaked and have been declining in most developed nations for over a decade. Deaths from extreme weather, even in poor nations, declined 80 percent over the last four decades. And the risk of Earth warming to very high temperatures is increasingly unlikely thanks to slowing population growth and abundant natural gas. Curiously, the people who are the most alarmist about the problems also tend to oppose the obvious solutions. What's really behind the rise of apocalyptic environmentalism? There are powerful financial interests. There are desires for status and power. But most of all there is a desire among supposedly secular people for transcendence. This spiritual impulse can be natural and healthy. But in preaching fear without love, and guilt without redemption, the new religion is failing to satisfy our deepest psychological and existential needs... ...Show more
$32.99
AUD
Category: Sustainability/Environment
'Our house is on fire,' 16-year-old Swedish school strike activist Greta Thunberg told world leaders in 2019. Across an angry year of weather, Australians watched it in real-time: record heatwaves and worsening drought, unprecedented fish kills in the Murray-Darling Basin and devastating wildfires acros s Queensland and NSW - this is climate change, a terrifying portent for the most arid continent on earth. But most shocking of all is the untold human toll - escalating human deaths in Australia and beyond. The climate crisis is now a health emergency, with extreme weather events, disease, mental illness and infrastructure collapse killing what the WHO predicts will be millions around the world over the next decade. Shocking and undeniable, Manning reveals what climate change really looks like, telling the moving stories of victims, their families and doctors - putting names and faces to the people who have already paid the ultimate price for inaction on the biggest moral challenge of our century. ...Show more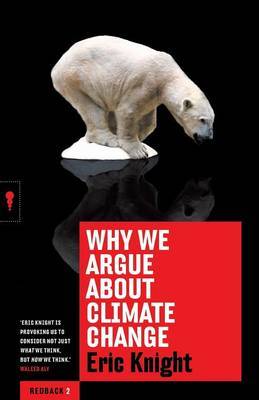 $19.99
AUD
Category: Sustainability/Environment | Series: Redback Ser.
A new perspective on a diabolical problem. Climate change is one of the most polarising issues of our time, but it doesn't have to be that way. In Why We Argue about Climate Change, Eric Knight unpicks the misconceptions that keep us arguing about, and stop us seeing, the true nature of the problem - an d its solutions. Why can't we learn anything about climate change from snowstorms or scorching temperatures? How have sceptics and believers confused politics and science in their war for public opinion? Is climate change a moral challenge or a technological one? With optimism and clarity, Knight cuts throught he distortions and distractions and proposes a better way forward. Why We Argue about Climate Changeis essential reading for anyone who wants to solve the puzzle of a warming planet rather than squabble about the weather. It contains expanded and updated chapters from Knight's acclaimed book Reframe, as well as much new material. 'Knight is . . . not just logical and lucid but also consistently interesting and challenging.' The AgeRedbacks- Books with BiteRedbacks are short books on big issues by prominent Australian writers and thinkers. These timely interventions offer accessible and vital arguments about society and politics. Redbacks will equip, provoke and persuade readers to engage with the national debates that truly matter. ...Show more