$14.99
AUD
Category: Junior Readers | Series: Toffle Towers | Reading Level: 8 Kids Middle Readers
Toffle Towers hotel has been run by a Toffle for over one hundred years - and it's about to be inherited by the next generation. Chegwin Toffle is only ten years old. But he isn't going to let that stop him from turning this run-down hotel into a success. Chegwin is determined to transform Toffle Towers from a boring hotel for grown-ups into an incredibly exciting destination for children (and their families). But running a hotel isn't easy. Chegwin has a lot to learn, and his tendency to drift off into daydreams isn't helping. Chegwin has plenty of ideas. But can he turn his madcap daydreams into reality? ...Show more
$11.95
AUD
Category: Junior Readers
Isadora Moon is special because she's different. Her mum is a fairy and her dad is a vampire and she's a bit of both. Isadora loves playing in the snow, especially when her creations come to life!But snow magic can't last forever. Will she be able to save her new friends before they melt away?And that's not all! This beautiful gift edition is also bursting with magical activities and things to make and do, providing hours of fun with Isadora and Pink Rabbit!With irresistible pink and black artwork throughout by author/illustrator Harriet Muncaster and a totally unique heroine with an out-of-this-world family, this is a beautiful, charming, and funny series of first chapter books. Perfect for fans of Claude, Dixie O'Day, and Squishy McFluff, IsadoraMoon is the ideal choice for readers who want their magic and sparkle with a bit of bite! ...Show more
$14.99
AUD
Category: Junior Readers | Series: Atticus Van Tasticus | Reading Level: 8 Kids Middle Readers
1750, when times were tough and teeth were rotten... As part of an ancient family tradition, young Atticus Van Tasticus narrowly escapes a life down the coal mines - or worse, going to school - when he gets to choose the gift of a pirate ship from his Grandnan's treasure pile. It's a choice that will ch ange the course of history - well, OK, his story, at least. Atticus pulls together a rag-tag bunch misfits - AHEM - a tough, brilliant crew, and sets out to wreak havoc - I mean - live a piratin' life. With little else to his name, Atticus has a taste for adventure, beauty and danger - where any minute might be your last, and your next minute could be your best (...if only they could get off the dock).   ...Show more
$26.99
AUD
Category: Junior Readers
Mabel lives with her parents in The Mermaid Hotel, by the sea. Mabel likes to keep an eye on the comings and goings of all the guests. Then one day a particularly in-ter-est-ing old lady comes to stay. There is something very suspicious about her, with her growly voice and her heavy trunks and her beady -eyed tortoise. And why does no one know her REAL name? There can only be one answer, Mabel decides ... this guest is a SUPERVILLAIN. But even supervillains have a soft side, and as an unlikely friendship grows between the pair, their fantastical exploits take them well beyond the corridors of their seaside home. ...Show more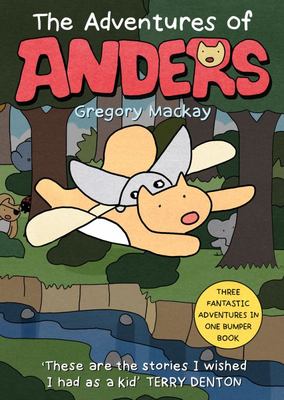 $19.99
AUD
Category: Junior Readers | Series: Anders | Reading Level: very good
A bumper book of fun and adventure in full colour, introducing lovable Anders and his band of intrepid friends. Anders, Bernie and Eden are best friends and are always on the lookout for new adventures. In these three exciting stories, discover an unknown comet, explore an extinct volcano and find your way through a castle maze. ...Show more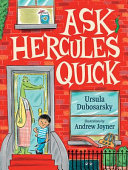 $19.99
AUD
Category: Junior Readers
A hilarious and entertaining story about a boy who does a series of odd jobs for his eccentric neighbours, from the bestselling creators of The Terrible Plop.
$12.99
AUD
Category: Junior Readers
Paddy is a normal everyday kid, but what happens to him is anything but ordinary - welcome to the surprising, always entertaining world of Paddy T.
$24.99
AUD
Category: Classics/Collections
Kind is the new brave! In this companion to her bestselling Fairytales for Feisty Girls, renowned kid hero and feisty author Susannah McFarlane presents an illustrated collection of 'tilted' fairytales featuring kind boys with big hearts.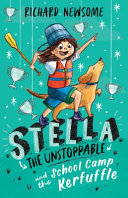 $14.99
AUD
Category: Junior Readers | Series: Stella the Unstoppable
Hi! I'm Stella and yes, I'll admit it. I am just a teeny tiny bit obsessed with winning the Camp Cup this year. Who wouldn't be? The winner gets a pizza party! Year Five camp only comes around once in a lifetime and it's going to be awesome. Except ... the campsite is on the edge of an old abandoned gra veyard. And there's a rumour that a kid called Spud Riley went to camp and never came back. AND we're on a Camp Cup team with Lizzie Lawless, and the thing you need to know about Lizzie Lawless is - oh. Never mind. You'll see ... It's going to be hectic. Yes. No. Really. ...Show more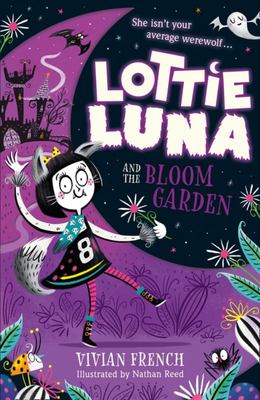 $12.99
AUD
Category: Junior Readers | Series: Lottie Luna Ser.
A brand new young fiction series by much-loved children's author, Vivian French and illustrated by Nathan Reed.Meet werewolf extraordinaire... Lottie Luna. Beautiful black and white illustrations throughout. Lottie Luna might look your average werewolf but she's really rather extra-ordinary. Born on the night of a solar eclipse has given her exceptional powers of super-strength, super-speed and super-vision. But Lottie just wants to live a normal life and go to school with her friends. She doesn't like to use her special skills unless it helps get them out of trouble. After all, strength doesn't always come from the outside - it comes from within, too... ...Show more
$14.99
AUD
Category: Junior Readers | Series: Daring Delly | Reading Level: 7.5 Kids First Reader
Delly is super-sporty, and mad about BASKETBALL! When tryouts are called for a NEW local basketball team, Delly and his mates are determined to make the cut. But with footy training, tennis and school, will Delly have time to practise basketball? ABSOLUTELY. Delly is as daring as he is determined and hell do whatever it takes! Daring Delly is an exciting new series from Australian NBA Champion Matthew Dellavedova. Drawing on Dellavedovas childhood experiences of playing basketball, Daring Delly is an energetic and engaging read for young sports fans! ...Show more
Funny Bones
by Kate Temple; Jol Temple; Oliver Phommavanh
$24.99
AUD
Category: Junior Readers
If you think you've heard every funny story there is then think again ... Funny Bones is a super-huge collection of rib-tickling stories, cartoons, comics, jokes and much, much more that's bound to get even the most serious kid laughing. With over 100 funny stories, hilarious poems and side-splitting dr awings from some of Australia's favourite and funniest people including Zoe Foster Blake, Josh Pyke, Andy Griffiths, Terry Denton, Hannah Gadsby, Lawrence Leung, Michelle Law, Adrian Beck, Katrina Nannestad, James O'Loghlin, Tom Jellett, Gus Gordon, Danny Katz, Mitch Vane, Sally Rippin, Tristan Bancks, Jessica Walton, Dougal Macpherson, Garth Nix, The Listies, Georgia Productions as well as Oliver Phommavanh and Kate & Jol Temple, Funny Bones will be a bumper addition to any child's bookshelf. It might get you laughing out loud, but it's all for a serious cause - all royalties go to the international aid charity, War Child Australia. ...Show more