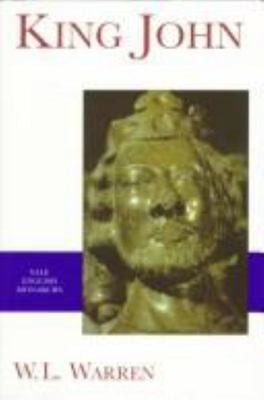 King John
by W. L. Warren; D. A. Carpenter (Foreword by)
$74.00
AUD
Category: British | Series: English Monarchs Ser.
King John is a study not only of a king and his political misfortunes, but also of a period-a period of profound changes in society at large, and hence one of unprecedented stressed. John's personality, so distorted by chronicles such as Roger of Wendover and Matthew Paris, is investigated through his a cts: but he is seen also against the background of his predecessors on the throne, of the society in which he lived and of the problems that were posed for a rule by that society.John was the fourth son of Henry II and Eleanor of Aquitaine to survive to manhood. In his younger days he was irresponsible, selfish and disloyal, but from 1194 he began to emerge as much more like his father than any of the brothers whose prowess he had formerly sought to rival. Only Henry II himself is comparable to the later John in his powers of organization and the ability, invaluable in a ruler, to bend his energies to points of administrative detail.The account of John's reign is fascinating, revealing and extremely readable. Dr. Warren's analysis of the contemporary situation explains the true significance of the struggle for the Magna Carta. he is unsparing in his criticism of John's failing but gives due recognition to his remarkable activities. ...Show more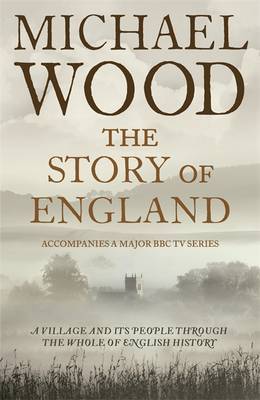 $49.95
AUD
Category: British
The village of Kibworth in Leicestershire lies at the very centre of England. It has a church, some pubs, the Grand Union Canal, a First World War Memorial - and many centuries of recorded history. In the thirteenth century the village was bought by William de Merton, who later founded Merton College, O xford, with the result that documents covering 750 years of village history are lodged at the college. Building on this unique archive, and enlisting the help of the current inhabitants of Kibworth, with a village-wide archeological dig, with the first complete DNA profile of an English village and with use of local materials like family memorabilia, Michael Wood tells the extraordinary story of one English community over fifteen centuries, from the moment that the Roman Emperor Honorius sent his famous letter in 410 advising the English to look to their own defences to the village as it is today. The story of Kibworth is the story of England itself, a 'Who Do You Think You Are?' for the entire nation. It is the subject of a six-part BBC tv series to be shown in autumn 2010. ...Show more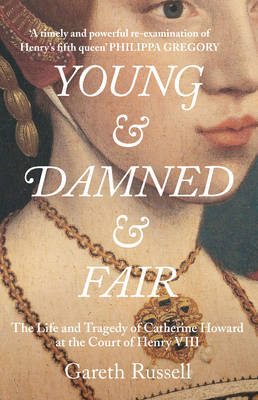 $32.99
AUD
Category: British
Based on fascinating new material, a riveting account of Catherine Howard's tragic marriage to one of history's most powerful and endlessly fascinating rulers - Henry VIII. In its sixteen month existence between her marriage to Henry VIII in July 1540 and her arrest in November 1541, Catherine Howard's household showcased the Tudor monarchy in microcosm: how royal favour was won, granted, exercised, displayed, celebrated and betrayed. She and her allies went through almost every possible state - a household in formation, a household at court, a household on tour, and a household in crisis. Through this remarkable story Gareth Russell depicts a compelling yet awful world, and explains in thrilling detail how Howard's short life ended with the incarceration of half her family, many of her servants and the executions of her alleged lover, her secretary, her favourite lady in waiting, and the queen herself. 'Young and Damned and Fair' sheds new light on Howard's most intimate context - the aristocrats and servants who surrounded at every hour and, in the end, conspired against her. Far more than a traditional biography, this book offers a fascinating portrayal of the court's life, gossip and plots in the sixteenth century. ...Show more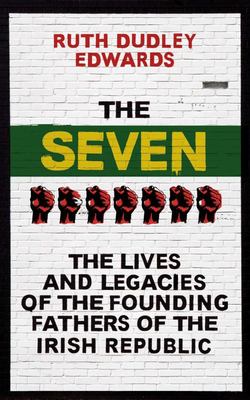 $32.99
AUD
Category: British
On Easter Sunday, 23 April 1916, the members of the Irish Republican Brotherhood's military council put their names to the Proclamation of the Irish Republic, declaring that they were the provisional government of an Ireland free from British rule. In effect, each man had knowingly signed his own death warrant. Since then, the Seven have been eulogized and used as political weapons by many, but today there is an increasing recognition within Ireland that it's time for an honest re-discussion of the Easter Rising. One hundred years on, award-winning author Ruth Dudley Edwards explores how the lives of Ireland's founding fathers converged and how they came to espouse violence and asks if they had a coherent vision for their country or if they were, as some now allege, little more than a collection of fanatical misfits and failures. A brilliant, thought-provoking re-assessment, The Seven provides a scrupulous examination of each of these men, challenging us to judge their actions and to find an answer to the question of what their legacy should be. ...Show more
$32.99
AUD
Category: British | Series: Bloomsbury Revelations Ser.
This history will endure; not only because Sir Winston has written it, but also because of its own inherent virtues - its narrative power, its fine judgment of war and politics, of soldiers and statesmen, and even more because it reflects a tradition of what Englishmen in the hey-day of their empire tho ught and felt about their country's past. The Daily Telegraph Spanning four volumes and many centuries of history, from Caesar's invasion of Britain to the start of World War I, A History of the English-Speaking Peoples stands as one of Winston Churchill's most magnificent literary works. Begun during Churchill's 'wilderness years' when he was out of government, first published in 1956 after his leadership through the darkest days of World War II had cemented his place in history and completed when Churchill was in his 80s, it remains to this day a compelling and vivid history. The second volume - The New World - explores the emergence of Britain on the world stage and a turbulent period at home- from Henry VIII's break with Rome and the English Reformation to the fending off of the Spanish Armada and the schism between parliament and crown that led to the civil war, the fall and rise of the monarchy and the rule of Oliver Cromwell. The book also covers the historic journey of the 'Mayflower' that saw the English-speaking peoples' arrival in the Americas. ...Show more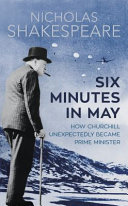 $29.99
AUD
Category: British | Reading Level: very good
London, early May 1940- Britain is on the brink of war and Neville Chamberlain's government is about to fall. It is hard for us to imagine the Second World War without Winston Churchill taking over at the helm, but in SIX MINUTES IN MAY Nicholas Shakespeare shows how easily events could have gone in a d ifferent direction. The first land battle of the war was fought in the far north, in Norway. It went disastrously for the Allies and many blamed Churchill. Yet weeks later he would rise to the most powerful post in the country, overtaking Chamberlain and the favourite to succeed him, Lord Halifax.It took just six minutes for MPs to cast the votes that brought down Chamberlain. Shakespeare shows us both the dramatic action on the battlefield in Norway and the machinations and personal relationships in Westminster that led up to this crucial point. Uncovering fascinating new research and delving deep into the backgrounds of the key players, he has given us a new perspective on this critical moment in our history. ...Show more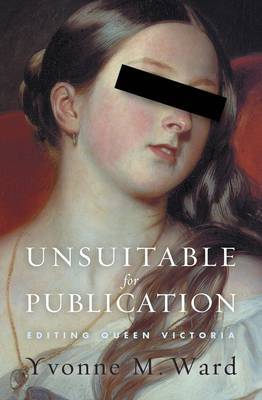 $29.99
AUD
Category: British
When Queen Victoria died in 1901, two literary gentlemen took on a monumental task: selecting and editing her vast correspondence. The book they produced would influence perceptions of Victoria for generations to come - but it was not the full story. The Queen's two editors, Viscount Esher and Arthur B enson, were deeply eccentric men. Both old boys of Eton, they moved in a world of gentlemen's clubs, passionate male relationships and hidden political networks. Benson, a schoolmaster and author, suffered badly from depression. Esher was a calculating and ambitious politician, a powerful puller of royal strings - and wrote incestuous letters to his son. Together, they would decide how the Queen was remembered. Based on unprecedented access to the royal archives, Unsuitable for Publication reveals how key aspects of Victoria's life were deemed unfit for public consumption: her experience of motherhood, her struggle to combine the roles of ruler and wife, and her intimate friendships with other royal European women. Yvonne M. Ward reveals how and why these excisions were made and how they have skewed our image of Victoria ever since. Absorbing and original, this is a fascinating piece of historical detective work. 'Original and important, this book represents a major contribution to our understanding of the modern British monarchy.' --Sir David Cannadine 'Hats off to Yvonne Ward -- a shrewd Aussie lady who has exposed the gentlemanly networks that tried to hide the truth about Queen Victoria.' --Robert Lacey, author of Majesty, Henry VIII and Royal Yvonne M. Ward is a historian with a doctorate from La Trobe University. ...Show more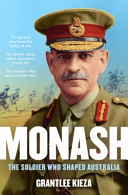 $39.99
AUD
Category: British
The amazing life story of the general who shaped Australia - the first major biography of Monash in over a decade John Monash's life is emblematic of Australia's much heralded egalitarian spirit - here is the ultimate outsider, poor, Jewish in an era which still practiced anti-Semitism, bookish at a ti me when anti-intellectualism was the order of the day, a restless rebel who struggled to find his feet in career path and in love, but who nevertheless rose to become one of the nation's most enduring folk heroes. Author Grantlee Kieza tracks Monash's beginnings as the bright son of immigrant rabbis through his years of searching for an identity and his tumultuous love life as a ladies man in Melbourne society before he became one of the city's wealthiest and most succesful citizens. Then, in the frightening blood soaked fields of World War I, he shows how a man who had had never fired a shot in anger grew to become one of the most admired generals Australia has ever produced - while harbouring private thoughts about the futility of war. Writing with pace, style and eye for lively detail, Grantlee Kieza brings Monash brilliantly to life as a flesh and blood man - deeply flawed, extraordinarily unconventional, a truly great Australian. 'Clear and accessible ... Kieza has made the life of Australia's greatest general open to a broad audience ... well-crafted and extensively documented.' - Stephen Loosley, WEEKEND AUSTRALIAN 'Kieza has added hugely to the depth of knowledge about our greatest military general in a book that is timely and will resonate as interest builds in the work of General Monash.' - Tim Fischer, COURIER MAIL ...Show more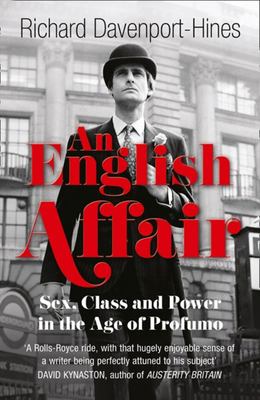 $19.99
AUD
Category: British | Reading Level: very good
Published to coincide with the fiftieth anniversary of the Profumo scandal, 'An English Affair' is a sharp-focused snapshot of a nation on the brink of social revolution. Britain in 1963 - Harold Macmillan was the Prime Minister of a Conservative government, dedicated to tradition, hierarchy and, above all, old-fashioned morality. But a breakdown of social boundaries saw nightclub hostesses mixing with aristocrats, and middle-class professionals dabbling in criminality. Meanwhile, Cold War paranoia gripped the public imagination. The Profumo Affair was a perfect storm, and when it broke it rocked the Establishment. In 'An English Affair', the author of the critically-acclaimed 'Titainic Lives' Richard Davenport-Hines brings Swinging London to life. The cast of players includes the familiar - louche doctor Stephen Ward, good-time girls Christine Keeler and Mandy Rice-Davies, and Secretary for War John Profumo himself. But we also encounter the tabloid hacks, property developers and hangers-on whose roles have, until now, never been fully revealed. Sex, drugs, class, race, chequebook journalism and the criminal underworld - the Profumo Affair had it all. This is the story of how Sixties England cast off respectability and fell in love with scandal. ...Show more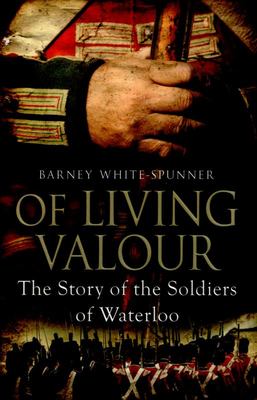 $24.99
AUD
Category: British
For the first time a modern British historian tells the story of the against-the-odds triumph through the accounts of the regimental officers and soldiers whose bravery and resolution achieved victory. The author has used many unpublished sources, letters and diaries of ordinary British soldiers, in the vein of Stephen Ambrose's highly successful Band of Brothers. With a concise, fast-moving account covering, ex-Commander of the British Army Barney White-Spunner tells the story through the experiences of those who fought there and their families, offering his unique perspective on the events. The story focuses on mens' personal feelings and their relationships, with each other, their families, their leaders and their enemies. It tells the stories of their lives, what they had left behind and why and what they went back to. It vividly captures their daily routine, their life in camp and how they fought at first hand, their fear, excitement and exhaustion. The Battle of Waterloo was one of the most significant ever fought by a British army, but it was also one of the most bloody with about 50,000 men losing their lives over three days. What was it like for those who fought and for their families waiting at home? This is their story. ...Show more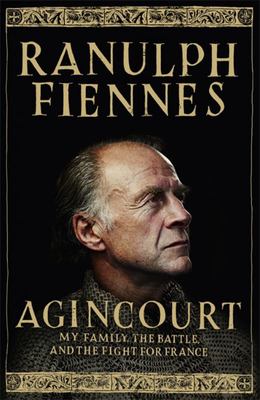 $32.99
AUD
Category: British
25 October 2015 is the 600th anniversary of the battle of Agincourt - a hugely resonant event in English (and French) history. Sir Ranulph Fiennes casts new light on this epic event, revealing that three of his own ancestors fought in the battle for Henry V, and at least one for the French. This is a un ique perspective on Agincourt from a trained and decorated soldier.   Ran reveals the truth behind the myths and legends of the battle. He tells how after the battle Henry V entertained his senior commanders to dinner, where they were waited on by captured French knights. There is the story of Sir Piers Legge of Lyme Hall, who lay wounded in the mud while his mastiff dog fought off the French men-at-arms. Then there is the legend that the French intended to cut off the first and second right hand fingers of every captured archer, to prevent him from using his bow. The archers raised those two fingers to the advancing French as a gesture of defiance.   In this gripping new study Sir Ranulph Fiennes brings back to life these stories and more, including those of his own ancestors, in a celebration of a historical event integral to English identity. ...Show more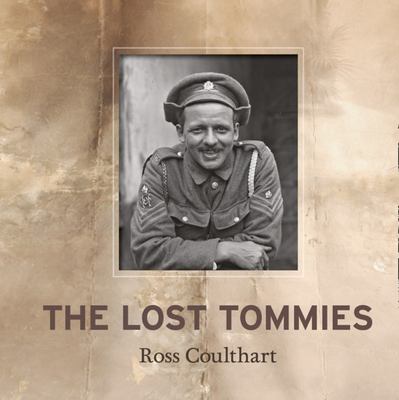 $70.00
AUD
Category: British
Lost Tommies brings together stunning never-before-seen images of Western Front tommies and their amazing stories in a beautiful collection that is part thriller, part family history and part national archive. For much of the First World War, the small French village of Vignacourt was always behind the front lines as a staging point, casualty clearing station and recreation area for troops of all nationalities moving up to and then back from the battlefields on the Somme. Here, one enterprising photographer took the opportunity of offering portrait photographs. A century later, his stunning images were discovered, abandoned, in a farm house. Captured on glass, printed into postcards and posted home, the photographs enabled soldiers to maintain a fragile link with loved ones at home. In Lost Tommies, this collection covers many of the significant aspects of British involvement on the Western Front, from military life to the friendships and bonds formed between the soldiers and civilians. With servicemen from around the world these faces are gathered together for what would become the front line of the Battle of the Somme. Beautifully reproduced, it is a unique collection and a magnificent memorial." ...Show more