$35.00
AUD
Category: Puzzles | Series: Magma for Laurence King Ser.
This beautifully illustrated bingo game features 64 breeds of dog from around the world. Spot all kinds of dogs - from the tiny chihuahua to the noble Great Dane, from the sleek Saluki to the dreadlocked Hungarian Puli, mark them off on your card and bingo Dog Bingo brings a fun and educational twist to the traditional game as players learn the names and colorings of both their favourite breeds and weird and wonderful exotic dogs. Contains 64 superbly illustrated dog tokens, one board, 12 bingo cards, and brightly coloured counters for you to mark up your card, as well as a leaflet containing basic information and a few quirky traits for all of the dogs featured. ...Show more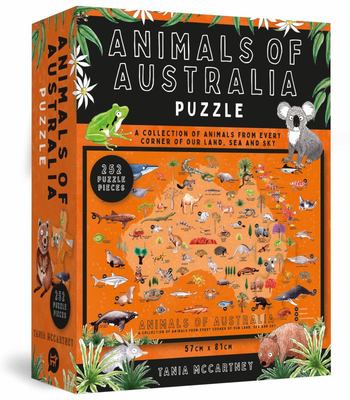 $24.99
AUD
Category: Puzzles
Hop, scurry and burrow your way around Australia with this menagerie of faunal friends - plucked from the deserts, grasslands, mountains, beaches and oceans of Australia - and presented in this delightful 252-piece, illustrated puzzle. With the Animals of Australia Puzzle, you can discover the thorny d evil of our red-earth deserts and the white-lipped tree frog of our tropical rainforests. There is the ambling wombat of our bushlands and the wobbegong shark, nestling on the sandy bottom of our coastal shores. You might even find a kangaroo in your front yard! Revel in the beauty of our natural wonders, and keep busy for hours, with this inspiring puzzle. Puzzle measurements are 570mm x 810mm. ...Show more

$35.00
AUD
Category: Puzzles
Hop on board the Alphabet Express with animal friends to help you learn the alphabet. A 3 metre long floor puzzle with 27 thick, easy-to-clean, jumbo pieces. Ages 3+.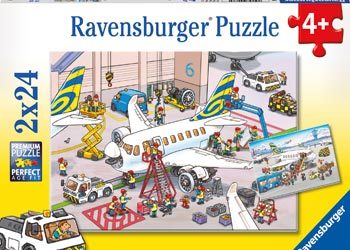 $20.00
AUD
Category: Puzzles
Our stunning collection of vehicle puzzles is designed to inspire the imagination of every little puzzler. From planes to boats to trains to cars to fire engines, there is a Ravensburger vehicle puzzle for every little vehicle fan. The details in our vehicle puzzles are designed for their specific age g roups, with greater accuracy and vehicle features in puzzles for older children. Finished Puzzle Size: 26 x 18 cmBox Size: 27 x 19 x 4 cm Suitable for children 4+ ...Show more