$24.99
AUD
Category: Puzzles
Don your deerstalker and immerse yourself in Holmes' London, complete with bodies, boat chases, and, of course, 221B Baker Street. Once you've assembled the puzzle, the game is afoot! Hunt for Conan-Doyle's most memorable characters, from the hound at Baskerville Hall to Moriarty, Dr. Watson, Mycroft, a nd more, as well as real historical figures from the era. ...Show more
$24.99
AUD
Category: Adult jigsaw puzzles
Piece together the world of Shakespeare in this art jigsaw puzzle depicting the London of his day. Spot a huge cast of contemporary extras as A Midsummer Night's Dream is rehearsed at the Globe and fellow actors wander the streets, along with local characters who may well have provided the Bard with ins piration. From lovers ascending ladders and bears being baited to tavern brawls and summer fairs, there is something to delight in every detail. ...Show more
$29.99
AUD
Category: Puzzles
Have you got what it takes to assemble all 299 cats into a perfect puzzle? In this cunning cluster puzzle, there are no regular jigsaw shapes: each piece takes the outline of the cat itself. And there are 299 of them! Plus a dog. See if you can find it!
$24.99
AUD
Category: Adult jigsaw puzzles
Piece together the world of Jane Austen in this exciting new 1000 piece jigsaw, inspired by the life and works of the prolific author. Featuring a wide cast of Jane Austen's contemporaries and characters, take a tour of Austen's world from the rolling hills of Derbyshire, via Hampshire and Lyme Regis, t o the golden stone of the Bath skyline as your build this puzzle. All of your favorites are hiding in this busy and engaging scene, waiting to be found by you! From Mr Darcy walking the grounds of Pemberley, to Anne Eliot enjoying a seaside escape, discover hidden gems as you make this puzzle and enjoy the final scene. The perfect challenge for Janeites, or anyone who loves a good jigsaw, this puzzle full of whispered intrigues, harmonious weddings and proposals is sure to delight. The World of Jane Austen is the second in Laurence King's new series of jigsaw puzzles, following The World of Shakespeare, and includes a pull-out poster full of fun Austen facts   ...Show more

$35.00
AUD
Category: Puzzles
Hop on board the Alphabet Express with animal friends to help you learn the alphabet. A 3 metre long floor puzzle with 27 thick, easy-to-clean, jumbo pieces. Ages 3+.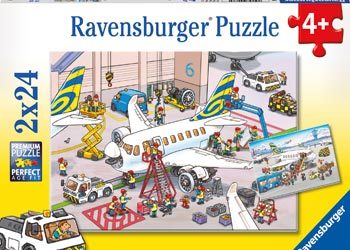 $20.00
AUD
Category: Puzzles
Our stunning collection of vehicle puzzles is designed to inspire the imagination of every little puzzler. From planes to boats to trains to cars to fire engines, there is a Ravensburger vehicle puzzle for every little vehicle fan. The details in our vehicle puzzles are designed for their specific age g roups, with greater accuracy and vehicle features in puzzles for older children. Finished Puzzle Size: 26 x 18 cmBox Size: 27 x 19 x 4 cm Suitable for children 4+ ...Show more