$16.99
AUD
Category: Science Fiction/Dystopian | Series: Arc of a Scythe
The dark and thrilling sequel to Scythe, the New York Times sci-fi bestseller. The stakes are high in this chilling sci-fi thriller, in which professional scythes control who dies. Everything else is out of human control, managed by the Thunderhead. It's a perfect system - until it isn't. It's been a year since Rowan went off-grid. Hunted by the Scythedom, he has become an urban legend, a vigilante snuffing out corrupt scythes in a trial by fire. Citra, meanwhile, is forging her path as Scythe Anastasia, gleaning with compassion. However, conflict within the Scythedom is growing by the day, and when Citra's life is threatened, it becomes clear that there is a truly terrifying plot afoot. The Thunderhead observes everything, and it does not like what it sees. Will it intervene? Or will it simply watch as this perfect world begins to unravel? The sequel to New York Times bestseller Scythe, which was a Publishers Weekly Best Book of 2016. Scythe has received five starred reviews in the US and is also the winner of a Michael L. Printz Honor. Universal has optioned the film rights. Thunderhead has already received three starred reviews in the US, with Booklist praising Neal Shusterman for achieving "that most difficult of feats: a sequel that surpasses its predecessor". ...Show more
$17.99
AUD
Category: Science Fiction/Dystopian | Series: The Loop
"A script-ready story with blockbuster potential." -- Kirkus (Starred Review) Life inside The Loop--the futuristic death row for teens under eighteen--is one long repetitive purgatory. But when news of the encroaching chaos in the outside world reaches the inmates and disorder begins to strike, the pris on becomes the least of their worries. Perfect for fans of The Fifth Wave and The Maze Runner. It's Luka Kane's sixteenth birthday and he's been inside The Loop for over two years. Every inmate is serving a death sentence with the option to push back their execution date by six months if they opt into "Delays", scientific and medical experiments for the benefit of the elite in the outside world. But rumors of a war on the outside are spreading amongst the inmates, and before they know it, their tortuous routine becomes disrupted. The government issued rain stops falling. Strange things are happening to the guards. And it's not long until the inmates are left alone inside the prison. Were the chains that shackled Luka to his cell the only instruments left to keep him safe? In a thrilling shift, he must overcome fellow prisoners hell-bent on killing him, the warden losing her mind, the rabid rats in the train tunnels, and a population turned into murderous monsters to try and break out of The Loop, save his family, and discover who is responsible for the chaos that has been inflicted upon the world. ...Show more
$19.99
AUD
Category: Science Fiction/Dystopian | Series: The Aurora Cycle | Reading Level: 9 YA
From the New York Times and internationally bestselling authors of The Illuminae Files comes a new science fiction epic . . . The year is 2380, and the graduating cadets of Aurora Academy are being assigned their first missions. Star pupil Tyler Jones is ready to recruit the squad of his dreams, but hi s own boneheaded heroism sees him stuck with the dregs nobody else in the Academy would touch . . . A cocky diplomat with a black belt in sarcasm A sociopath scientist with a fondness for shooting her bunkmates A smart-ass tech-whiz with the galaxy's biggest chip on his shoulder An alien warrior with anger management issues A tomboy pilot who's totally not into him, in case you were wondering. And Ty's squad isn't even his biggest problem--that'd be Aurora Jie-Lin O'Malley, the girl he's just rescued from interdimensional space. Trapped in cryo-sleep for two centuries, Auri is a girl out of time and out of her depth. But she could be the catalyst that starts a war millions of years in the making, and Tyler's squad of losers, discipline-cases and misfits might just be the last hope for the entire galaxy. NOBODY PANIC. ...Show more
$16.99
AUD
Category: Science Fiction/Dystopian | Series: Arc of a Scythe
Two teens must learn the "art of killing" in this Michael L Printz Honor award book, the first in a chilling new series from the author of the New York Times' bestselling Unwind dystology.
$16.99
AUD
Category: Science Fiction/Dystopian | Series: This Mortal Coil
*The extraordinary conclusion to the This Mortal Coil trilogy - who will survive the oncoming storm?* Two factions at war A plague that can't be stopped A cure that could destroy them all . . . Cat's hacking skills weren't enough to keep her from losing everything - her identity, her past, and now her freedom. Meanwhile, the person who's stolen everything from her is close to realizing a hacker's dream: the solution to humanity's problems in gene form. Or so she thinks . . . But now a new threat has emerged - a threat that could bring the world to the brink of a devastating war. Both sides will stop at nothing to seize control of humanity's future, and that the centre of this war is Cat, and a race against the clock save millions of lives . . . The gripping finale to a series The Verge has called 'perfect YA sci-fi' ...Show more
$17.99
AUD
Category: Science Fiction/Dystopian | Series: This Mortal Coil
"Redefines 'unputdownable.'" --Amie Kaufman, New York Times bestselling author of Iluminae "I was thrilled. I was shocked." --NPR "Stunning twists and turns." --BCCB (starred review) In this gripping debut novel, seventeen-year-old Cat must use her gene-hacking skills to decode her late father's messa ge concealing a vaccine to a horrifying plague. Catarina Agatta is a hacker. She can cripple mainframes and crash through firewalls, but that's not what makes her special. In Cat's world, people are implanted with technology to recode their DNA, allowing them to change their bodies in any way they want. And Cat happens to be a gene-hacking genius. That's no surprise, since Cat's father is Dr. Lachlan Agatta, a legendary geneticist who may be the last hope for defeating a plague that has brought humanity to the brink of extinction. But during the outbreak, Lachlan was kidnapped by a shadowy organization called Cartaxus, leaving Cat to survive the last two years on her own. When a Cartaxus soldier, Cole, arrives with news that her father has been killed, Cat's instincts tell her it's just another Cartaxus lie. But Cole also brings a message: before Lachlan died, he managed to create a vaccine, and Cole needs Cat's help to release it and save the human race. Now Cat must decide who she can trust: The soldier with secrets of his own? The father who made her promise to hide from Cartaxus at all costs? In a world where nature itself can be rewritten, how much can she even trust herself? ...Show more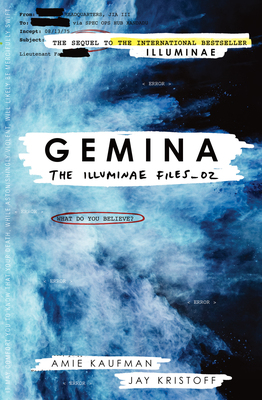 $22.99
AUD
Category: Science Fiction/Dystopian | Series: The Illuminae Files
Brace yourself for GEMINA--the highly anticipated sequel to the book critics called "out-of-this-world awesome,"--featuring journal illustrations by bestselling author Marie Lu Moving to a space station at the edge of the galaxy was always going to be the death of Hanna's social life. Nobody said it m ight actually get her killed. The sci-fi saga that began with the breakout bestseller Illuminae continues on board the Jump Station Heimdall, where two new characters will confront the next wave of the BeiTech assault. Hanna is the station captain's pampered daughter; Nik the reluctant member of a notorious crime family. But while the pair are struggling with the realities of life aboard the galaxy's most boring space station, little do they know that Kady Grant and the Hypatia are headed right toward Heimdall, carrying news of the Kerenza invasion. When an elite BeiTech strike team invades the station, Hanna and Nik are thrown together to defend their home. But alien predators are picking off the station residents one by one, and a malfunction in the station's wormhole means the space-time continuum might be ripped in two before dinner. Soon Hanna and Nik aren't just fighting for their own survival; the fate of everyone on the Hypatia--and possibly the known universe--is in their hands. But relax. They've totally got this. They hope. Once again told through a compelling dossier of emails, IMs, classified files, transcripts, and schematics, Gemina raises the stakes of the Illuminae Files, hurling listeners into an enthralling new story that will leave them breathless.   Read by Carla Corvo, MacLeod Andrews, Steve West, Erik Davies, Lisa Cordileone, and a full cast   Praise for Illuminae:   A New York Times Bestseller A PW Bestseller   "Out-of-this-world awesome." --Kirkus Reviews, Starred   "Stylistically mesmerizing." --Publishers Weekly, Starred   "An arresting visual experience." --Booklist, Starred   "A game-changer." --Shelf Awareness, Starred ...Show more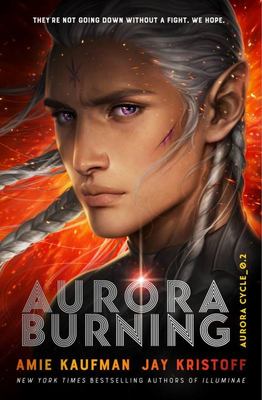 $19.99
AUD
Category: Science Fiction/Dystopian | Series: Aurora Cycle
Our heroes are back. Kind of. First, the bad news: an ancient evil - you know, your standard consume-all-life-in-the-galaxy deal - is about to be unleashed. The good news? Squad 312 is standing by to save the day. They've just got to take care of a few small distractions first. Like the clan of gremps w ho'd like to rearrange their favourite faces. And the cadre of illegit GIA agents with creepy flowers where their eyes used to be, who'll stop at nothing to get their hands on Auri. Then there's Kal's long-lost sister, who's not exactly happy to see her baby brother, and has a Syldrathi army at her back. With half the known galaxy on their tails, Squad 312 has never felt so wanted. When they learn the Hadfield has been found, it's time to come out of hiding. Two centuries ago the colony ship vanished, leaving Auri as its sole survivor. Now, its black box might be what saves them - but time is short, and if Auri can't learn to master her powers as a Trigger, the squad and all their admirers are going to be deader than the Great Ultrasaur of Abraaxis IV. Shocking revelations, bank heists, mysterious gifts, inappropriately tight bodysuits and an epic firefight will determine the fate of the Aurora Legion's most unforgettable heroes - and maybe the rest of the galaxy as well. ...Show more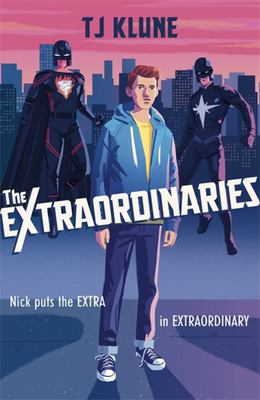 $19.99
AUD
Category: Science Fiction/Dystopian | Series: The\Extraordinaries Ser.
In Nova City, there are extraordinary people, capable of feats that defy the imagination. Shadow Star protects the city and manipulates darkness, and Pyro Storm is determined to bring the city to it's knees using his power over fire. And then there's Nick who . . . well, being the most popular fanfictio n writer in the Extraordinaries fandom is a superpower, right? Instead of fighting crime, Nick must contend with a new year at school, a father who doesn't trust him, and a best friend named Seth, who may or may not be the love of Nick's short, uneventful life. It should be enough. But after a chance encounter with Shadow Star, Nova City's mightiest hero (and Nick's biggest crush), Nick sets out to make himself extraordinary. And he'll do it with or without the reluctant help of Seth's help. TJ Klune's YA debut is a queer coming-of-age story about a fanboy with ADHD and the heroes he loves is Rainbow Rowell's Fangirl meets Brandon Sanderson's Steelheart. ...Show more
$19.99
AUD
Category: Science Fiction/Dystopian | Series: Hunger Games Trilogy | Reading Level: good
Catching Fire, the second book in the New York Times bestselling Hunger Games series, is now available in a deluxe foil edition   Against all odds, Katniss Everdeen has won the annual Hunger Games with fellow district tribute Peeta Mellark. But it was a victory won by defiance of the Capitol and their h arsh rules. Katniss and Peeta should be happy. After all, they have just won for themselves and their families a life of safety and plenty. But there are rumors of rebellion among the subjects, and Katniss and Peeta, to their horror, are the faces of that rebellion. The Capitol is angry. The Capitol wants revenge. ...Show more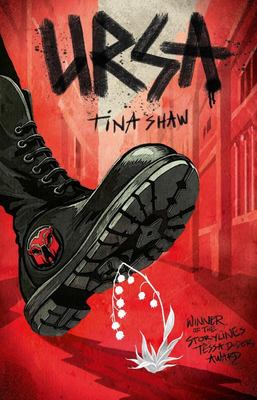 Ursa
by Tina Shaw
$19.99
AUD
Category: Science Fiction/Dystopian
This alternate history coming-of-age YA is the Winner of the 2018 Storylines Tessa Duder Award. "An inferior people, that's what the Director called us at the beginning of his reign, but still useful." There are two peoples living in the city of Ursa: the Cerels and the Travesters. Travesters move fr eely and enjoy a fine quality of life. Cerel men are kept in wild camps and the women are no longer allowed to have children. The Director presides over all with an iron fist. Fifteen-year-old Leho can't remember a time when Cerels lived without fear in Ursa. His parents once tried to organise an uprising – his mother was blinded, and his father was taken away. But now his world is changing. Revolution is coming. People will die. Will Leho be able to save his family? ...Show more
$19.99
AUD
Category: Science Fiction/Dystopian | Series: The Illuminae Files
The year is 2575, and two rival mega-corporations are at war over a planet that's little more than an ice-covered speck at the edge of the universe. Too bad nobody thought to warn the people living on it. With enemy fire raining down on them, exes Kady and Ezra are forced to escape on the evacuating fle et. But the warship is the least of their problems. A deadly plague has broken out and is mutating, with terrifying results. The fleet's AI, which should be protecting them, may actually be their enemy; and nobody in charge will say what the hell is going on. As Kady hacks into a tangled web of data to find the truth, it's clear only one person can help her bring it all to light: the ex-boyfriend she swore she'd never speak to again. Illuminae is the first book in a heart-stopping, high-octane trilogy about lives interrupted, the price of truth and the courage of everyday heroes. ...Show more