$24.99
AUD
Category: Picture Books
With a strong message of hope, interconnectedness, and empowerment, This Small Blue Dot features a little girl explaining the world to her baby sister. She hits on small wonders, big lessons, and everything in between, from sharing the joy of silly dances to contemplating the nature of this "small blue dot" we all live on. Author and illustrator Zeno Sworder, who hails from a multicultural background, wrote this story when his daughter was unable to find picture books with characters who looked like her. His precocious young narrator has opinions on plenty of things: nature and the environment, embracing difference, the power of imagination--and the trouble with broccoli. Rich pencil and crayon illustrations conjure up memories of childhood in this celebration of who we are, where we come from, and where our dreams may take us. In This Small Blue Dot, Sworder captures not only life lessons but also the fun, often strange experience of being a member of the human family on planet Earth.   ...Show more
Found (HB)
by Bruce Pascoe; Charmaine Ledden-Lewis (Illustrator)
$24.99
AUD
Category: Picture Books
This gentle story set in the rugged Australian bush is about a small calf who becomes separated from his family. The little calf is alone and simply wants his mother, sisters and brothers. He can see other animals, and after running to the river, manages to ask some horses if they are his family. The ca lf's family have been taken away in the back of a noisy truck. So begins the little calf's journey to find his family. In Found we share the calf's point of view in an evocative story, accompanied by stunning illustrations. ...Show more
Family
by Aunty Fay Muir; Jasmine Seymour (Illustrator); Sue Lawson
$24.99
AUD
Category: Picture Books | Series: Our Place Ser.
Age range 3 to 9 Family is a thoughtful contemplation for all to learn the different ways that family makes us whole. This beautifully illustrated children's picture book shows everyone that 'family' can be about heart and home; an endless sky; stories and songs. It  'learns' us how to be with each othe r and with Country. Families come in all shapes and sizes, and this remarkably simple story teaches us all, that family can be many things. ...Show more
$24.99
AUD
Category: Picture Books
Chirton Krauss is a good child - the very goodest. He does everything he is told, when he is told. He even does good things without being told. He eats his broccoli, he goes to bed on time and he never, ever sticks his finger up his nose. Meanwhile, Chirton's sister, Myrtle, is NOT a good child. She sta ys up late, she never cleans out the rabbit's hutch and she drops her choco puffs all over the carpet! But what will happen when Chirton Krauss decides that being THE GOODY isn't so good after all? A charmingly funny story about the importance of kindness, and allowing children the freedom to be themselves. From Lauren Child, multi-award-winning creator of Charlie and Lola and Waterstone's Children's Laureate 2017-2019. ...Show more
$17.99
AUD
Category: Family
 An inclusive picture book for grandparents everywhere. In every country around the world are grandpas short and tall. Though they go by different names, we love them one and all. From brilliant new talents Ashleigh Barton and Martina Heiduczek, comes a charming and heart-warming book that celebrates th e many different ways we say grandpa. What Do You Call Your Grandpa? is a love letter to grandfathers and families from every corner of the globe.   ...Show more
$27.99
AUD
Category: Picture Books
From master storyteller Bob Graham comes an adorable and affecting tale about imaginary friends and the bittersweet nature of growing up.   When Ellie is very small, she finds a lovable newborn dragon on a carton of eggs in the grocery store. Ellie calls him Scratch, takes him home, and moves him into h er dollhouse. Her mother can't see Scratch, and her teacher doesn't notice when Ellie brings Scratch to preschool, yet her friends are amazed. Ellie is lucky to have an affectionate, house-trained dragon like Scratch But dragons get quite large as they grow. And Ellie is growing, too, moving from dollhouses to dance parties, not noticing that Scratch's brilliant green scales are beginning to fade a little. . . . Beloved picture-book creator Bob Graham illustrates the joys of imagination and friendship in this touching story. With his signature gentle wit and warm, whimsically detailed illustrations, he captures the bond between girl and dragon, as well as the changes that come with time's passage. A wistful, quietly thought-provoking tribute to the friends who appear when we need them most, even if it's just for a little while.   ...Show more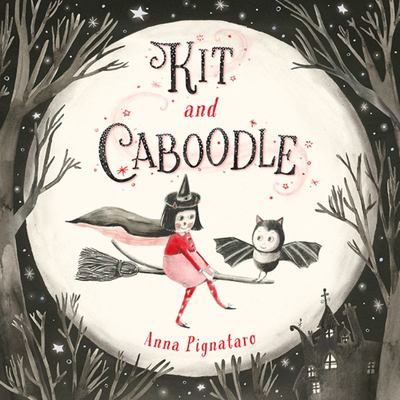 $24.99
AUD
Category: Picture Books
Witches are good at casting spells, flying and making potions, right? Kit is a witch, but she isn't very good at witchy things. One Halloween, a bedraggled bat named Caboodle comes tumbling through Kit's window. She tries using magic to fix his broken wing, but the results are … unexpected. Caboodle cau ses havoc in the house as he waits for his wing to heal. Kit is at her wit's end. But when Caboodle goes missing, Kit realises just how special he is to her. A beautiful mix of magic and humour, and a celebration of true friendship. ...Show more
$19.99
AUD
Category: Picture Books
Tides will rise and moons will fall,I'll be beside you through it all.  Filled with love, hope and possibility, here is the perfect gift for new babies everywhere. A delightful story to share and treasure from one of Australia's brightest picture-book stars.  
$24.99
AUD
Category: Picture Books
John Canty, the award-winning author/illustrator of the Heads and Tails series introduces readers to a multi-tiered new concept book about shape and colour sorting and object identification. With fresh and appealing illustrations and a striking design, this is a future classic for modern kids.
$19.99
AUD
Category: Picture Books
Good dads come in many different shapes and species. Get ready to learn a fatherly trick (or ten) from a whole lot of dads, great and small.  
Items per page:
1 - 10 of 10