$22.99
AUD
Category: Penguin Spinner Fiction
Tim Winton's characters are ordinary people who battle to maintain loyalty against all odds; women, children, men whose relationships strain under pressure and leave them bewildered, hoping, sometimes fleeing, but often finding strength in forgotten parts of themselves.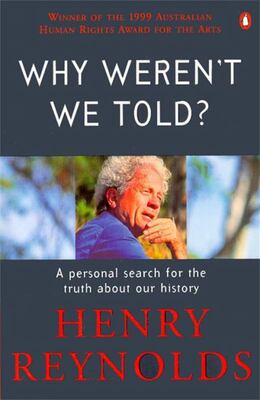 $24.99
AUD
Category: Penguin Spinner Non-fiction
Historian Henry Reynolds has found himself being asked these questions by many people, over many years, in all parts of Australia. The acclaimed Why Weren't We Told?is a frank account of his personal journal towards the realisation that he, like generations of Australians, grew up with a distorted and i dealised version of the past. From the author's unforgettable encounter in a North Queensland jail with injustice towards Aboriginal children, to his friendship with Eddi Mabo, to his shattering of the myths about our 'peaceful' history, this bestselling book will shock, move and intrigue. Why Weren't We Told?is crucial reading on the most important debate in Australia as we enter the twenty-first century. ...Show more
$19.99
AUD
Category: Penguin Spinner Non-fiction
An intrepid voyage out to the frontiers of the latest thinking about love, language, and family Maggie Nelson's The Argonauts is a genre-bending memoir, a work of "autotheory" offering fresh, fierce, and timely thinking about desire, identity, and the limitations and possibilities of love and language. At its center is a romance: the story of the author's relationship with the artist Harry Dodge. This story, which includes Nelson's account of falling in love with Dodge, who is fluidly gendered, as well as her journey to and through a pregnancy, is an intimate portrayal of the complexities and joys of (queer) family-making. Writing in the spirit of public intellectuals such as Susan Sontag and Roland Barthes, Nelson binds her personal experience to a rigorous exploration of what iconic theorists have said about sexuality, gender, and the vexed institutions of marriage and child-rearing. Nelson's insistence on radical individual freedom and the value of caretaking becomes the rallying cry of this thoughtful, unabashed, uncompromising book. ...Show more
$24.99
AUD
Category: Penguin Spinner Non-fiction
A New York Times-bestselling breakthrough book about talent, passion, and achievement from the one of the world's leading thinkers on creativity and self-fulfillment. You, Your Child, and School is forthcoming from Viking. The Element is the point at which natural talent meets personal passion. When pe ople arrive at the Element, they feel most themselves and most inspired and achieve at their highest levels. With a wry sense of humor, Ken Robinson looks at the conditions that enable us to find ourselves in the Element and those that stifle that possibility. Drawing on the stories of a wide range of people, including Paul McCartney, Matt Groening, Richard Branson, Arianna Huffington, and Bart Conner, he shows that age and occupation are no barrier and that this is the essential strategy for transform­ing education, business, and communities in the twenty-first century. Also available from Ken Robinson is Finding Your Element, the practical guide to achieving your highest potential. ...Show more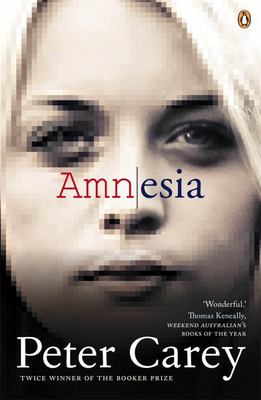 Amnesia
by Peter Carey
$19.99
AUD
Category: Penguin Spinner Fiction
In AmnesiaPeter Carey, 'the greatest Australian writer' (Richard Flanagan), asks the most vital question of the past seventy years- Has America taken us over? When Gaby Baillieux releases the Angel Worm into the computers of Australia's prison system, hundreds of asylum seekers walk free. Worse- an Ame rican corporation runs prison security, so the malware infects some 5000 American places of incarceration. Doors spring open. Both countries' secrets threaten to pour out. Was this American intrusion a mistake, or had Gaby declared cyberwar on the US? Felix Moore - known to himself as 'Australia's last serving left-wing journalist' - has no doubt. Her act was part of the covert conflict between Australia and America. That conflict dates back to the largely forgotten Battle of Brisbane in 1942, forwards to the secret CIA station near Alice Springs, and has as its most outrageous act the coup of 1975. Funded by his property-developer mate Woody Townes, Felix is going to write Gaby's biography, to save her, and himself, and maybe his country. But how to get Gaby to co-operate? What role does her film-star mother have to play? And what, after all, does Woody really want? Amnesiais Carey at his best- dark, funny, exhilarating. It is a novel that speaks powerfully about our history but most urgently about our present. 'Peter Carey is back in Australia with a bang ... It's funny, manic; so charged with energy that each sentence packs a punch - and reminds you that, at 71, Carey remains a wizard with words.'Jennifer Byrne,Australian Women's Weekly 'Great journalism and great fiction both live in the gap between noble ideas and flawed human beings. The saga of Wikileaks certainly dwells there, and so does this Australian two-time Booker-winner's best work - including this drama-farce of history and hacktivism ... Real and fictive history unfolds and fragments, people are kidnapped and freed, conspiracies are unveiled, and full-fleshed characters make it work. It's just as ambitious and urgent as it sounds, but more fun.' New Yorkmagazine ...Show more
$24.99
AUD
Category: Penguin Spinner Non-fiction
Following the success of his A Short History of the World, eminent historian Geoffrey Blainey has abridged his account of the grand adventure of human history to create ad eve more accesible version of his absorbing work. A Very Short History of the Worldtraces the story of the world's people during the last four million years, beginning before the human race moved out of Africa to explore and settle other continents. A consummate storyteller, Professor Blainey makes the past come alive as he touches on the trivial and the grand- everything from changes in diet to profound discoveries and mighty empires. ...Show more
$24.99
AUD
Category: Penguin Spinner Non-fiction | Series: Patterns of Life Ser.
Michael Braungart and William McDonough propose a plan for our planet in this stunning new edition of their radical ecological manifesto. This book proposes a new vision for modern industry. Instead of our current wasteful and polluting methods of manufacturing, we could be taking nature as a model for making things. With the right redesign, objects that have come to the end of their useful lives should provide the basis for something new. In designing and producing products we need to stop worrying about being 'less bad' and start finding ways of actually being good. PATTERNS OF LIFE- SPECIAL EDITIONS OF GROUNDBREAKING SCIENCE BOOKS ...Show more
$19.99
AUD
Category: Penguin Spinner Fiction
John Steinbeck's powerful evocation of the suffering and hardship caused by the Great Depression, and a panoramic vision of the struggle for the American Dream, The Grapes of Wrathincludes a critical introduction by Robert DeMott in Penguin Modern Classics.'I've done my damndest to rip a reader's nerves to rags, I don't want him satisfied.' Shocking and controversial when it was first published in 1939, Steinbeck's Pulitzer prize-winning epic The Grapes of Wrath remains his undisputed masterpiece. Set against the background of Dust Bowl Oklahoma and Californian migrant life, it tells of Tom Joad and his family, who, like thousands of others, are forced to travel west in search of the promised land. Their story is one of false hopes, thwarted desires and broken dreams, yet out of their suffering Steinbeck created a drama that is intensely human, yet majestic in its scale and moral vision. Adapted into a celebrated film directed by John Ford, and starring Henry Fonda, The Grapes of Wrathis an eloquent tribute to the endurance and dignity of the human spirit.If you liked The Grapes of Wrath, you might enjoy East of Eden, also available in Penguin Classics.'A novelist who is also a true poet' Sunday Times ...Show more
$19.99
AUD
Category: Penguin Spinner Fiction | Reading Level: very good
"Just before dawn one winter s morning, a hijacked aeroplane blows apart high above the English Channel and two figures tumble, clutched in an embrace, towards the sea- Gibreel Farishta, India s legendary movie star, and Saladin Chamcha, the man of a thousand voices. Washed up, alive, on an English beac h, their survival is a miracle. But there is a price to pay. Gibreel and Saladin have been chosen as opponents in the eternal wrestling match between Good and Evil. But chosen by whom? And which is which? And what will be the outcome of their final confrontation?" ...Show more
$22.99
AUD
Category: Penguin Spinner Non-fiction | Series: Penguin Modern Classics Ser.
The daily lives of ordinary people are replete with objects, common things used in commonplace settings. These objects are our constant companions in life. As such, writes Soetsu Yanagi, they should be made with care and built to last, treated with respect and even affection. They should be natural and simple, sturdy and safe - the aesthetic result of wholeheartedly fulfilling utilitarian needs. They should, in short, be things of beauty.In an age of feeble and ugly machine-made things, these essays call for us to deepen and transform our relationship with the objects that surround us. Inspired by the work of the simple, humble craftsmen Yanagi encountered during his lifelong travels through Japan and Korea, they are an earnest defence of modest, honest, handcrafted things - from traditional teacups to jars to cloth and paper. Objects like these exemplify the enduring appeal of simplicity and function- the beauty of everyday things. ...Show more
$22.99
AUD
Category: Penguin Spinner Non-fiction
The phenomenal classic that has changed the lives of millions of people around the globe What are you afraid of? Public speaking; asserting yourself; making decisions; being alone; intimacy; changing jobs; interviews; going back to school; ageing; ill health; driving; dating; ending a relationship; los ing a loved one; becoming a parent; leaving home, failure, believing in yourself... Internationally renowned author Susan Jeffers has helped millions of people overcome their fears and heal the pain in their lives with her simple but profound advice. Whatever your anxieties, Feel The Fear And Do It Anyway will give you the insight and tools to vastly improve your ability to handle any given situation. You will learn to live your life the way you want - so you can move from a place of pain, paralysis, depression and indecision to one of power, energy, enthusiasm and action. An empowering and life-affirming book, Feel the Fear and Do It Anywaywill help you triumph over your fears and move forward with your life. ...Show more
In Tasmania
by Nicholas Shakespeare
$19.99
AUD
Category: Penguin Spinner Non-fiction
A brilliant account of 200 years of Tasmanian history and an acclaimed writer's discovery of his secret connection with that island and its past. In Tasmania on holiday, novelist and Chatwin biographer Nicholas Shakespeare discovered a house on a 9-mile beach and instantly decided this was where he wan ted to live. He didn't know then that his ancestor was the corrupt and colourful Anthony Fenn Kemp, now known as 'the Father of Tasmania', or that he would find relatives living on the island. Shakespeare interweaves his personal journey into a new-found paradise with a brilliant account of the two turbulent centuries of Tasmania's history in this fascinating and timely book. 'A delightful book. Nicholas Shakespeare is a fine story teller and here he unveils for us a compendium of fascinating Tasmanian characters past and present, from bankrupt squires to convict cannibals, from love struck romantics to the captivating monstrous Anthony Fenn Kemp, the Flashman of early colonial Australia. From all these lives Shakespeare builds up a rich and powerful portrait of this intriguing land, his adopted home.' - Matthew Kneale ...Show more