$39.99
AUD
Category: Interiors & lifestyle
Just as every home is different, so is every dog. In this stunningly photographed book of architecturally superb houses - many of them architects' own homes - we see how the presence of a dog brings warmth and life to the most dramatic spaces. From mid-century raw brick to a penthouse apartment, graciou s Edwardian to Scandinavian modern, from beach house to country retreat, there is always room for a dog or two.   ...Show more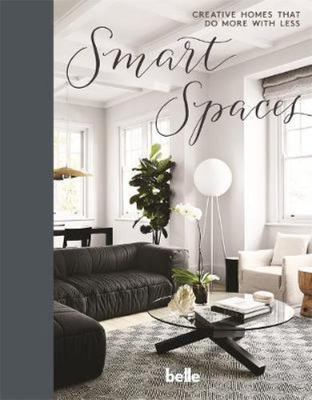 $49.99
AUD
Category: Interiors & lifestyle
AUSTRALIAN ARCHITECTS AND INTERIOR DESIGNERS are imagining some of the most innovative and clever 'smart spaces' for the wave of Australians eschewing traditional suburban living for a more millenial existence in penthouses, apartments and semis. Smart Spaces, the stylish new tome from the team at Bell e magazine, introduces readers to an incredible array of smart spaces all around Australia designed by Australia's leading creative names including SJB, David Hicks, Greg Natale, Justine Hugh-Jones, Chelsea Hing, Tom Ferguson, Anna-Carin McNamara, CM Studio, Mim Design, Cameron Kimber and many more. This is a must-read for the chic downsizer and anyone choosing clever layouts and exciting locales over traditional houses. ...Show more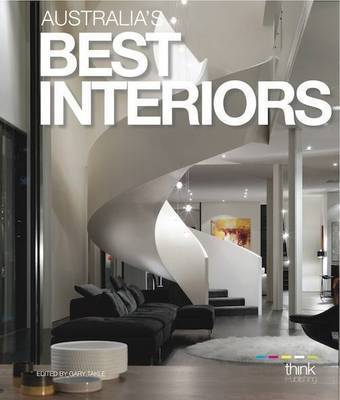 $39.95
AUD
Category: Interiors & lifestyle
Think Publishing is launches a book that showcases the best Australia has to offer in residential interior design. Australias Best Interiors is part of the Best series and is an inspirational pictorial book filled with what is now in Australian interior design. The book will grab the readers attention a nd will walk them through a selection of Australias finest residential interiors. In these modern times, our homes are becoming our sanctuaries and Australians are spending more time and money on their personal dwelling spaces. Featuring floor plans and informative editorial, this book instructs the reader on how they can achieve a result that says wow. People within the architectural and design industry and consumers alike will love this book. Edited by Gary Takle, who has an eye for finding a design that has that certain Best appeal. Australias Best Interiors is a follow on tile from the very successful tile Australia Best Houses. This title be published in November 2011. ...Show more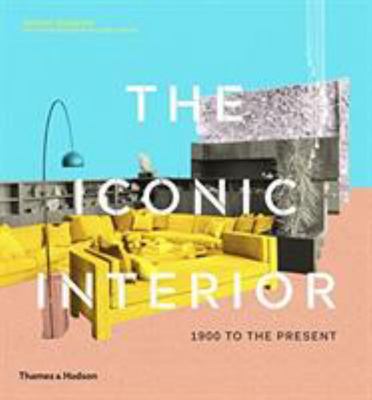 $49.99
AUD
Category: Interiors & lifestyle
This compact, much-praised volume presentsover one hundred ofthe most significantinteriors from thetwentieth century to thepresent day. An essentialresource for interiordesign enthusiasts. Featuring one hundred of the most spectacular interiors across the world, this richly illustrated overview spans th e entire twentieth century to the present day and includes interiors assembled by leading artists, fashion designers, architects, and interior and set designers. Bringing together diverse design talents, from Piero Fornasetti and Coco Chanel to Alvar Aalto, Marc Newson, and Matthew Williamson, this expanded edition of The Iconic Interior also features three new interiors from Los Angeles-based Commune Design, Morocco-based tile designers Samuel and Caitlin Dowe-Sandes, and Dimore Studio's London house interior for the owners of fashion design studio Dsquared2. The book also features a list of designer biographies and key works, making this a complete resource for designers and students. Representing every style, from minimalism and art nouveau to neotraditional and Gesamtkunstwerk creations that defy definition, these iconic interiors are sure to inspire all audiences, from designers and students to homeowners and DIY enthusiasts. ...Show more
$39.99
AUD
Category: Interiors & lifestyle | Series: Living With Ser.
Gabrielle 'Coco' Chanel was one of the most influential and ground-breaking fashion designers of the twentieth century. This beautifully illustrated biography tells her remarkable story in a unique and accessible way, examining how the homes and landscapes of her life relate to her work. From her childh ood at the convent at Aubazine to her boutique and apartment on Rue Cambon in Paris and her villa, La Pausa, on the French Riveria, Chanel's style was inspired and influenced by her environment. Emerging at a time that allowed women to be more independent, she designed clothes that let them be free. As she found fame, love and success, she used the memories of her past, and the way that she lived, to forge her own independence. Featuring designs, drawings, archive imagery and contemporary photography, Living with Coco Chanel provides a fascinating insight into Chanel's life, work and legacy. ...Show more
$59.99
AUD
Category: Interiors & lifestyle
Australian design has forged its own unique trajectory, influenced by geographic isolation, a distinctive natural environment and a modern sensibility. Design Lives Here showcases the best of Australian residential architecture and interiors, and pays homage to the local designers and makers who have cr afted bespoke pieces of furniture and lighting for these homes, whether large or small.From a reimagined Californian bungalow with a dining table inspired by the humble HB pencil to a monumental inner-city residence furnished with more than 100 custom pieces, these houses - and the objects that reside within - offer a compelling snapshot of contemporary Australian design through the lens of materiality, utility, site and place. ...Show more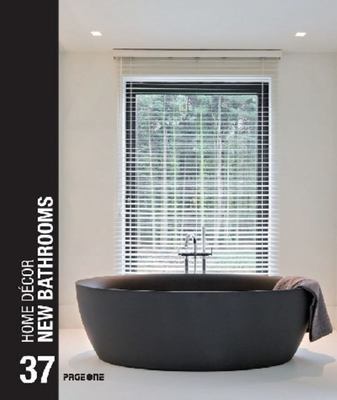 $29.99
AUD
Category: Interiors & lifestyle
New Bathrooms invites readers to take a fascinating journey through the most beautiful and inspiring bathrooms. In this volume, readers will be able to pack ideas for very own bathroom as they get inspired by the finest projects by leading interior specialist and designers. Home Decor Series is a collec tion of ten titles that are electric and stylish devoted to interior design and decoration that is presented in a handy format. ...Show more
$80.00
AUD
Category: Interiors & lifestyle
Palm Beach interiors have long reflected the travels, penchants, and whimsies of the towns worldly inhabitants. But as real estate on this tiny barrier island becomes increasingly valuable, residents are calling upon world-class designers to help fine-tune their visions, giving rise to a fresh tropical design vernacular. Fashion designer Josie Natori, for instance, asked architect Calvin Tsao to transform a standard two-bedroom apartment into an airy retreat with rattan furniture and ethnic accessories that are perfectly suited to Palm Beachs subtropical setting and pay tribute to her Asian heritage. These homes arent slavish copies of interior design magazines or decorators dictates but testaments to what can be achieved when inspired by the natural beauty of a unique locale and when imagination is ones only limitation. Tropical Chic: Palm Beach at Home captures the enduring charm of newly restored seaside fantasies by Mizner, Fatio and Volk, celebrated for their Cuban coquina courtyards and soaring miradors overlooking tiled pools and arching fountains. Jennifer Ash Rudick, a long-time Palm Beach resident, leads an insiders tour of twenty-five houses, cottages, Moorish casbahs, artists compounds, and Mad Menera vintage condos. Jessica Klewicki, a Palm Beachbased photographer, captures extraordinary gardens, verandas, lakeside pavilions, a rustic ranch, and simple pastel Bermudan houses sheltered by dense thickets of Norfolk pines and age-old banyans. It is this eclectic mix of old and new, of Spanish and Caribbean, of contemporary design and sun-faded WASP thrift, that makes Palm Beach chic. ...Show more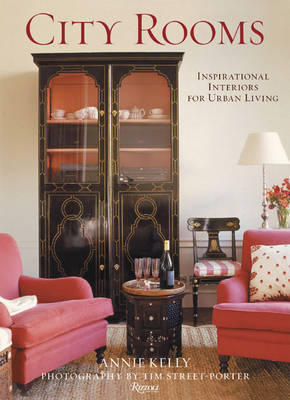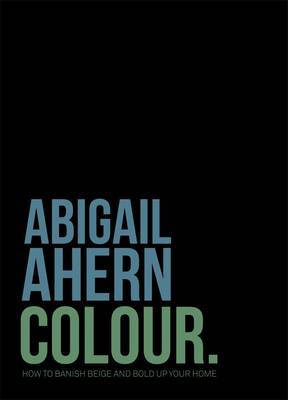 $45.00
AUD
Category: Interiors & lifestyle
Colour is the cheapest and most transformative thing you can do to a space; capable of injecting instant glamour and cool, making a space cosy, luxurious and indulgent, and defining your style more effectively than any other design element. If you want to introduce colour into your home but don't know where to start or are scared of taking the plunge, Abigail is your perfect guide, delivering the knowhow of a hands-on, super-exuberant stylist in brilliant, bite-size chunks. Learn how to figure out your colour palette, to trust your instincts and identify your ideal shade - the core colour that will make a home distinctly and beautifully yours. Drawing on her palette of inky, swampy, bottom-of-the-lake hues, easy-on-the-eye neutrals and intoxicating brights, Abigail reveals how to build a room through colour, showing how to up the ante with accents and focal points, layer lighting, add drama through accessories, and play around with paint, fabric and pattern. Make your small rooms look larger and dark rooms feel brighter - Abigail provides colour inspiration for every room of your home. Whether you want to start small, with pops of colour, or introduce a whole new colour scheme to your home, Colour gives you all the information you need to reinvent your space and turn it into a home that you will never want to leave! ...Show more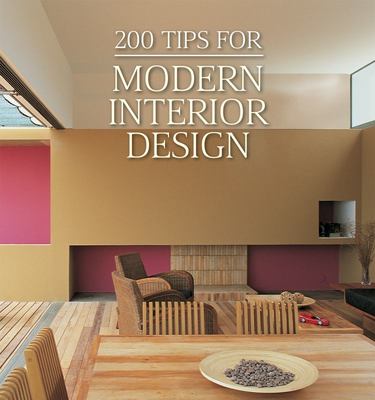 $54.99
AUD
Category: Interiors & lifestyle | Series: 200 Home Ideas Ser.
How to create attractive rooms and spaces suited to any lifestyle. 200 Tips for Modern Interior Design is a lushly illustrated resource that will inform and inspire home owners and designers. More than 800 full-color photographs of the world's most beautiful homes showcase modern interior design at its very best. Descriptive captions that highlight important features, such as furniture and individual decorative items, complement the photographs. Line drawings are used to emphasize unique design ideas, and floor plans help define the spaces and provide useful insights for readers. 200 Tips for Modern Interior Design covers every area of the home and demonstrates how a fresh perspective can yield exciting results. For example, entrances and corridors are often overlooked even though they are the most-used areas in any home. Materials traditionally used in kitchens can be powerful design options in other rooms as well. The book contains tips for the entire home: Entrances and corridors Living rooms Dining rooms Live-and-work areas Kitchens Bedrooms Bathrooms All-in-one areas, such as studio apartments Outside spaces There is also a directory that provides a comprehensive list of design retailers and services -- a significant benefit to any reader. The clean lines and bright, open feel of 200 Tips for Modern Interior Design make it a pleasure to read. The pages of this massive book are filled with inspiration for the creative home owner and designer. ...Show more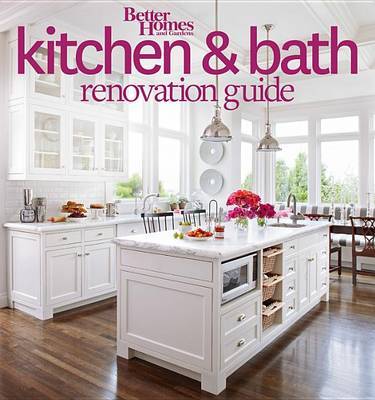 $29.99
AUD
Category: Interiors & lifestyle | Series: Better Homes and Gardens Home
This essential resource will walk homeowners through the decision-making process for a kitchen or bath renovation to create the perfect space This indispensable reference covers everything homeowners need to know about making over the two rooms that yield the most resale value. Information is included f or all stages of a kitchen or bath remodel, from inspiring before-and-after images to tips on getting started, with easy-to-read lists and sidebars on topics such as setting a budget and hiring professionals. Chapters highlight floor plan ideas, decorating styles, storage solutions, and lifestyle design choices. Plus, a handy shopping guide helps renovators choose key products, from kitchen cabinetry and cooktops to bathroom sinks and lighting. Complete with an appendix of checklists, this go-to guide is perfect for homeowners ready to update their spaces as well as those just looking for new ideas for renovations in the future. ...Show more