$27.99
AUD
Category: Indoor, succulents & terrariums.
Design, plant, and grow a world of your very own--inside a terrarium Including 15 unique, imagination-inspiring project plans, each accompanied by adorable, full-color photographs, kids and their grown-ups will discover how easy terrariums are to plant and grow. Kids love to create, imagine, and have f un. Nothing fulfills all three of those desires quite like designing and planting a terrarium. With the step-by-step project instructions found in A Family Guide toTerrariums for Kids, the results are beautiful, inspiring, and confidence-building. Making these little landscapes develops motor skills, spacial awareness, and provides a wealth of sensory input. The science behind the art is included with quick and simple lessons on ecosystem functions, the water cycle, and plant nutrition. But for kids, it's all about being active and building something cool Plus, when the project is complete, there's a piece of living art to share with family and friends or display on a bedroom shelf. With the terrarium plans found in A Family Guide to Terrariums for Kids, everyone in the family can tap their inner "science geek" to: Use multi-colored sand and succulents to craft a desert terrarium Plant, trim, and tend a terrarium bonsai tree Build a peat bog filled with carnivorous plants Make an aquatic terrarium, complete with a marimo moss ball "pet" Design a prehistoric garden of air plants Create a plant-filled habitat for a praying mantis Grow a Japanese garden with living rocks With information on selecting the best terrarium container, growing materials, decorative elements, tools, and plants, readers are primed for success that lasts long after the terrarium has been built. Terrariums combine imagination and creativity with a dash of hands-on science. And you get to play in the dirt What could be better than that? ...Show more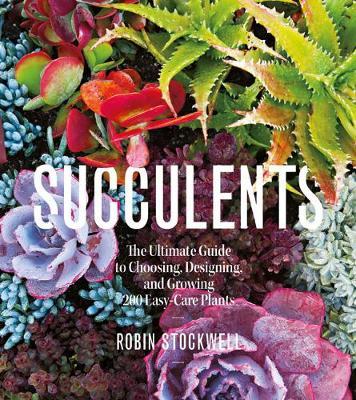 $39.99
AUD
Category: Indoor, succulents & terrariums.
Inspiring, practical and richly photographed, this comprehensive guide offers creative ideas and DIY projects using beautiful low-maintenance, water-wise plants. Succulents are the ultimate easy-care plant: versatile, effortless to grow both indoors and outdoors and drought tolerant. From Aloe and Agave s, to Senecio and Taciveria, this handbook by leading garden expert Robin Stockwell highlights 200 of the easiest, most useful, and gorgeous plants and shares advice on care and cultivation. Readers will find inspiration for imaginative and exciting new ways to use succulents in striking garden designs, containers, and indoor arrangements, as well as step-by-step projects, such as living bouquets and terrarium ornaments. ...Show more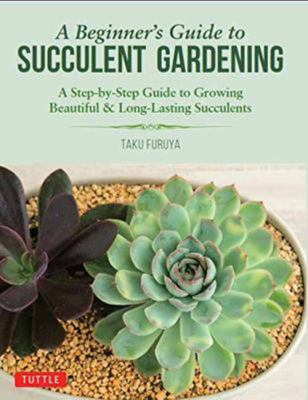 $22.99
AUD
Category: Indoor, succulents & terrariums.
Adored for their charming shapes and colors, respected for their resilience and adaptability, and just plain fun to have around--succulents are the hottest home gardening trend today. A Beginner's Guide to Succulent Gardening is a friendly guide to popular succulents, walking novices through all the bas ics, like: Choosing your succulents--from Hens and Chicks (Echeveria) to bristly flowering cactus varieties Mixing the right soils for your succulents and preparing the growing environment Easy potting and transplanting techniques Succulent care--including watering, fertilizing and providing the right amount of sun for each variety Understanding peak periods as well as seasonal traits and needs, so you can have a beautiful succulent garden year-round This book contains all sorts of helpful tips on what to look for when buying a plant, how to troubleshoot when your succulent shows signs of distress, how to trim the leaves and stems, and how to start new plants from cuttings. Clear diagrams and at-a-glance fact sheets for each variety, as well as inspirational photos of attractively and happily-housed succulents, fill the pages of this book. Now is the time to give succulents a try Let A Beginner's Guide to Succulent Gardening be your guide to get you started and grow your indoor garden one succulent at a time. ...Show more
$29.99
AUD
Category: Indoor, succulents & terrariums.
The Royal Horticultural Society's definitive guide to propagating, nurturing, and designing with more than 200 cacti and succulents. How can you encourage your bunny ear cactus to flower and flourish? What is the best method for propagating an echeveria or kalanchoe? What exactly are living stones, and where do they grow in the wild?RHS Practical Cactus & Succulent Bookis the ultimate reference book for cactus and succulent enthusiasts. An extensive illustrated plant directory profiles more than 200 succulent and cactus varieties, with instructions on how to grow each one, while information dashboards offer fascinating facts and quirky stats about different plant families, such as Euphorbia and Echinopsis. Show off your plants with inspirational display ideas and step-by-step projects. Follow the simple propagation instructions to increase your cacti and succulent collection for free. Keep your plants healthy with advice and tips for care and cultivation.Drawing on the unrivalled expertise of the Royal Horticultural Society, RHS Practical Cactus & Succulent Bookis everything a cactus-lover needs. ...Show more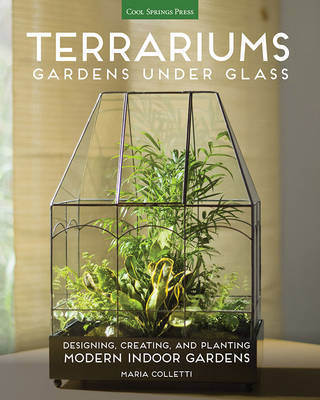 $29.99
AUD
Category: Indoor, succulents & terrariums.
Dive into the ultimate handcrafted, fun way to bring the natural world indoors!Terrariums are back and better than ever! If you haven't seen this virtually foolproof and no-fuss way to bring nature indoors in the last forty years, you are in for a treat. Whether you live in an apartment, are chained to an office desk, or just want to be surrounded by green, living things, creating terrariums is a delightful way to combine the worlds of home decor and gardening. Terrarium expert and teacher Maria Colletti makes designing your very own interior gardens easy with step-by-step photos of over twenty of her own designs. Get all of the information you need on the "it" plants of today--tillandsias (air plants), orchids, mosses, cacti, and succulents, along with "traditional" terrarium ferns.Learn how to transform basic designs using moss, air plants, succulents, vertical planters, hanging glass globes, and more into an unlimited creative palette. Once you know the basics (the plants, the vessels, and a basic understanding of soil, water, and humidity), you can mix and match for an endless exploration of your own creativity! ...Show more
$34.99
AUD
Category: Indoor, succulents & terrariums.
The Victorians suffered from _fern madness_; the 1970s was the age of the macramé plant hanger; the Japanese believe that where there are plants, life energy flows well. For centuries and across cultures, plants have transformed interiors. Today houseplants are once again experiencing a revival. Bree Cl affey of renowned Australian emporium Mr Kitly journeys in the worlds of her plant-loving friends to share their joy-inducing, plant-filled spaces. This is more than a gardening book: this is an inspirational look at life with plants. From the ever-reliable Peace lily and beguiling Fiddle leaf fig to the elusive Chinese money plant, houseplants are showcased in all their weird and wonderful forms. More than good-looking props, plants are living growing things rooted in community and creativity. As this book celebrates, houseplants are not a passing trend _ they are a way of life. ...Show more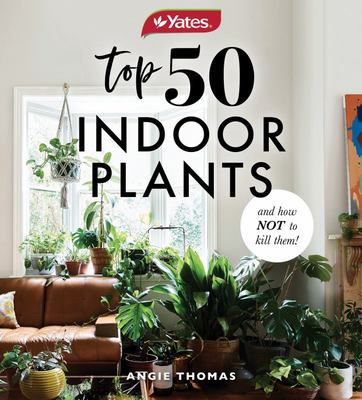 $35.00
AUD
Category: Indoor, succulents & terrariums.
The top 50 indoor houseplants for Australia and New Zealand - what's best and how to keep them alive. Bring the outdoors in and breathe new life to your home with plants! House plants are well and truly back on trend - they instantly lift an area, make a room feel fresh and welcoming, and brighten your mood. On top of this, indoor plants are great for purifying the air and creating a healthier home.Together with microbes in the soil, plants work wonders to reduce harmful pollutants released from indoor furniture. (It's true: look at the study conducted by the University of Technology, Sydney.) If you feel like your rooms need a splash of colour and a breath of life, there's no better starting point than this book. Whether your style is dramatic jungle plants or to sweetly shaped succulents, you'll find something to suit. With loads of glorious illustrations for inspiration, data on which plants are suitable where, and clear advice on how to pot, prune and pet your plants, this is the perfect guide for bringing the outdoors in - no matter what your level of gardening skill! ...Show more
$29.99
AUD
Category: Indoor, succulents & terrariums.
No green thumb? No problem! Succulents are the ultimate low-care plants, able to withstand erratic rainfall, poor soil, and outright neglect-they almost never need pruning, watering, feeding, or fussing over. That, along with their astounding range of colors and forms, makes them ideal for those who wan t an attractive yet low-maintenance container planting or landscape view. In Planting Designs for Cactus & Succulents, a book made for the gardener and non-gardener alike, you'll find information and design inspiration for adding these plants to your interior and exterior spaces. Authors Sharon Asakawa and John Bagnasco, with well over half a century of gardening experience between them, offer expert tips for selection, planting, and care, then show you how to beautifully incorporate cacti and succulents into your particular environment. More than twenty step-by-step how-to projects are paired with gorgeous photographic demonstrations, teaching you how to make your own terrariums, dish gardens, living "paintings," xerispheres, bouquets and centerpieces, hair ornaments, natural walkways, birdhouse roofs, picture frames, seasonal arrangements, and more. Just when you'd given up, Planting Designs for Cactus & Succulents comes to the rescue as your comprehensive guide to the plants that can survive in some of the least nurturing environments on Earth-even if that happens to include your house. ...Show more
$29.99
AUD
Category: Indoor, succulents & terrariums.
Not everyone has access to outside space or what we traditionally think of as a garden, but we all have window ledges, shelves, stairways and unloved spots in our homes. My Tiny Indoor Garden is bursting with exciting ideas and savvy solutions to help you transform any indoor nook or cranny into a peace ful plant paradise. Whether you're looking for a mini kitchen garden or a sun-loving terrarium, we've unearthed an amazing collection of indoor and covered spaces. Among the 20 gardens featured in the book you'll find a jungle in a south London sitting room, a colourful cacti collection and a conservatory come orchid house. You'll pick up all the best tips and tricks as each indoor gardener shares their small-scale expertise, from using an array of bottles and jars to create a display of tiny botanical treasures to turning an antique chair into a lavish plant pot. Packed with practical advice, the latest title in Pavilion's exciting gardening series also provides pointers on key aspects of green interiors - from caring for leaves to propagating succulents. Plus, practical projects will help you make the most of every inch, whether you decide to master the art of kokedama or create your own terrarium. Blur the line between your indoor space and the great outdoors, get inspired, let your imagination grow and enjoy your tiny indoor garden. ...Show more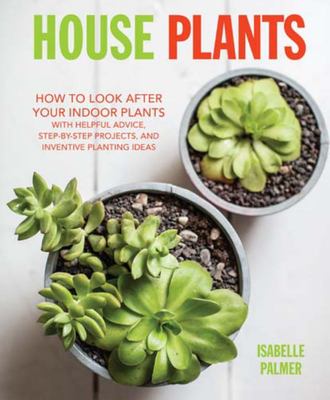 $39.99
AUD
Category: Indoor, succulents & terrariums.
Small-space gardening expert Isabelle Palmer shows you how to create gorgeous terrariums and hanging gardens, and how to grow under glass and plant vertically, with helpful advice and techniques, as well as handy tips for taking care of your new house plants. Grow and display amazing aquatic plants in a deep vase, create a stunning fireside moss and fern display, group a variety of beautiful orchids in bright colours on a shelf and plant some tiny jewel-like succulents for an easy and on-trend kitchen window scene. House Plants removes the mystery of taking care of plants and gives everyone a chance to enjoy the benefits and beauty of a garden indoors. ...Show more
$29.99
AUD
Category: Indoor, succulents & terrariums.
Is your monstera getting monstrous? Snake plant looking sickly? Fiddle-leaf fading? Devil's ivy dropping leaves? Dr. Houseplant is your key to a thriving indoor home garden. Build your confidence and plant collection with this guide and learn to give your favourite houseplants the best care. Packed wit h information from choosing healthy plants to creating space for them to flourish in your home, Dr. Houseplant is the go-to for any plant enthusiast, whether you're just starting out or a seasoned green thumb. The book includes features on 42 of the most popular houseplants, including monsteras, ferns and cacti. Each feature provides you with the knowledge to provide the ideal conditions for each variety, from watering, feeding and temperature control, and will show you how to identify and treat common issues, such as pests and fungal diseases, with tailored solutions to suit every plant and home. With photography that illustrates the beauty and life plants can bring to your home, Dr. Houseplant will inspire and help you cultivate your own indoor garden.   ...Show more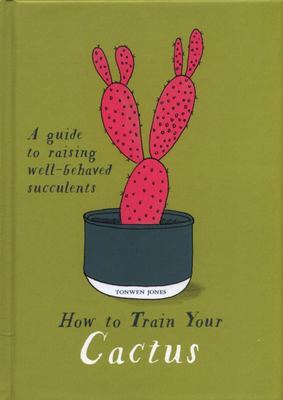 $19.99
AUD
Category: Indoor, succulents & terrariums.
Say "hello" to the perfect pet From growing to styling, taming to potting, How to Train Your Cactus tells you everything you need to know for growing and caring for cactus and succulents.   Looking to start a plant family? For most urban dwellers, a large garden bursting with color and beauty is but a dream. Enter the cacti. The perfect plant pet; prickly cacti and soothing succulents are resilient to the laziest of gardeners. Brighten the darkest corners of your home with these prickly, but nice customers. They can be trained to suit the smallest or largest of indoor spaces. The book is divided into sections on starting your urban jungle, training essentials, 50 plant varieties, and troubleshooting. You'll be a proud plant parent in no time ...Show more