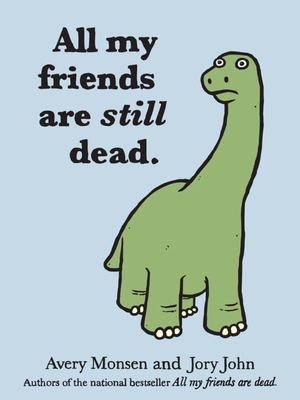 $12.95
AUD
Category: Gift & Humour
From the authors of the breakout best seller All my friends are dead (more than 100,000 copies sold) comes a brand-new illustrated compendium of the humorous existential ruminations of people, animals, legendary monsters, and inanimate objects.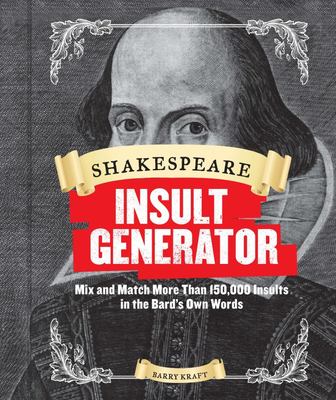 $24.99
AUD
Category: Gift & Humour
Put dullards and miscreants in their place with more than 150,000 handy mix-and-match insults in the bard's own words. This entertaining insult generator and flip book collects hundreds of words from Shakespeare's most pointed barbs and allows readers to combine them in creative and hilariously stinging ways. From "apish bald-pated abomination" to "cuckoldly dull-brained blockhead" to "obscene rump-fed hornbeast," each insult can be chosen at random or customized to fit any situation that calls for a literary smackdown. Featuring an informative introduction on Shakespearean wit, and notes on which terms were coined or only used once by the author in his work, this delightful book will sharpen the tongue of Shakespeare fans and insult aficionados without much further ado. ...Show more
$24.99
AUD
Category: Gift & Humour
A collection of cartoons about many strange and lovely things- kind words for dark days; simple poems concerning wonderful mysteries; reflections on sadness, joy, dismay, sanity, soup and beauty. Also- doubts, confessions, laments and tributes. Spirited depictions of dogs, ducks, teapots and trees, with various peculiar attempts to shine some light on dark and troubled times. ...Show more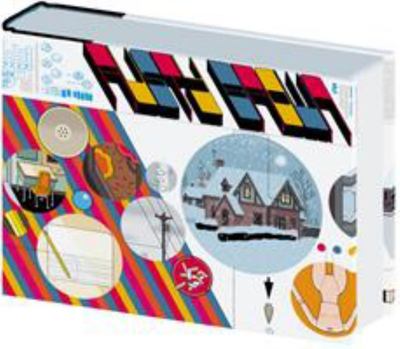 $52.99
AUD
Category: Gift & Humour
A major graphic novel event more than 16 years in progress: part one of the ongoing bifurcated masterwork from the brilliant and beloved author of Jimmy Corrigan: The Smartest Kid on Earth and Building Stories.   Rusty Brown is a fully interactive, full-color articulation of the time-space interrelation ships of three complete consciousnesses in the first half of a single midwestern American day and the tiny piece of human grit about which they involuntarily orbit. A sprawling, special snowflake accumulation of the biggest themes and the smallest moments of life, Rusty Brown literately and literally aims at nothing less than the coalescence of one half of all of existence into a single museum-quality picture story, expertly arranged to present the most convincingly ineffable and empathetic illusion of experience for both life-curious readers and traditional fans of standard reality. From childhood to old age, no frozen plotline is left unthawed in the entangled stories of a child who awakens without superpowers, a teen who matures into a paternal despot, a father who stores his emotional regrets on the surface of Mars and a late-middle-aged woman who seeks the love of only one other person on planet Earth. ...Show more
$17.99
AUD
Category: Gift & Humour | Series: RP Minis Ser.
The Everyday Tarot Kit offers a fresh approach to Tarot, with a modern, beautifully illustrated deck, a helpful guide to the cards, and a beautiful keepsake box.   Everyday Tarot brings a new perspective to the cards, giving modern soul-seekers the tools they need to access their inner wisdom and cre ate an inspired life. This charming package, featuring stunning cards and a magnetic closure, will appeal to Tarot veterans and novices alike   This kit includes: A 78-card Tarot deck, with fully-illustrated, 2.5 X 3.5-inch cards. An 88-page mini book, with card meanings and sample spreads. A magnetic-closure keepsake box for card storage. ...Show more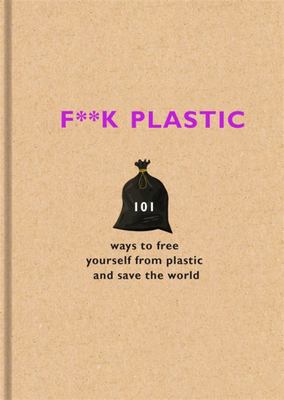 $12.99
AUD
Category: Gift & Humour
Is the thought of the 51 trillion pieces of plastic in our oceans keeping you up at night? Don't panic! The war on plastic has begun and you can help! In this book you'll find 101 little things you as an individual can do to avoid single-use plastics and help save the world. Governments, brands and cor porations around the globe are on the case to solve the plastic epidemic, but whilst we wait for the effects of those initiatives to trickle through and alternatives to plastic to be found, let's hit the ground running. In this proactive illustrated book, you'll find 101 simple ways to cut plastic from: -FOOD AND DRINK e.g. freeze fresh veg rather than buying frozen, and buy beeswax wrap over clingfilm - AROUND THE HOUSE e.g. buy bars of soap instead of hand dispensers and swap scourers for natural cloths - YOUR LIFESTYLE e.g. how to have a plastic-free party and find good plastic-free make-up Together we can save our oceans - and we will! ...Show more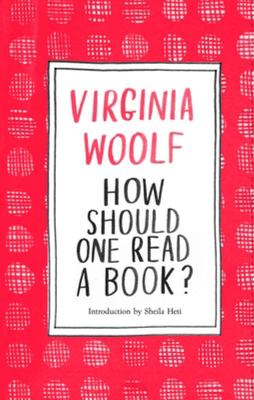 $16.99
AUD
Category: Gift & Humour
"Where are we to begin? How are we to bring order into this multitudinous chaos and so get the deepest and widest pleasure from what we read?" Published for the first time as a standalone volume, Virginia Woolf's short, impassioned essay, How Should One Read a Book? celebrates the enduring importance of great literature. In this timeless manifesto on the written word, rediscover the joy of reading and the power of a good book to change the world. One of the most significant writers of the 20th Century, Woolf is as relevant today as she was a hundred years ago. ...Show more
$14.99
AUD
Category: Games & Puzzles | Series: After Dinner Amusements
Featuring 200 prompts from books, movies, television shows, and songs, this pocket-size take on classic charades makes for a lively guessing game for friends and family.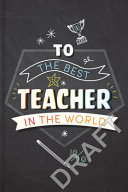 $14.99
AUD
Category: Gift & Humour
'Education is the most powerful weapon which you can use to change the world' Nelson Mandela A card isn't quite enough - how can you say 'thank you' to some of the unsung heroes of our time? A good teacher can turn a life around. A good teacher can change the course of a career. A good teacher can brin g the best out of every student. A good teacher deserves to be celebrated. This is a gift - to the teachers who have taken the time to help us understand or appreciate a subject. To the teachers who believed in us even when we didn't believe in ourselves. To the teachers who have taught us so much more than a subject. To the teachers we will never forget. This is a gift to the best teacher. ...Show more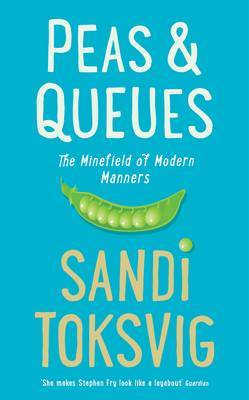 $24.99
AUD
Category: Gift & Humour
How do you get rid of unwanted guests? What do you do if there's a racket in the quiet carriage? How should you eat peas, and behave in queues? How to behave, like how to punctuate, is an aspect of life that many are no longer taught - and getting it wrong is the stuff of comedy at best and humiliation at worst. Thankfully, Sandi Toksvig has come to the rescue with her entertaining guide to modern manners,with tips on what to do whether you're talking to a bore, or forgot their name in the first place. (Just call them 'darling'.) The award-winning Radio 4 broadcaster and writer offers guidance on the social pitfalls of every phase of life, from christenings to condolence letters - and has uncovered fascinating details about how our manners have changed across time, from the earliest etiquettes (little cards to remind courtiers how to behave) to the changing nature of spoons. With characteristic wit and perceptiveness, and revealing the trickiest of her encounters along the way, she highlights decency rather than convention and provides an essential guide to twenty-first century behaviour. ...Show more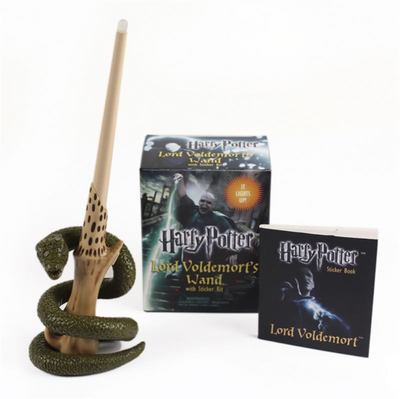 $17.99
AUD
Category: Gift & Humour | Series: Miniature Editions Ser.
Bring home a deluxe piece of Harry Potter's wizarding world with this commemorative wand-and-stand kit The set includes: 8-inch light-up replica of the wand belonging to Lord Voldemort One-of-a-kind wand stand in the form of Nagini Book of 8 photographic stickers highlighting the most memorable ba ttles with the Dark Lord ...Show more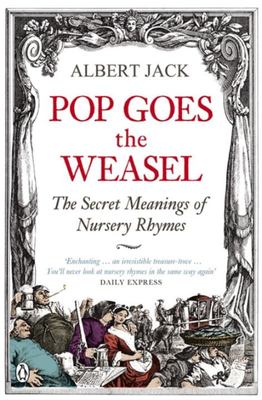 $19.95
AUD
Category: Gift & Humour
Mr Jack has been nimble and he's been quick, searching through the history of nursery rhymes and he's found out all kind of plum tales, just like little Jack Horner. He's unearthed the answers to some very curious questions...Who were Mary Quite Contrary and Georgie Porgie? How could "Hey Diddle Diddle" offer an essential astronomy lesson? And if "Ring a Ring a Roses" isn't about catching the plague, then what is it really about? This ingenious book delves into the hidden meanings of the nursery rhymes and songs we all know so well and discovers all kinds of strange tales ranging from Viking raids to firewalking and from political rebellion to slaves being smuggled to freedom. Full of vivid illustrations and with each verse reproduced, here are a multitude of surprising stories you won't be able to resist passing on to everyone you know. Your childhood songs and rhymes will never sound the same again. ...Show more