American humourist P.J. O'Rourke once said, "Always read something that will make you look good if you die in the middle of it." But sometimes we simply feel like reading something other than all those worthy and impressive literary award winners - something lighter but still well-written, something wonderfully witty which makes us laugh out loud, or maybe just a cracking good adventure. So for all of you who wander in and tell us that you're looking for something different to read, but you don't really know what you want; or who need something for a friend in hospital; or a book to take on holiday; or just something to escape from the grimness of the nightly news - we are delighted to present a new area in our bookshop entitled "Feel-Good Reads."

Titles include both fiction and non-fiction options - beloved classics from P.G. Wodehouse, Barbara Pym, and Nancy Mitford; hilarious travel narratives from Bill Bryson; amusing essays from David Sedaris and Augusten Burroughs; modern Australian classics from John Clarke, Shane Maloney, and Thea Astley; plus many more from Kurt Vonnegut's Breakfast of Champions to Sue Townsend's Adrian Mole series; from Alexander McCall-Smith's warm and witty Scottish tales to Paul Carter's gripping and often hilarious true-life adventures.
We will also be promoting Feel-Good Friday where we will feature a chosen title from these shelves and posting on facebook, twitter and instagram so keep an eye out for your next great read. 
$24.99
AUD
Category: Feel Good Non-fiction | Series: Film Tie-in S.
In this unforgettable, and by turns hilarious and harrowing memoir, Augusten Burroughs recounts the bizarre events of his childhood. After his parents' divorce, his mother, a delusional poet, left him in the care of her psychiatrist, a man who might have benefited from a little therapy himself. Suddenly , at age twelve, Augusten found himself living in a dilapidated Victorian mansion with the doctor's bizarre family and a few patients. In the psychiatrist's house, there are no rules, only chaos. The Christmas tree stayed up until summer, Valium was eaten like Pez and, if things got dull, there was always the vintage electroshock-therapy machine under the stairs... RUNNING WITH SCISSORS is a true story, compelling and maniacally funny. Above all, it chronicles an ordinary boy's survival under the most extraordinary circumstances. ...Show more
$22.99
AUD
Category: Feel Good Non-fiction
Shaun Bythell owns the Bookshop, Scotland's largest second-hand bookshop. It contains 100,000 books, spread over a mile of shelving, with twisting corridors and roaring fires, and all set in a beautiful, rural town by the edge of the sea. A book-lover's paradise? Well, almost ... In these wry and hilari ous diaries, Shaun provides an inside look at the trials and tribulations of life in the book trade, from struggles with eccentric customers to wrangles with his own staff, who include the ski-suit-wearing, bin-foraging Nicky. He takes us with him on buying trips to old estates and auction houses, recommends books-both lost classics and new discoveries-introduces us to the thrill of the unexpected find, and evokes the rhythms and charms of small-town life, always with a sharp and sympathetic eye. Hilarious, wry, and charming, Shaun Bythell's stories from his second-hand bookshop in remotest Scotland are sure to delight readers of all stripes. ...Show more
$12.99
AUD
Category: Feel Good Fiction | Series: Popular Penguins Ser.
What could be more relaxing than a refreshing holiday on the river with your two best friends and faithful canine companion, Montmorency? However, as J. discovers, there is more to life on the waves than meets the eye - including navigational challenges, culinary disasters, and heroic battles with swans , kettles and tins of pineapple. Jerome K. Jerome?s delightful novel has kept readers smiling for years and his prose has found a perfect partner in Vic Reeves?s glorious and witty illustrations.ILLUSTRATED WITH THIRTY ORIGINAL ILLUSTRATIONS BY COMEDIAN AND ARTIST VIC REEVES - EXCLUSIVE TO VINTAGE CLASSICS ...Show more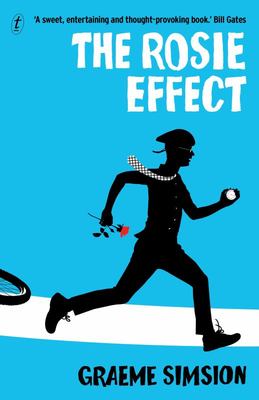 $22.99
AUD
Category: Feel Good Fiction | Series: Don Tillman Ser.
'We've got something to celebrate,' Rosie said. I am not fond of surprises, especially if they disrupt plans already in place. I assumed that she had achieved some important milestone with her thesis. Or perhaps she had been offered a place in the psychiatry-training programme. This would be extremely g ood news, and I estimated the probability of sex at greater than 80%. 'We're pregnant,' she said.Don Tillman and Rosie Jarman are now married and living in New York. Don has been teaching while Rosie completes her second year at Columbia Medical School. Just as Don is about to announce that Gene, his philandering best friend from Australia, is coming to stay, Rosie drops a bombshell- she's pregnant.In true Tillman style, Don instantly becomes an expert on all things obstetric. But in between immersing himself in a new research study on parenting and implementing the Standardised Meal System (pregnancy version), Don's old weaknesses resurface. And while he strives to get the technicalities right, he gets the emotions all wrong, and risks losing Rosie when she needs him most. ...Show more
$18.99
AUD
Category: Feel Good Non-fiction
'Painfully funny. The pain and the funniness somehow add up to something entirely good, entirely noble and entirely loveable.' - Stephen Fry Sunday Times Humour Book of the Year Winner of the Books Are My Bag Non-Fiction Book of the Year Winner of Blackwell's Debut Book of the Year Winner of iBooks' Boo k of the Year Welcome to the life of a junior doctor: 97-hour weeks, life and death decisions, a constant tsunami of bodily fluids, and the hospital parking meter earns more than you. Scribbled in secret after endless days, sleepless nights and missed weekends, Adam Kay's This is Going to Hurt provides a no-holds-barred account of his time on the NHS front line. Hilarious, horrifying and heartbreaking, this diary is everything you wanted to know - and more than a few things you didn't - about life on and off the hospital ward. This audiobook contains an exclusive interview with Adam Kay by comedian and author Mark Watson, an afterword and updated bonus diary entries. ...Show more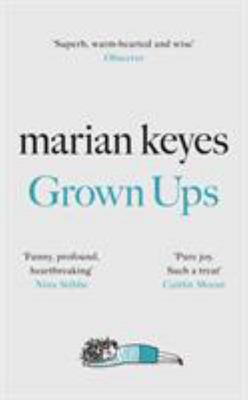 $32.99
AUD
Category: Feel Good Fiction | Reading Level: very good
They're a glamorous family, the Caseys. Johnny Casey, his two brothers Ed and Liam, their beautiful, talented wives and all their kids spend a lot of time together - birthday parties, anniversary celebrations, weekends away. And they're a happy family. Johnny's wife, Jessie, who has the most money, insi sts on it. Under the surface, though, conditions are murkier. While some people clash, other people like each other far too much. Everything stays under control until Ed's wife Cara, gets concussion and can't keep her thoughts to herself. One careless remark at Johnny's birthday party, with the entire family present, starts Cara spilling out all their secrets. In the subsequent unravelling, every one of the adults finds themselves wondering if it's time - finally - to grow up? Praise for Marian Keyes: 'Mercilessly funny' The Times 'Clever, hilarious, poignant' Sunday Times 'Wildly funny, romantic and nearly impossible to put down' Daily Mail 'Guaranteed to make me laugh on the very first page' Liane Moriarty ...Show more
$22.99
AUD
Category: Feel Good Fiction | Series: Adrian Mole
Celebrate Adrian Mole's 50th Birthday with this new double edition, featuring the first two books in the hilarious collection and see life through the spectacles of a misunderstood boy growing up in the early 1980s. Friday January 2nd I felt rotten today. It's my mother's fault for singing 'My Way' at t wo o'clock in the morning at the top of the stairs. Just my luck to have a mother like her. There is a chance my parents could be alcoholics. Next year I could be in a children's home. Meet Adrian Mole, a hapless teenager providing an unabashed, pimples-and-all glimpse into adolescent life. Telling us candidly about his parents' marital troubles, The Dog, his life as a tortured poet and 'misunderstood intellectual', his love for the divine Pandora and his horror at learning of his mother's pregnancy, Adrian's painfully honest diary is a hilarious and heartfelt chronicle of misspent adolescence. Features the complete texts of The Secret Diary of Adrian Mole Aged 13 3/4 and The Growing Pains of Adrian Mole. 'I not only wept, I howled and hooted and had to get up and walk around the room and wipe my eyes so that I could go on reading' Tom Sharpe 'Every sentence is witty and well thought out, and the whole has reverberations beyond itself' The Times 'Townsend has held a mirror up to the nation and made us happy to laugh at what we see in it' Sunday Telegraph 'One of the great comic creations' Daily Mirror 'The funniest person in the world' Caitlin Moran ...Show more
$19.99
AUD
Category: Feel Good Fiction | Series: Picador Classic
With an introduction by Caitlin Moran A dazzling urban satire of modern relationships? An ironic, tragic insight into the demise of the nuclear family? Or the confused ramblings of a pissed thirty-something? As Bridget documents her struggles through the social minefield of her thirties and tries to wei gh up the eternal question (Daniel Cleaver or Mark Darcy?), she turns for support to four indispensable friends: Shazzer, Jude, Tom and a bottle of chardonnay. Bridget Jones's Diary was first published in 1996 and applauded by critics from Salman Rushdie to Jilly Cooper. A number-one bestseller, Helen Fielding's book has sold over fifteen million copies worldwide and has been turned into an Academy Award-nominated film starring Renee Zellweger, Colin Firth and Hugh Grant. Bridget Jones's Diary is followed by Bridget Jones: The Edge of Reason and Bridget Jones: Mad About the Boy. ...Show more
$19.99
AUD
Category: Feel Good Fiction
The sequel to Jonas Jonasson's international bestseller The Hundred-Year-Old Man Who Climbed Out of the Window and Disappeared It all begins with a hot air balloon trip and three bottles of champagne. Allan and Julius are ready for some spectacular views, but they're not expecting to land in the sea and be rescued by a North Korean ship, and they could never have imagined that the captain of the ship would be harbouring a suitcase full of contraband uranium, on a nuclear weapons mission for Kim Jong-un ... Soon Allan and Julius are at the centre of a complex diplomatic crisis involving world figures from the Swedish foreign minister to Angela Merkel and President Trump. Things are about to get very complicated ... Praise for The Hundred-Year-Old Man: 'A mordantly funny and loopily freewheeling debut novel about ageing disgracefully' Sunday Times'Imaginative, laugh-out-loud . . . a brilliant satire on the foibles of mankind' Daily Telegraph'Fast-moving and relentlessly sunny' Guardian ...Show more
$22.99
AUD
Category: Feel Good Fiction
Nancy Mitford's The Pursuit of Loveis one of the funniest, sharpest novels about love and growing up ever written.'Obsessed with sex!' said Jassy, 'there's nobody so obsessed as you, Linda. Why if I so much as look at a picture you say I'm a pygmalionist.' In the end we got more information out of a boo k called Ducks and Duck Breeding. 'Ducks can only copulate,' said Linda, after studying this for a while, 'in running water. Good luck to them.'Oh, the tedium of waiting to grow up! Longing for love, obsessed with weddings and sex, Linda and her sisters and cousin Fanny are on the lookout for the perfect lover.But finding Mr Right is much harder than any of the sisters had thought. Linda must suffer marriage first to a stuffy Tory MP and then to a handsome and humourless communist, before finding real love in war-torn Paris. . . 'Utter, utter bliss' Daily Mail ...Show more
$19.99
AUD
Category: Feel Good Reads | Series: Jackson Brodie | Reading Level: good
In rural Devon, six-year-old Joanna Mason witnesses an appalling crime. Thirty years later the man convicted of the crime is released from prison. In Edinburgh, sixteen-year-old Reggie works as a nanny for a G.P. But Dr Hunter has gone missing and Reggie seems to be the only person who is worried. Acros s town, Detective Chief Inspector Louise Monroe is also looking for a missing person, unaware that hurtling towards her is an old friend -- Jackson Brodie -- himself on a journey that becomes fatally interrupted. ...Show more
$12.95
AUD
Category: Feel Good Fiction | Series: Text Classics
The fiddle at the Pacific Pastoral meat-packing works was a nice little earner for all concerned until Herb Gardiner reported finding a body in number 3 chiller. An accident, of course, but just the excuse a devious political operator might grab to stir up trouble with the unions. Enter Murray Whelan, m inder, fixer and general dogsbody for the Minister of Industry. Between playing of party factions and pursuing the kohl-eyed Ayisha, it's all in a day's work for Murray to hose down the situation at Pacific Pastoral. Then the lairy V8 turns up. And after that, it gets personal. Because don't you just hate it when somebody tries to kill you and you don't know who or why? ...Show more