$19.99
AUD
Category: Feel Good Fiction
The sequel to Jonas Jonasson's international bestseller The Hundred-Year-Old Man Who Climbed Out of the Window and Disappeared It all begins with a hot air balloon trip and three bottles of champagne. Allan and Julius are ready for some spectacular views, but they're not expecting to land in the sea and be rescued by a North Korean ship, and they could never have imagined that the captain of the ship would be harbouring a suitcase full of contraband uranium, on a nuclear weapons mission for Kim Jong-un ... Soon Allan and Julius are at the centre of a complex diplomatic crisis involving world figures from the Swedish foreign minister to Angela Merkel and President Trump. Things are about to get very complicated ... Praise for The Hundred-Year-Old Man: 'A mordantly funny and loopily freewheeling debut novel about ageing disgracefully' Sunday Times'Imaginative, laugh-out-loud . . . a brilliant satire on the foibles of mankind' Daily Telegraph'Fast-moving and relentlessly sunny' Guardian ...Show more
$22.99
AUD
Category: Feel Good Fiction
Nancy Mitford's The Pursuit of Loveis one of the funniest, sharpest novels about love and growing up ever written.'Obsessed with sex!' said Jassy, 'there's nobody so obsessed as you, Linda. Why if I so much as look at a picture you say I'm a pygmalionist.' In the end we got more information out of a boo k called Ducks and Duck Breeding. 'Ducks can only copulate,' said Linda, after studying this for a while, 'in running water. Good luck to them.'Oh, the tedium of waiting to grow up! Longing for love, obsessed with weddings and sex, Linda and her sisters and cousin Fanny are on the lookout for the perfect lover.But finding Mr Right is much harder than any of the sisters had thought. Linda must suffer marriage first to a stuffy Tory MP and then to a handsome and humourless communist, before finding real love in war-torn Paris. . . 'Utter, utter bliss' Daily Mail ...Show more
$19.99
AUD
Category: Feel Good Reads | Series: Jackson Brodie | Reading Level: good
In rural Devon, six-year-old Joanna Mason witnesses an appalling crime. Thirty years later the man convicted of the crime is released from prison. In Edinburgh, sixteen-year-old Reggie works as a nanny for a G.P. But Dr Hunter has gone missing and Reggie seems to be the only person who is worried. Acros s town, Detective Chief Inspector Louise Monroe is also looking for a missing person, unaware that hurtling towards her is an old friend -- Jackson Brodie -- himself on a journey that becomes fatally interrupted. ...Show more
$12.95
AUD
Category: Feel Good Fiction | Series: Text Classics
The fiddle at the Pacific Pastoral meat-packing works was a nice little earner for all concerned until Herb Gardiner reported finding a body in number 3 chiller. An accident, of course, but just the excuse a devious political operator might grab to stir up trouble with the unions. Enter Murray Whelan, m inder, fixer and general dogsbody for the Minister of Industry. Between playing of party factions and pursuing the kohl-eyed Ayisha, it's all in a day's work for Murray to hose down the situation at Pacific Pastoral. Then the lairy V8 turns up. And after that, it gets personal. Because don't you just hate it when somebody tries to kill you and you don't know who or why? ...Show more
$19.99
AUD
Category: Feel Good Fiction
One of The Millions' "Most Anticipated" Books of 2018 Evoking the sharp insight of Little Fires Everywhere and the sweep of NW, an incisive portrait of the bliss and torment of domestic love. Hailed as "one of the most thrilling writers at work today" (Huffington Post), Diana Evans reaches new heights with her searing depiction of two couples struggling through a year of marital crisis. In a crooked house in South London, Melissa feels increasingly that she's defined solely by motherhood, while Michael mourns the former thrill of their romance. In the suburbs, Stephanie's aspirations for bliss on the commuter belt, coupled with her white middle-class upbringing, compound Damian's itch for a bigger life catalyzed by the death of his activist father. Longtime friends from the years when passion seemed permanent, the couples have stayed in touch, gathering for births and anniversaries, bonding over discussions of politics, race, and art. But as bonds fray, the lines once clearly marked by wedding bands aren't so simply defined. Ordinary People is a moving examination of identity and parenthood, sex and grief, and the fragile architecture of love. ...Show more
$19.99
AUD
Category: Feel Good Fiction
New from the bestselling author of Atonement and The Children Act Trudy has betrayed her husband, John. She's still in the marital home--a dilapidated, priceless London townhouse--but John's not there. Instead, she's with his brother, the profoundly banal Claude, and the two of them have a plan. But the re is a witness to their plot: the inquisitive, nine-month-old resident of Trudy's womb. Told from a perspective unlike any other, Nutshell is a classic tale of murder and deceit from one of the world's master storytellers. ...Show more
$14.99
AUD
Category: Penguin Spinner Fiction
This fiftieth-anniversary edition commemorates Joseph Heller's masterpiece with a new introduction; critical essays and reviews by Norman Mailer, Alfred Kazin, Anthony Burgess, and others; rare papers and photos; and much more.   Nominated as one of America's best-loved novels by PBS's The Great America n Read.   Soon to be a Hulu limited series starring Christopher Abbott, George Clooney, Kyle Chandler, and Hugh Laurie.   Fifty years after its original publication, Catch-22 remains a cornerstone of American literature and one of the funniest--and most celebrated--books of all time. In recent years it has been named to "best novels" lists by Time, Newsweek, the Modern Library, and the London Observer.   Set in Italy during World War II, this is the story of the incomparable, malingering bombardier, Yossarian, a hero who is furious because thousands of people he has never met are trying to kill him. But his real problem is not the enemy--it is his own army, which keeps increasing the number of missions the men must fly to complete their service. Yet if Yossarian makes any attempt to excuse himself from the perilous missions he's assigned, he'll be in violation of Catch-22, a hilariously sinister bureaucratic rule: a man is considered insane if he willingly continues to fly dangerous combat missions, but if he makes a formal request to be removed from duty, he is proven sane and therefore ineligible to be relieved.   This fiftieth-anniversary edition commemorates Joseph Heller's masterpiece with a new introduction by Christopher Buckley; a wealth of critical essays and reviews by Norman Mailer, Alfred Kazin, Anthony Burgess, and others; rare papers and photos from Joseph Heller's personal archive; and much more. Here, at last, is the definitive edition of a classic of world literature. ...Show more
$19.99
AUD
Category: Feel Good Fiction
PLAYTIME IS OVER. BUT WHERE ARE THE GROWN-UPS? Meet brothers Johnny, Ed and Liam Casey. Married to Jessie, Cara and Nell. Three very different women hitched to three very different men. Every family occasion is a party - until the day the secrets spill out. And the family feuds are laid bare . . .
$12.99
AUD
Category: Feel Good Fiction | Series: Popular Penguins Ser.
'His mouth had been used as a latrine by some small creature of the night, and then as a mausoleum. During the night, too, he'd somehow been on a cross-country run and then been expertly beaten up by secret police. He felt bad.'Jix Dixon has a terrible job at a second-rate university. His life is full o f things he could happily do without- the tedious and ridiculous Professor Welch, a neurotic and unstable girlfriend, Margaret, burnt sheets, medieval recorder music and over-enthusiastic students. If he can just deliver a lecture on 'Merrie England', a moderately successful career surely awaits him. But without luck, life is never simple . . . ...Show more
$19.99
AUD
Category: Feel Good Fiction
'Lively ...a joy to read' - The Times Shortlisted for the Bollinger Everyman Wodehouse prize From the bestselling author of A Short History of Tractors in Ukrainian North London in the twenty-first century: a place where a son will swiftly adopt an old lady and take her home from hospital to impersonate his dear departed mother, rather than lose the council flat. A time of golden job opportunities, though you might have to dress up as a coffee bean or work as an intern at an undertaker or put up with champagne and posh French dinners while your boss hits on you. A place rich in language - whether it's Romanian, Ukrainian, Russian, Swahili or buxom housing officers talking managementese. A place where husbands go absent without leave and councillors sacrifice cherry orchards at the altar of new builds. Marina Lewycka is back in this hilarious, farcical, tender novel of modern issues and manners. ...Show more
$19.99
AUD
Category: Feel Good Fiction | Series: Jackson Brodie Ser.
A day like any other for security chief Tracy Waterhouse, until she makes a purchase she hadn't bargained for. One moment of madness is all it takes for Tracy's humdrum world to be turned upside down, the tedium of everyday life replaced by fear and danger at every turn. Witnesses to Tracy's Faustian ex change in the Merrion Centre in Leeds are Tilly, an elderly actress teetering on the brink of her own disaster, and Jackson Brodie who has returned to his home county in search of someone else's roots. All three characters learn that the past is never history and that no good deed goes unpunished. Kate Atkinson dovetails and counterpoints her plots with Dickensian brilliance in a tale peopled with unlikely heroes and villains. Started Early, Took My Dog is freighted with wit, wisdom and a fierce moral intelligence. It confirms Kate Atkinson's position as one of the great writers of our time. ...Show more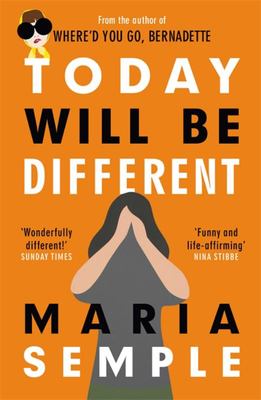 $19.99
AUD
Category: Feel Good Fiction
* Instant New York Times Bestseller *Named a Notable Book of 2016 by the Washington Post, one of Amazon's Top 100 Books of the Year, one of New York Times Book Review's 100 Notable Books, one of The Guardian's Best Books of 2016, one of NPR's Best Books of 2016, a Must-Read Book of 2016 by PopSugar, one of EW's 20 Best Books of 2016, one of Glamour's Top Ten Books of the Year, and one of Kirkus Reviews' "Best 100 Fiction Books of 2016"A brilliant novel from the author of Where'd You Go, Bernadette, about a day in the life of Eleanor Flood, forced to abandon her small ambitions and awake to a strange, new future.   Eleanor knows she's a mess. But today, she will tackle the little things. She will shower and get dressed. She will have her poetry and yoga lessons after dropping off her son, Timby. She won't swear. She will initiate sex with her husband, Joe. But before she can put her modest plan into action-life happens. Today, it turns out, is the day Timby has decided to fake sick to weasel his way into his mother's company. It's also the day Joe has chosen to tell his office-but not Eleanor-that he's on vacation. Just when it seems like things can't go more awry, an encounter with a former colleague produces a graphic memoir whose dramatic tale threatens to reveal a buried family secret.   TODAY WILL BE DIFFERENT is a hilarious, heart-filled story about reinvention, sisterhood, and how sometimes it takes facing up to our former selves to truly begin living. ...Show more