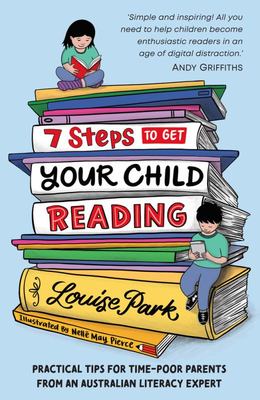 $24.99
AUD
Category: Children
Generation Alpha is the swiper, pincher, tapper cohort, the first to grow up with devices in their hands. They are breaking new ground as a result of technological advances, while you, their parents, are having to navigate these uncharted waters. Literacy is the single most important thing we can teach kids. If they can read, all other learning will follow. Learn how to futureproof your child's literacy in a rapidly changing world, and give them the best chance of success. Louise Park has spent decades watching children working away at this reading thing. As a teacher, children's author and leading educational consultant, she knows better than anyone how the goalposts have shifted over time. The road to literacy has never been smooth, but now there is the added challenge of digital distractions. Louise will show you how to make the most of both digital and traditional forms of reading, as well as setting out commonsense plans for making a reader of your child. Based on scientific research and presented in a friendly, accessible style for time-poor parents, the seven simple steps will lead your Generation Alpha child to an irreplaceable love of reading. 'Simple, practical and inspiring - what a treasure! This book contains all you need to know in order to help children to become enthusiastic, proficient and joyful readers.' - Andy Griffiths 'This awesome book should be in every community, library, school and home. A triumph.' - Gabbie Stroud 'An essential book for every parent - the pages are filled with all the tools and understanding you need to get your child reading.' - Matt Stanton 'Bold, assured and waffle free ... warm and non-judgemental. This book inspired me to make some simple, positive changes to our home routines.' - Lucinda Gifford ...Show more
$29.99
AUD
Category: Children
The most popular book ever about raising boys is back, significantly updated to help raise sons in a world that offers gender equality, respect and a whole new kind of man, but is still haunted by toxic masculinity.     You'll find cutting-edge science about the 'physical fours', the 'emotional eights' and how puberty can be turned into a positive time, along with hundreds of other practical tips for raising a son.   No two boys are alike, and you have to get to know our own unique boy. The idea that 'if we understand them, we can help them' is what has made this book so well loved and trusted in over a million homes.   As one of Australia's best-known psychologists for almost 30 years, Steve has introduced a generation of fathers into hands-on engagement with kids, and helped thousands of mothers gain confidence in their ability to raise sons well. He has worked with schools in 17 countries, and 130,000 parents have heard his unforgettable live talks.     'Biddulph is electrifying' -Telegraph    'Biddulph is a spellbinder'  - 60 Minutes   ...Show more
$29.99
AUD
Category: Children | Series: How To Talk
The ultimate "parenting bible" (The Boston Globe) with a new Foreword--and available as an eBook for the first time--a timeless, beloved book on how to effectively communicate with your child from the #1 New York Times bestselling authors. Internationally acclaimed experts on communication between paren ts and children, Adele Faber and Elaine Mazlish "are doing for parenting today what Dr. Spock did for our generation" (Parent Magazine).  Now, this bestselling classic includes fresh insights and suggestions as well as the author's time-tested methods to solve common problems and build foundations for lasting relationships, including innovative ways to: ·      Cope with your child's negative feelings, such as frustration, anger, and disappointment ·      Express your strong feelings without being hurtful ·      Engage your child's willing cooperation ·      Set firm limits and maintain goodwill ·      Use alternatives to punishment that promote self-discipline ·      Understand the difference between helpful and unhelpful praise ·      Resolve family conflicts peacefully Enthusiastically praised by parents and professionals around the world, the down-to-earth, respectful approach of Faber and Mazlish makes relationships with children of all ages less stressful and more rewarding.  ...Show more
$27.99
AUD
Category: Chat10Looks3 Recommendations
"**WINNER OF THE WELLCOME BOOK PRIZE 2014**b>/b>A NEW YORK TIMESBESTSELLERSometimes your child - the most familiar person of all - is radically different from you. The saying goes that the apple doesn't fall far from the tree. But what happens when it does? Drawing on interviews with over three hu ndred families, covering subjects including deafness, dwarfs, Down's Syndrome, Autism, Schizophrenia, disability, prodigies, children born of rape, children convicted of crime and transgender people, Andrew Solomon documents ordinary people making courageous choices. Difference is potentially isolating, but Far from the Tree celebrates repeated triumphs of human love and compassion to show that the shared experience of difference is what unites us. Winner of the National Book Critics Circle Award for General Non-fiction and eleven other national awards. Winner of the Green Carnation Prize. "   ...Show more
$32.99
AUD
Category: Children
Groundbreaking music educator Dr Anita Collins draws on the latest international neurological research to reveal the extraordinary and often surprising benefits of learning music for children from newborns to teenagers.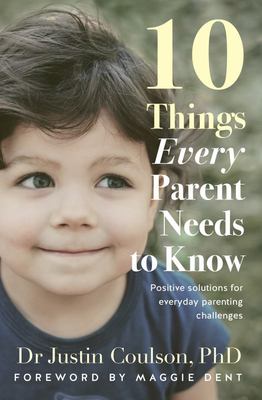 $32.99
AUD
Category: Children
Positive solutions for everyday parenting challenges! From the author of 21 Days to a Happier Family and 9 Ways to a Resilient Child, 10 Things Every Parent Needs to Know draws on positive psychology to give simple and effective strategies for the key issues parents of 2-12 year olds confront in everyda y family life. Parenting expert Dr Justin Coulson shares his secrets of effective attention, communication and understanding; how to discipline effectively and set limits; and how to manage hot-button issues such as sibling conflict, chores, school and screens - yet still have fun as a family.Praise for Justin Coulson:'Parenthood can be a jungle, but Justin's advice and simple strategies will help you find that path back to sanity, stability and smiling kids.' - Lisa Wilkinson ...Show more
$24.99
AUD
Category: Children
An illustrated adaptation of the long-running bestseller How Full Is Your Bucket? (more than 400,000 copies sold) for kids -- told through the story of a boy who learns a valuable "bucket filling" metaphor and watches it come to life as the day unfolds. Every moment matters. Each of us has an invisibl e bucket. When our bucket is full, we feel great. When it's empty, we feel awful. Yet most children (and many adults) don't realize the importance of having a full bucket throughout the day. In How Full Is Your Bucket? For Kids, Felix begins to see how every interaction in a day either fills or empties his bucket. Felix then realizes that everything he says or does to other people fills or empties their buckets as well. Follow along with Felix as he learns how easy it can be to fill the buckets of his classmates, teachers and family members. Before the day is over, you'll see how Felix learns to be a great bucket filler, and in the process, discovers that filling someone else's bucket also fills his own. ...Show more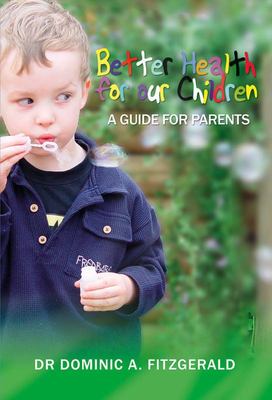 $24.95
AUD
Category: Children
This book explains and guides you through the common childhood illnesses. It offers positive health advice and provides information on normal growth and development, helping parents with unexpected challenges to the health and well-being of a baby, toddler, young child, teen and adolescent.
$29.99
AUD
Category: Children
Mothers of sons are worried about raising their boys in a world where negative images of masculinity are front and centre of our media, almost every day. Not only that, but statistically our boys are still struggling in many ways. Even though we live in a time where we recognise that nothing in gender i s fixed, it remains a fact that the influence of a mother on her son is massive. A mother of four sons herself, Maggie Dent draws on her personal experience – and over four decades work as a teacher, counsellor and now author and speaker – to help build understanding, empathy and compassion for our boys. Maggie shares her five key secrets that every mum needs to know, and uses the voices of men she has worked with and surveyed to reveal what really matters in a boy's relationship with his mother and other mother figures. Maggie is one of Australia's most popular parenting educators and her seminars about boys have sold out all across Australia and in the UK. She is finally sharing her insights, her reflections, and (as always) her humour around mothering boys in this book that will help you be the mum your son needs you to be. ...Show more
$24.99
AUD
Category: Children
Your toddler throws a tantrum in the middle of a store. Your preschooler refuses to get dressed. Your 11-year-old sulks on the bench instead of playing on the field. Do children conspire to make their parents' lives endlessly challenging? No - it's just their developing brain calling the shots! In this pioneering, practical book, Daniel J. Siegel, neuropsychiatrist and author of the bestselling Mindsight, and parenting expert Tina Payne Bryson demystify the meltdowns and aggravation, explaining the new science of how a child's brain is wired and how it matures. The 'upstairs brain', which makes decisions and balances emotions, is under construction until the mid-20s. And especially in young children, the right brain and its emotions tend to rule over the logic of the left brain. By applying these discoveries to everyday parenting, you can turn any outburst, argument, or fear into a chance to integrate your child's brain and foster vital growth. With clear explanations, age-appropriate strategies for dealing with day-to-day struggles, and illustrations that will help you explain these concepts to your child, The Whole-Brain Childshows you how to cultivate healthy emotional and intellectual development so that your children can lead balanced, meaningful, and connected lives. 'Siegel and Bryson have created a masterful, reader-friendly guide to helping children grow their emotional intelligence. This brilliant method transforms everyday interactions into valuable brain-shaping moments. Anyone who cares for children - or who loves a child - should read The Whole-Brain Child.' Daniel Goleman, author of Emotional Intelligence ...Show more
$29.99
AUD
Category: Children
NEW YORK TIMES BESTSELLER - The pioneering experts behind The Whole-Brain Child and The Yes Brain tackle the ultimate parenting challenge: discipline.   "A lot of fascinating insights . . . an eye-opener worth reading."--Parents   Highlighting the fascinating link between a child's neurological deve lopment and the way a parent reacts to misbehavior, No-Drama Discipline provides an effective, compassionate road map for dealing with tantrums, tensions, and tears--without causing a scene.   Defining the true meaning of the "d" word (to instruct, not to shout or reprimand), the authors explain how to reach your child, redirect emotions, and turn a meltdown into an opportunity for growth. By doing so, the cycle of negative behavior (and punishment) is essentially brought to a halt, as problem solving becomes a win/win situation. Inside this sanity-saving guide you'll discover   - strategies that help parents identify their own discipline philosophy--and master the best methods to communicate the lessons they are trying to impart - facts on child brain development--and what kind of discipline is most appropriate and constructive at all ages and stages - the way to calmly and lovingly connect with a child--no matter how extreme the behavior--while still setting clear and consistent limits - tips for navigating your child through a tantrum to achieve insight, empathy, and repair - twenty discipline mistakes even the best parents make--and how to stay focused on the principles of whole-brain parenting and discipline techniques   Complete with candid stories and playful illustrations that bring the authors' suggestions to life, No-Drama Discipline shows you how to work with your child's developing mind, peacefully resolve conflicts, and inspire happiness and strengthen resilience in everyone in the family.   Praise for No-Drama Discipline   "With lucid, engaging prose accompanied by cartoon illustrations, Siegel and Bryson help parents teach and communicate more effectively."--Publishers Weekly   "Wow This book grabbed me from the very first page and did not let go."--Lawrence J. Cohen, Ph.D., author of The Opposite of Worry ...Show more
$24.99
AUD
Category: Children
Here's everything you need to know about being a pre-teen, from Kaz Cooke, author of Girl Stufffor teens. * body changes * dealing with friends & bullies * getting confident * first periods * pimples * hair (wherever it is) * phones & being online * what to eat * being fit & healthy * the be st books & movies * how to be happy with your own true self * & lots more! Girl Stuff 8-12 fits under your pillow and is written with the help of medical and other experts. PS- This book is for girls aged 8 to 12. Girls 12+ need Girl Stuff- Your Full-on Guide to the Teen Years. ...Show more