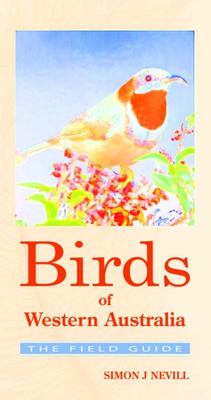 $39.99
AUD
Category: Birds
This comprehensive field guide to the birds of Western Australia includes detailed descriptive text, distribution maps and photographic illustrations of 486 species, covering the vast majority of sedentary birds and regular migratory birds. Most of the photographs have been taken by Author Simon Nevill himself, showing the birds in their natural habitats. The majority of the information imparted in this guide comes from Simons personal experience over the last forty years of bird watching in Australia, giving the guide a more personal tone.  ...Show more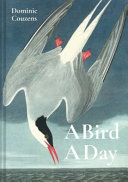 $35.00
AUD
Category: Birds
The beauty and fascination of birds is unrivalled. Every day of the year, immerse yourself in their world with an entry from A Bird of Day, where Dominic Couzens offers an insight into everything from the humble Robin to Emperor Penguins, who are in the midst of Arctic storms protecting their young on 1 July. Or discover the fate of the Passenger Pigeon which became extinct through overhunting on 1 September 2014. If you ever visit the Himalayan uplands, go in late November when you can see a flock of the cobalt blue Grandala birds, which is one of the wonders of the natural world.  The author is a world expert on birds and particularly bird behaviour and he reveals endless fascinating stories of birds from all over the globe to give a rich tapestry of avian life with stunning photography, illustration and arresting art. All of bird life is covered, from nesting, migration, and courting to birdsong and curious bird behaviour.  From the promiscuous Fairywren of Australia, who gives petals to his mistresses, to the singing instructions of the female Northern Cardinal in North America, this is a delightful dip-in-and-out book for any nature lover.  ...Show more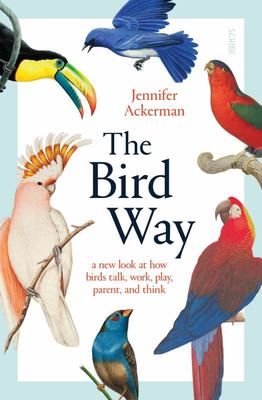 Bird Way
by Jennifer Ackerman
$35.00
AUD
Category: Birds
From the New York Times bestselling author of The Genius of Birds, a radical investigation into the bird way of being, and the recent scientific research that is dramatically shifting our understanding of birds -- how they live and how they think. 'There is the mammal way and there is the bird way.' Thi s is one scientist's pithy distinction between mammal brains and bird brains: two ways to make a highly intelligent mind. But the bird way is much more than a unique pattern of brain wiring, and lately, scientists have taken a new look at bird behaviours they have, for years, dismissed as anomalies or mysteries. What they are finding is upending the traditional view of how birds conduct their lives, how they communicate, forage, court, breed, survive. They're also revealing the remarkable intelligence underlying these activities, abilities we once considered uniquely our own -- deception, manipulation, cheating, kidnapping, infanticide, but also, ingenious communication between species, cooperation, collaboration, altruism, culture, and play. Some of these extraordinary behaviours are biological conundrums that seem to push the edges of-well-birdness: A mother bird that kills her own infant sons, and another that selflessly tends to the young of other birds as if they were her own. Young birds that devote themselves to feeding their siblings and others so competitive they'll stab their nestmates to death. Birds that give gifts and birds that steal, birds that dance or drum, that paint their creations or paint themselves, birds that build walls of sound to keep out intruders and birds that summon playmates with a special call -- and may hold the secret to our own penchant for playfulness and the evolution of laughter. Drawing on personal observations, the latest science, and her bird-related travel around the world, from the tropical rainforests of eastern Australia and the remote woodlands of northern Japan, to the rolling hills of lower Austria and the islands of Alaska's Kachemak Bay, Ackerman shows there is clearly no single bird way of being. In every respect, in plumage, form, song, flight, lifestyle, niche, and behaviour, birds vary. It's what we love about them. As E.O Wilson once said, when you have seen one bird, you have not seen them all. ...Show more
$34.99
AUD
Category: Birds
Australian birds have a very special place in the evolution of modern birds. They are known to live unusually long lives, form long-lasting bonds and are overall exceptionally intelligent. The question is why this may be so. In this highly compelling new book, Professor Gisela Kaplan explores the evolut ion of particular cognitive and social abilities that make the emotional and sex lives of birds work to their advantage. How Australian birds actually choose mates makes fascinating reading as the author uncovers motivations and attractions in partner choice that are far more complex than was once believed. She also shows how humans and birds may be more alike in attachment and mating behaviour than we think - despite the enormous evolutionary distance between us. For birdwatchers, researchers and nature lovers alike, and based on a wealth of original and cited research, Bird Bonds is a valuable resource and a beguiling insight into the world of the birds around us. ...Show more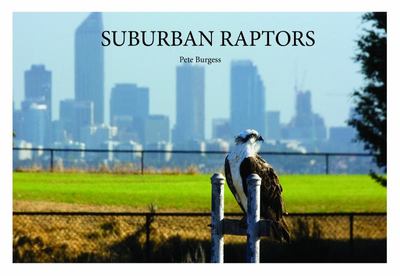 Suburban Raptors
by Peter B (Photographer, Prepared for Publication by, Produced by, Text by); Ingrid Jansen-Neeling (Editor)
$39.95
AUD
Category: Birds
Photography book on wild birds of prey that live in the city and suburbs of Perth.
$35.00
AUD
Category: Birds
Peter Slater needs no introduction to Australian natural history enthusiasts. He has been publishing books celebrating the country's wildlife for many decades, not least the renowned Slater Field Guide to Australian Birds. For Visions of Wildness Peter has again teamed up with Sally Elmer to produce a r emarkable collection of photographs and artworks covering all aspects of Australian nature, from birds, mammals and reptiles to minibeasts, plants and fungi. And not forgetting the amazing landscapes!Although today it is difficult to find any true 'wilderness' which has not been affected by the activities of humans, the authors show that there is much in the Australian natural world that remains uninfluenced and there are myriads of living things that remain 'wild'. ...Show more
$24.99
AUD
Category: Birds | Series: The\Big Book Ser.
Following up the hugely successful The Big Book of Bugs, The Big Book of Beasts, and The Big Book of the Blue, The Big Book of Birds is a fact-filled tour of the world's most wonderful winged creatures. Yuval Zommer's distinctive illustrations show off some of the most colorful, flamboyant, impressive, and wacky birds of the sky. Picture-book charm pairs with informative nonfiction to make a beautiful, large-format title for parents to share with young children and for older children to read by themselves.The book draws in children and parents alike with captivating information about and charming illustrations of hummingbirds, peacocks, flamingos, bald eagles, secretary birds, puffins, red-crowned cranes, and more. The book also invites young bird-watchers to protect birds where they live and make their gardens bird-friendly. The text is chatty, funny, and full of remarkable facts.Yuval Zommer's illustrations and fresh approach are what make this series feel distinct. His glorious and quirky pictures appeal to young children, who will relish the flighty questions and pithy facts about the most exciting creatures of the sky. ...Show more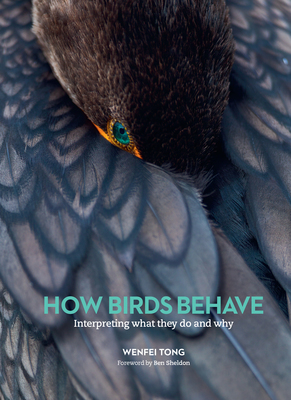 $39.99
AUD
Category: Birds
Birds are intelligent, sociable creatures that exhibit a wide array of behaviours — from mobbing and mimicking to mating and joint nesting. Why do they behave as they do? Bringing to light the remarkable actions of birds through examples from species around the world, How Birds Behave presents engaging vignettes about the private lives of birds, all explained in an evolutionary context.We discover how birds find food, relying on foraging techniques, tools and thievery. We learn about the courtship rituals through which birds choose, compete for, woo and win mates; the familial conflicts that crop up among parents, offspring and siblings; and the stresses and strains of nesting, including territory defence, nepotism and relationship sabotage. We see how birds respond to threats and danger — through such unique practices as murmurations, specific alarm calls, distraction displays and anti-predator nest design. We also read about how birds change certain behaviours — preening, migration, breeding and huddling — based on climate. Richly illustrated, this book explores the increasing focus on how individual birds differ in personality and how big data and citizen scientists are helping to add to what we know about them.Drawing on classic examples and the latest research, How Birds Behave offers a close-up look at the many ways birds conduct themselves in the wild. ...Show more
$29.95
AUD
Category: Birds
The ultimate guide to keeping chickens in your backyard. The more obvious rewards of chicken ownership - like delicious fresh eggs daily and fabulous cost-free fertiliser - are well known. Chickens even help keep the number of pest insects in your garden. But there are other benefits too, not least of w hich is the endless entertainment you get watching them scratch, peck, socialise and preen. This book includes all the information you need to keep your very own chickens- How to choose a breed suited to your needs, space and climate How to choose and build or buy a coop How to care for your chickens How to breed chicks successfully Keeping Chickenswill show you how easy, fun and satisfying owning chooks can be. ...Show more
The Australian Bird Guide (Revised ed.)
by Peter Menkhorst; Danny Rogers; Rohan Clarke; Jeff Davies (Illustrator); Peter Marsack (Illustrator); Kim Franklin (Illustrator)
$49.99
AUD
Category: Birds | Series: CSIRO
A new in-depth field guide to Australian birds The Australian avifauna is large, diverse, and spectacular, reflecting the continent's impressive habitats and evolutionary history. Looking at more than 900 species, The Australian Bird Guide is the most comprehensive field guide on Australian birds avail able, and contains by far the best coverage of southern seabirds. With 249 color plates containing 4,000 stunning images, this book offers a far more in-depth treatment of subspecies, rarities, and overall plumage variation than comparative guides. The artwork meets the highest standards, and the text is rigorously accurate and current in terms of identification details, distribution, and status. The Australian Bird Guide sets a new bar for coverage of Australia's remarkable avifauna and is indispensable to all birders and naturalists interested in this area of the world, including the southern oceans. Brand-new guide with an attractive look and design 249 color plates containing 4,000 superb images by some of the most talented illustrators working in Australia today Every bird species in Australia is covered (more than 900), including subspecies and rarities Up-to-date maps reflect the latest information on distribution Accurate and detailed text ...Show more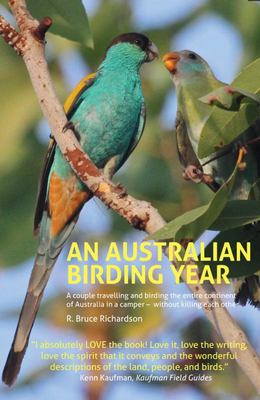 $39.99
AUD
Category: Birds
A highly personal account of a phenomenal, once-in-a-lifetime adventure that saw Bruce and his wife, Lynn, embark on a year of travel and birding across the entire continent of Australia in a camper van. Their aim was to see as many birds as possible together in the year. It began with a fly-past of two Gang-gang Cockatoos and ended with a first-ever sighting of a Northern Shoveler with 637 other species in between.His humorous stories describe the ups and downs of the experience from overcrowded campsites and boggy tracks to great pub meals and surprise encounters with birding friends; from the missed birds to the triumph of spotting a 'lifer'.The book is more than a list of birds and how Bruce and Lynn got to see them, it also describes the evolution of their relationship and the wonder that they both had in discovering the stunning countryside of Australia. ...Show more
$34.95
AUD
Category: Birds