Book Week is such an exciting time! Schools and their teachers, librarians and associated staff know that a child that reads is a child exposed to so many more opportunities.
This catalogue represents a small selection of new release titles.
Beaufort Street Books will hold pop-up bookshops where you can purchase these titles, at the following schools:-
Coolbinia Primary - in the library
Wednesday 21/10 : 8am - post parade & 2.30 - 3.30pm
Thursday 22/10 & Friday 23/10: 8.30 - 9.30am & 2.30 - 3.30pm
Carmel Primary - at the school entrance
Friday 23/10: 2.30pm - 4pm
Bold Park Primary
Wednesday 4/11: 11.30am - 12.30pm
If purchasing online, please select the FREE DELIVERY option to the relevant school and include the name of your child and their class number in the NOTES section and we can deliver directly to the school.
Thank you for supporting us so we can in turn support your school.
The catalogue will be uploaded for viewing on 17th October. Please browse by following the link below.
$22.99
AUD
Category: Picture Books
Meet LONG JOHN McRON, SHIP'S COOK . . . and the most unusual babysitter you've ever seen. Long John has a whole crew of wild pirates in tow, and--for one boy and his sister--he's about to transform a perfectly ordinary evening into a riotous adventure beneath a pirate moon. It's time to make some PIRAT E STEW. Marvelously silly and gloriously entertaining, this tale of pirates, flying ships, doughnut feasts and some rather magical stew is perfect for all pirates, both young and old. With a deliciously rhyming text from master storyteller Neil Gaiman and spellbinding illustrations by the supremely talented Chris Riddell, this is the picture book of the year!  Pirate Stew! Pirate Stew! Pirate Stew for me and you! Pirate Stew, Pirate Stew Eat it and you won't be blue You can be a pirate too!   ...Show more
$24.99
AUD
Category: Picture Books
With a strong message of hope, interconnectedness, and empowerment, This Small Blue Dot features a little girl explaining the world to her baby sister. She hits on small wonders, big lessons, and everything in between, from sharing the joy of silly dances to contemplating the nature of this "small blue dot" we all live on. Author and illustrator Zeno Sworder, who hails from a multicultural background, wrote this story when his daughter was unable to find picture books with characters who looked like her. His precocious young narrator has opinions on plenty of things: nature and the environment, embracing difference, the power of imagination--and the trouble with broccoli. Rich pencil and crayon illustrations conjure up memories of childhood in this celebration of who we are, where we come from, and where our dreams may take us. In This Small Blue Dot, Sworder captures not only life lessons but also the fun, often strange experience of being a member of the human family on planet Earth.   ...Show more
$24.99
AUD
Category: Picture Books
A post-pandemic bedtime tale that has captured the hearts of millions. First performed in response to the Coronavirus pandemic, Tomos Roberts' inspiring poem, with its message of hope and resilience, has been viewed more than 60 million times and translated into over 20 languages worldwide. From simple acts of kindness, to the creativity within us all, The Great Realisation is a celebration of the many things that have brought us together at a time of crisis. It captures, with magical resonance, the thoughts and feelings of millions worldwide as we adapt to a new way of life, cast aside old habits and reflect on what truly matters to us. It is a story for all readers, young or old, who dare to dream of a fairer, kinder, more loving world. ...Show more
$14.99
AUD
Category: Junior Readers
From the author of To the Lighthouse comes a new adventure for young readers about falling in love with the bush, and with hiking and being in the wild. It's about disconnecting from technology and discovering yourself. Harry's perfect life was straying way off-track. He looked pleadingly at Mum. Surel y she could see? Spending an entire weekend tramping around stinking-hot, snake-filled scrub was a horrible mistake. But doing it without a phone? That was just brutal. As it turns out, it was only the beginning ... ...Show more
$14.99
AUD
Category: Junior Readers | Reading Level: Children's - Grade 2-3, Age 7-8
With Emmy daring him on, Isaac's life gets more and more exciting. But when things go horribly wrong on their secret midnight adventure, they both wonder whether this time they've gone too far . . .
$14.99
AUD
Category: Junior Readers
In The Deep End, book 15 of the Diary of a Wimpy Kid series from #1 international bestselling author Jeff Kinney, Greg Heffley and his family hit the road for a cross-country camping trip, ready for the adventure of a lifetime. But things take an unexpected turn, and they find themselves stranded at an RV park that's not exactly a summertime paradise. When the skies open up and the water starts to rise, the Heffleys wonder if they can save their vacation-or if they're already in too deep. And don't miss Rowley Jefferson's Awesome Friendly Adventure, an all-new fantasy from Greg's best friend-the follow-up to the instant #1 bestseller Diary of an Awesome Friendly Kid- Rowley Jefferson's Journal. ...Show more
$17.99
AUD
Category: Middle Readers | Series: Morrigan Crow
Morrigan Crow and her friends have survived their first year as proud scholars of the elite Wundrous Society, helped bring down the nefarious Ghastly Market, and proven themselves loyal to Unit 919. Now Morrigan faces a new, exciting challenge: to master the mysterious Wretched Arts of the Accomplished Wundersmith, and control the power that threatens to consume her. Meanwhile, a strange and frightening illness has taken hold of Nevermoor, turning infected Wunimals into mindless, vicious Unnimals on the hunt. As victims of the Hollowpox multiply, panic spreads. There are whispers - growing louder every day - that this catastrophe can only be the work of the Wundersmith, Ezra Squall. But inside the walls of Wunsoc, everyone knows there is a new Wundersmith - one who's much closer to home. With Nevermoor in a state of fear and the truth about Morrigan threatening to get out, the city she loves becomes the most perilous place in the world. Morrigan must try to find a cure for the Hollowpox, but it will put her - and everyone in Nevermoor - in more danger than she could have imagined. ...Show more
$16.99
AUD
Category: Middle Readers | Reading Level: Children's - Grade 4-6, Age 9-11
"Red Read's life takes a surprising u and alarming u turn when his mother sells him to an infamous smuggler plying his trade off the north-west coast of Australia in the closing days of the 19th century. From terrifying encounters with cut-throat pirates to battling the forces of nature in a tropical ty phoon, from dining with head-hunting guerrillas to making meals of monkey stew, Red is in for a hair-raising adventure that may cost him his life." ...Show more
$14.99
AUD
Category: Junior Readers | Series: The Treehouse
Andy and Terry have added 13 new levels to their treehouse and now it's even more out of this world than before! There's a soap bubble blaster, a GRABINATOR (it can grab anything from anywhere at any time), a time-wasting level, a toilet paper factory (because you can never have too much toilet paper), a room full of mechanical grandparents, a super long legs level, an extraterrestrial observation centre and the best bookshop-in-a-treehouse-in-a-tree-in-a-forest-in-a-book in the whole world! Well, what are you waiting for? Come on up! ...Show more
$18.99
AUD
Category: Middle Readers
Staff notes: There have been some stunning new releases in middle-grade fantasy lately, but The Midnight Guardians is a standout. Set during the London Blitz in WWII, Cole must rescue his sister with the help of his imaginary friends – a tiger, a badger and a knight – who may or may not be so imaginary after all. A blend of historical and fantasy fiction, The Midnight Guardians is ultimately about the power of hope. This is a great entry-point for readers interested in different historical and geographical settings, and the importance of learning history. A middle-grade fantasy full of myth and legend, set in England's "darkest hour" during the Blitz in WW2, from a Costa-shortlisted author. Sometimes at the darkest hour, hope shines the brightest… When Col's childhood imaginary friends come to life, he discovers a world where myths and legends are real. Accompanied by his guardians – a six-foot tiger, a badger in a waistcoat and a miniature knight – Col must travel to Blitz-bombed-London to save his sister. But there are darker forces at work, even than the Nazi bombings. Soon Col is pursued by the terrifying Midwinter King, who is determined to bring an eternal darkness down over everything. ...Show more
$14.99
AUD
Category: Junior Readers
   Adventure awaits! From the imagination of Rowley Jefferson comes an adventure of epic proportions. Join Roland and his best friend, Garg the Barbarian, as they leave the safety of their village and embark on a quest to save Roland's mom from the White Warlock. Will our heroes survive? Find out in Ro wley Jefferson's Awesome Friendly Adventure! ...Show more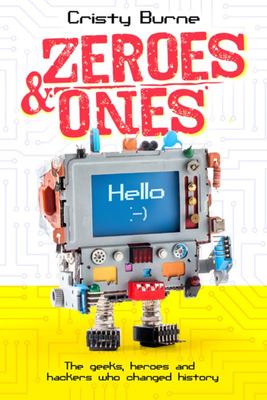 $24.99
AUD
Category: Encycopaedias, Science, Maths & reference materials
Fuelled by pizza, late nights and unparalleled geekery, this is the history of some of the world's most important milestones in the development of technology - from the earliest computers made of light bulbs and an old tin to Wikileaks and smartphones. Packed with weird facts, astonishing tidbits and ex traordinary anecdotes, travel around the world and meet the people who made the world we live in today. ...Show more